FMCSA helps bankroll Trucking Fatigue Meter to fight driver drowsiness
Last Updated: Tue, September 1, 2020
The Federal Motor Carrier Safety Administration announced a proposed split-duty pilot program – one that, if successfully implemented, could extend a driver's duty day up to 17 hours.
The pilot program hasn't even begun yet, so the jury is still out as to whether adding up to 3 hours to a 14-hour duty day will actually mitigate or worsen driver fatique.
So, in order to cover all eventualities the FMCSA's research and analysis department has helped to fund with just over $1 million a program created by Pulsar Infomatics, Inc., to monitor and act on driver fatigue in near real time.
Called the Trucking Fatigue Meter, Pulsar's program integrates with 90 percent of existing electronic logging devices and analyzes statistics using those streams of trucking data to evaluate a driver's condition and "provide actionable feedback in near real-time," according to the FMCSA website.
The fatigue meter technology has been incorporated into Trimble Transportation's fleet management offerings to carriers.
During a recent Trimble virtual in.sight user conference, Trimble's senior product manager Mike Soricella made some startling comments about the importance of hours of service regulations for preventing driver fatigue.
He said that for a truck driver to go 18 hours without sleep it's like he has a blood-alcohol content of .05 percent. He added that for a driver to go longer than 20 hours it's like he's at the legally drunk level.
As an aside, speeding was also on Soricella's mind during the conference. He said that speed is the leading cause of fatal crashes, and that carriers can improve their CSA scores by identifying habitual speeders. He said that speeding among truck drivers is "the gateway drug of the road."
Driver fatigue on the increase
Pulsar, after winning FMCSA's approval and funding for their Trucking Fatigue Meter, noted recently that they have observed a 32 percent increase in driver fatigue alerts among fleets monitored by their technology; which they attribute to the FMCSA relaxing HOS rules because of the COVID-19 outbreak.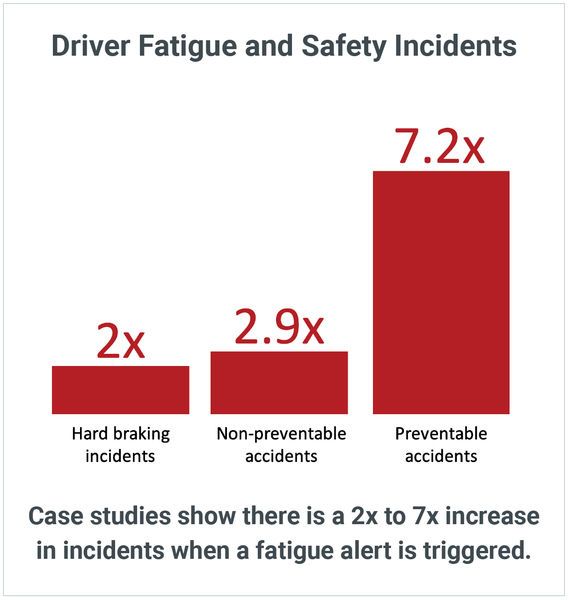 "These historic regulatory measures are aimed to help the nation fight back against the COVID-19 outbreak. But they also may increase risk in your operation as HOS regulations normally provide a minimum standard to protect against driver fatigue risk," Pulsar announced in a September 1, 2020, news release aimed at trucking companies.
"Commercial truck fleets are often inundated with data points that are essential to helping them improve their driver Compliance, Safety, Accountability scores. The trick for many, however, is breaking down that data into actionable points to increase safety."
"In the absence of HOS limits, Trucking Fatigue Meter provides a way to monitor for and mitigate dangerous situations where drivers may become fatigued beyond the point where they can reliably and safely operate their trucks," the Pulsar news release concluded.
Toward that end, FMCSA encourages adoption of the Trucking Fatigue Meter technology.
"Industry adoption of the Trucking Fatigue Meter directly supports the Federal Motor Carrier Safety Administration's stated mission to prevent commercial motor vehicle related fatalities and injuries by reducing driver fatigue and increasing safety on U.S. highways," the FMCSA stated on its Pulsar Infomatics website page.
"This project is relevant to individual drivers to mitigate the negative effects of fatigue due to job stressors. It is also relevant to trucking companies by providing tools to mitigate overall fatigue risk."
The way Pulsar's Trucking Fatigue Meter works, according to FMCSA, is by providing carriers with feedback on how fatigue impacts a driver's safety, performance and cost metrics.
The technology can be integrated directly with a carrier's telematics systems or with third-party telematics providers.
In addition, the system will be capable of analyzing data from drivers' wearable sleep devices.
FMCSA tips to avoid driver fatigue
According to the FMCSA, drivers were considered to have been fatigued when13 percent of commercial motor vehicle crashes occurred.
The agency offers the following tips to mitigate truck driver fatigue:
Get Enough Sleep Before Getting Behind the Wheel -- Be sure to get an adequate amount of sleep each night. If possible, do not drive while your body is naturally drowsy, between the hours of 12 a.m. to 6 a.m. and 2 p.m. to 4 p.m. A study by FMCSA found that driver alertness was related to "time-of-day" more so than "time-on-task."
Maintain a Healthy Diet -- Skipping meals or eating at irregular times may lead to fatigue and/or food cravings. Also, going to bed with an empty stomach or immediately after a heavy meal can interfere with sleep. A recent study conducted on the sleeping and driving habits of CMV drivers concluded that an unhealthy lifestyle, long working hours, and sleeping problems were the main causes of drivers falling asleep while driving.
Take a Nap -- If possible, you should take a nap when feeling drowsy or less alert. Naps should last a minimum of 10 minutes, but ideally a nap should last up to 45 minutes. Allow at least 15 minutes after waking to fully recover before starting to drive. Short naps are more effective at restoring energy levels than coffee. Naps aimed at preventing drowsiness are generally more effective in maintaining a driver's performance than naps taken when a person is already drowsy.
Avoid Medication That May Induce Drowsiness -- Avoid medications that may make you drowsy if you plan to get behind the wheel. Most drowsiness-inducing medications include a warning label indicating that you should not operate vehicles or machinery during use. Some of the most common medicines that may make you drowsy are: tranquilizers, sleeping pills, allergy medicines and cold medicines. In a recent study, 17 percent of CMV drivers were reported as having "over-the-counter drug use" at the time of a crash. Cold pills are one of the most common medicines that may make you drowsy. If you must drive with a cold, it is safer to suffer from the cold than drive under the effects of the medicine.
Recognize the Signals and Dangers of Drowsiness -- Pay attention: Indicators of drowsiness include: frequent yawning, heavy eyes, and blurred vision.
Do Not Rely on "Alertness Tricks" to Keep You Awake -- Behaviors such as smoking, turning up the radio, drinking coffee, opening the window, and other "alertness tricks" are not real cures for drowsiness and may give you a false sense of security. Excessive intake of caffeine can cause insomnia, headaches, irritability, and nervousness. Rolling the window down or turning the radio up may help you feel more alert for an instant, but these are not effective ways to maintain an acceptable level of alertness.
Sources: FleetOwner, FMCSA, Pulsar Infomatics, FMCSA driver fatigue page
Tagged Under:
Advice For New Truck Drivers
Coronavirus
FMCSA
Health Concerns
Hours Of Service
Safe Driving Tips