Friday Short Haul - New eCascadias, Top cities for truck driver jobs, Push against driverless trucks
Last Updated: Thu, August 22, 2019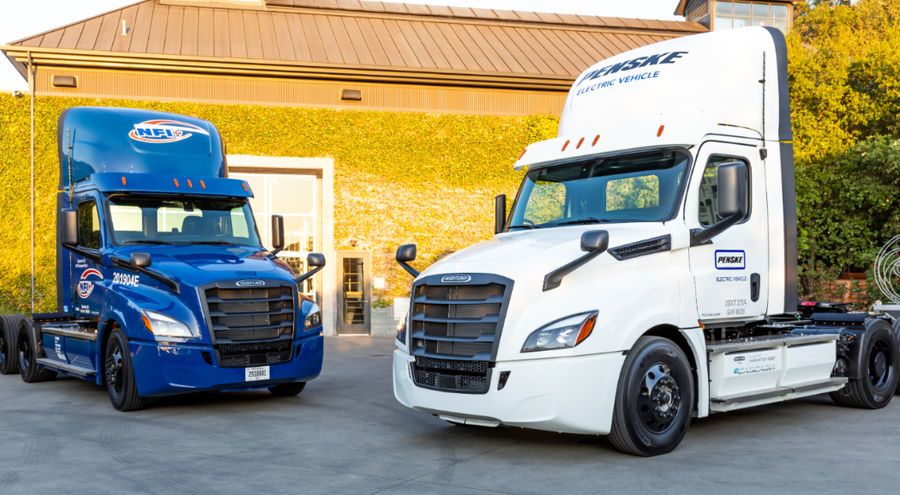 Source: Freightliner
Freightliner rolls out new electric truck line
This week NFI and Penske Truck Leasing took delivery of the first two Freightliner eCascadia Class 8 trucks to be delivered to customers for large-scale fleet operations.
These battery electric trucks will be used by Penske in daily delivery operations within California's Inland Empire, while NFI will employ eCascadias in drayage operations at both the Ports of Los Angeles and Long Beach.
Daimler Trucks North America, the parent company of Freightliner, announced the delivery on August 20; which took place in Yountville, California, amid industry leaders and the trade press.
"We're pleased to continue our collaboration with Freightliner and be among the first companies putting the eCascadia to work," said Brian Hard, president and CEO of Penske Truck Leasing.
Developers of the new eCascadias boast quieter running as well as zero emissions, both important qualities in impacted Southern California shipping facilities.
"Our first eCascadia will be used by our subsidiary Penske Logistics to make multiple, daily store deliveries on a dedicated route. Our in-house maintenance technicians are trained and well prepared, and our recent investments in charging infrastructure in the South Coast Air Basin will play an important role as we operate these cutting edge vehicles on their delivery routes."
Midwest is best area for finding truck-driver jobs
Joplin, Missouri, is not only very near to the geographic center of the lower 48 states but it also figures as the top city for truck driving jobs precisely because of its central location, according to a recent survey by AdvisorSmith.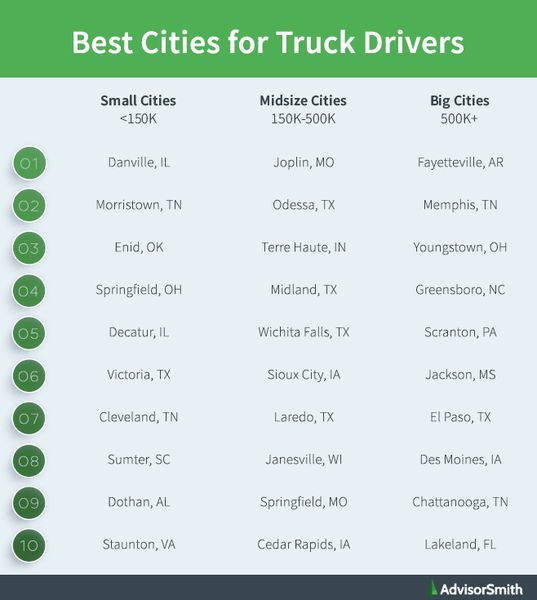 That relatively small Missouri city lies in the center of the four-state area encompassing Oklahoma, Kansas, Arkansas and Missouri, but it hosts 125 percent more truck driving jobs than the average for the top 50 cities in the study, and 336 percent more jobs than for truck drivers in the average American city.
The average salary of truck drivers based in the Joplin area is $42,060 per year, but the cost of living there is 21 percent below the average.
The AdvisorSmith study ranked 384 cities for qualities that make them attractive for someone to pursue a career in driving tractor-trailer trucks. Surprisingly, large cities did not factor high in the study. Of the top 50 cities ranked, 76 percent were midsize or small, and the majority of them were located in the Midwest.
The survey of these 384 took into account factors including the average annual salary earned by truck drivers, the percentage of jobs offered to truck drivers compared to the general worker population in that area, and the cost of living index for that city.
As a baseline, AdvisorSmith compared results to the 2018 statistic that the average annual salary for tractor-trailer drivers across the United States was $45,570.
Here is how the truck-driving job situation breaks down for the top 5 cities in the AdvisorSmith study:
1. Joplin, MO, average salary $42,060, 336% more jobs for truckers than the average American city, 21% lower cost of living
2. Danville, IL, average salary $54,770, 103% more jobs for truckers, 27.2% lower cost of living
3. Fayetteville, AR, average salary $48,790, almost 3 times more jobs for truckers, 13% lower cost of living
4. Odessa, TX, average salary $48,010, 270% more jobs for truckers, 13% lower cost of living
Morristown, TN, average salary $50,180, 162% more jobs for truckers, 16% lower cost of living
Figures for all 50 cities ranked in the study are available at AdvisorSmith.
By the way, the geographic center of the United States is located very near to Lebanon, Kansas. And the population center of the United States is located nearby in Texas County, Missouri.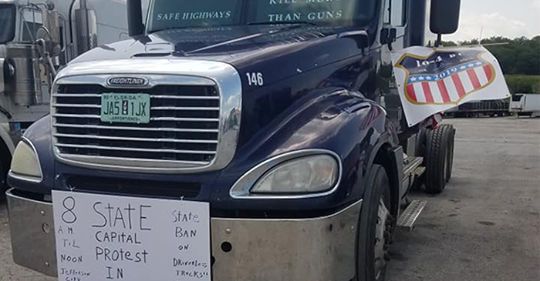 Missouri State Rep drafts anti-autonomous truck bill
While many states are welcoming autonomous-truck innovation with open arms, offering their streets and highways as testing grounds, one state legislator is putting together a bill that would prohibit the running of self-driving trucks in his state without having a commercially licensed driver on board.
Mike Moon, R-Ash Grove, Missouri, hopes to have legislation drafted by October for introduction into the state legislature early next year.
He is making this effort at the behest of Golden City, Missouri, trucker Bill Bogar, who believes that truck drivers are facing annihilation from the autonomous truck industry, and that the danger is looming sooner than people realize.
In an interview with Transportation Nation, Bogar said his fears are not hyped, "Autonomous trucks are right on top of us right now. This is going to be the devastation of millions of jobs across the country. It's very disturbing. I've got robots loading my trucks once a month."
The owner-operator veteran of 20 years experience agrees that an all-out ban would probably cause Moon's bill to fail, but suggests that it's reasonable to have a driver behind the wheel at all times, with the option for the driver to turn off the self-driving feature.
Bogar cited Department of Transportation proposals to remove unnecessary regulations slowing down the development of autonomous trucks as the beginning of the end for when trucking companies will gladly eliminate the need for drivers.
"There is a fortune to be made if you eliminate the driver from the truck. It's going to be all a corporate system," he said in the Transportation Nation interview.
"So much greed and corruption is never ending in the trucking industry. They don't want to deal with things the way the drivers want to deal with them. They don't want to train drivers properly," he added.
Bogar hopes to build support for his anti-autonomous truck movement by holding Parked Protest events similar to the recent one held in Jefferson City. More information is available at his Facebook page.
Sources: Freightliner News Release, AdvisorSmith, Transportation Nation
Tagged Under:
Autonomous Trucks
Electric Semi
Self-Driving Vehicles
Trucking News