UK driver shortage has some calling for desperate measures
Last Updated: Sun, June 27, 2021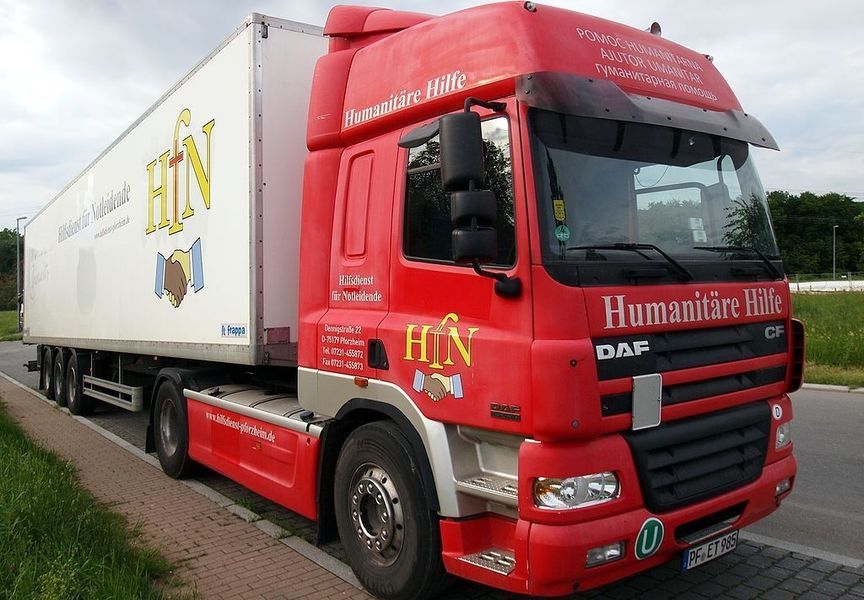 The shortage of UK truck drivers, called HGV for "heavy goods vehicle" drivers, has gotten to the point where wholesalers and retailers are calling for the army to mobilize to alleviate the shortage.
Latest estimates are that the UK is short 70,000 to 100,000 HGV drivers, losing a considerable number with the exodus of European drivers after Brexit, and because fewer new truck drivers were being tested and getting commercial licenses during the virus period.
Then the uptick of the post-virus economy lead to conditions creating a perfect storm where wholesalers are unable to stock the stores, leaving stores with empty shelves, all at the same time that growers are letting produce rot in the fields for being unable to ship them out.
The end result is escalating prices for consumers for the goods that are available.
David Jinks, head of consumer research for ParcelHero, a home delivery service, explained the situation recently in a Commercial Fleet article online.
"We could soon be facing shortages as bad as those at the start of the first lockdown, which could mean a return to the rationing of staple foods.
"The reason is all too obvious. Our analysis of Government figures last October showed thousands of EU drivers and warehouse operatives fleeing the UK to avoid Brexit regulations."
"Many EU citizens didn't meet the Government's proposed criteria for skilled work visas. This mass exodus was exacerbated by the impact of Covid-19, which brought the training of new lorry drivers to a standstill."
Richard Burnett, chief executive with the Road Haulage Association, said the situation was exacerbated by the upturn in the economy.
"Increasing demand across supply chains and the reopening of nonessential retail outlets and parts of the hospitality sector is making the situation even worse," he told Commercial Fleet.
Jinks agrees: "UK retailers and their supply chain partners now face a perfect storm. Ken Murphy, the chief executive of Britain's largest supermarket, Tesco, has admitted his company is having to 'work hard' to keep up with the shortfall, while some wholesalers say they have already reached crisis point as they attempt to deliver to supermarkets, pubs, schools and care homes," he said in the Commercial Fleet article.
"As problems mount, it's not surprising the Federation of Wholesale Distributors is calling for army drivers to be put on standby to protect vulnerable communities where food deliveries are at risk. It says fresh produce suppliers are already being forced to dump supplies of fruit and vegetables for lack of delivery drivers," he concluded.
Trying to reverse the EU truck driver exodus
The exodus of EU drivers after Brexit was no surprise to some. The British logistics industry long warned that EU truck drivers would no longer want to come to the island if checks and friction increased at the border with new Brexit rules.
Even before this current shortage UK wholesalers and retailers were experiencing shortages caused by huge bottlenecks on both sides of the Chunnel because of COVID restrictions. Many EU drivers living and working out of Britain returned home to the continent to wait out the virus panic.
In an attempt to try to ease back to "normal" a coalition of members of the trucking industry and heads of industry groups including the Food and Drink Federation, British Frozen Food Federation, Cold Chain Federation, British Beer and Pub Association and the British Meat Producers Association, wrote a letter recently to Prime Minister Boris Johnson, calling for him to personally intervene to mitigate the "unimaginable" collapse in the supply chain.
In the letter, signatories asked for the government to introduce temporary worker visas for EU HGV drivers, adding them to a "shortage occupation list."
Burnett, with RHA, was a principal in co-ordinating the letter. He told Reuters, "Supermarkets are already reporting that they are not receiving their expected food stocks and, as a result, there is considerable wastage."
He emphasized that government intervention was the only way to avert "critical supply chains failing at an unprecedented and unimaginable level," and that it was only going to get worse as summer progressed with an unlocking of the economy, and the demand for food and drink expanding for summer events. Even early Christmas preparations would be affected, he noted.
The government's response to the letter was to tell employers they should focus on "investing in our domestic workforce," rather than relying on "labor from abroad."
Store shelves are empty while food goes to waste
A spokesman for a British cold food supplier likened the coming food shortages to a "rolling power cut," as the summer progresses, where shelves are stocked, then emptied, then stocked again.
The lack of HGV drivers has gotten so bad that farmers are unable to get their produce, especially short-term perishables, to stores in time.
A spokesperson for Tesco, Britain's largest supermarket chain, says they are experiencing food waste of up to 48 tonnes a week.
For example, James Mee, a blueberry farmer from Peterborough, told The Guardian, "We have been told by the haulier company we have used for years that they can only come and pick up our fruit once a week. But the fruit only have a five-day shelf life so we need picking up every day. If we can't get our fruit to the supermarkets, that is massively significant."
The problem is made worse by a shortage of warehouse and food processor workers, a cascading effect from the virus panic, and also by UK HGV drivers taking their summer vacations soon, leaving the driver shortage gap to widen.
"We are saying to the government that they must put HGV drivers on the shortage occupation list urgently. We need to get a pool of labour quickly because we cannot train them quickly enough and we need to plug this gap. We'll have British HGV drivers going on summer holiday soon, which means no backfill at all. So the problem is only going to get worse," Burnett told The Guardian.
Shane Brennan, chief executive of the Cold Chain Federation, which represents chilled food warehouses across the country, told The Guardian the supply chain disaster would get worse as the country approaches "freedom day" celebration time.
"I think it is going to be like a series of rolling power cuts in that we are going to see shortages, then shelves replenished, and shortages again. That is going to carry on for as long as demand is unpredictable and labour remains as tight as it is," Brennan said.
---
Dave Wickenhauser went on the road driving big rigs after retiring from 33 years in newspaper journalism. His trucking novels, Crimson Highway, the first in the Hugh Mann series, and the sequel, Road Test, are available at Amazon as paperbacks, and as Kindle ebooks.
Sources: The National News, Madison Leader Gazette, The Guardian, Reuters, Commercial Fleet
Tagged Under:
Adverse Conditions
Coronavirus
Foreign Drivers
The Economy And Politics
Trucking Industry Concerns