Roundabouts are becoming popular; but are they best for trucks?
Last Updated: Sun, June 30, 2019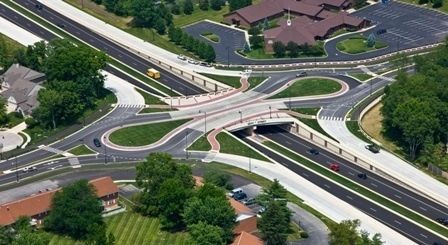 A not-so-usual oval-shaped roundabout in the city of Carmel, Indiana
Roundabouts: They're either a boon to traffic efficiency or a truck driver's nightmare. Which is it?
One town that loves roundabouts is Carmel, Indiana; which is known not surprisingly as Roundabout City, USA, because the town has nearly 150 roundabouts for its population of 91,000 circle-driving citizens.
The town's obsession with roundabouts is due to the passion of Jim Brainard, the town's mayor since 1996, who became impressed with roundabouts during a graduate-school visit to England. By November of 2016 Carmel had built its 100th roundabout, with plans to top out with another 50 or so in the next few years.
Brainard says that most of the fears that motorists believe they'll have using roundabouts simply don't play out in actual use. He cites city statistics that show a 90 decrease in fatal accidents, an 80 percent reduction in serious-injury accidents, and 40 percent fewer accidents overall in intersections where roundabouts have replaced traffic signals.
He credits those numbers to the inherent features of roundabouts that force drivers to slow down in those intersections; thereby resulting in the accidents that do happen being at an angle rather than head-on, and non-injury or minor injury rather than fatalities.
He also touts the financial benefit of roundabouts by saying each intersection with a roundabout costs $250,000 less to build than a signalized one would, and they are cheaper to maintain by a factor of $5,000 less per year in electricity costs alone.
According to Brainard, traffic jams are reduced, meaning drivers spend less time and gas idling at stop lights; which Brainard claims amounts to about $4.9 million a year saved at the city's roundabouts.
In these positive articles about Carmel's plethora of roundabouts there is no anecdotal evidence of what truck drivers feel about driving in endless circles to get from somewhere to anywhere within the town. But truckers encountering the three roundabouts in the city of Worthington, Minnesota, are not so shy about expressing their opinions.
According to the town's local newspaper, The Globe, something about the town's roundabouts leads to truck-trailer tip-overs.
"They're not big enough … they're made for cars, not trucks" Jim Schutte, a semi driver from Rushmore, is quoted in The Globe. "When you go in, you've got the truck in the left lane and a trailer in the right, so if you get a car beside you, you have to watch out not to run them over."
Schutte says he maneuvers through the Worthington roundabouts 10 times a week; which he handles carefully, slowly and successfully with his high-center-of-gravity feed trailer, often having to use the truck apron.
"You're top heavy, so you hit that impact curb and it tips the truck," Schutte said.
Top-heavy trucks are not the only ones susceptible to the roundabout's architecture. Trucks with low ground clearance have double the trouble because not only do they have to avoid scraping up onto the outside curbs, but the truck apron is unusable by them.
"My trailer is only four inches off the ground when it's heavy, so then I have to avoid the apron," Abels told The Globe.
And oversize trailers simply cannot drive through the town because of restrictions on using the roundabouts.
"That's another issue," Abels said. "Trucks with oversized trailers can make normal turns, but they can't go through roundabouts, so how are we supposed to get into town if they build even more roundabouts?"
Able points out that the Worthington roundabouts aren't even the worst ones he encounters, citing some single-lane roundabouts elsewhere that are even tighter and harder to navigate.
This issue is highlighted by the personal experience of the author:
Back in my day of driving the NCA (Nevada, California, Arizona) fleet for Gordon Trucking my home terminal was located in Lathrop, California, near Stockton.

As anybody who has run in that area would understand, because of the numerous manufacturers and distribution centers in the nearby city of Tracy the town became my "second home."

As the gods of poor planning would have it, county engineers decided to yank out the perfectly fine signaled intersection coming off of the freeway and replace it with a roundabout.

There simply was no feasible detour that didn't involve driving miles out of the way, so we truck drivers had to weave our way around ongoing construction, narrowly avoiding accidents with confused motorists.

Even once the construction was finished, navigating that horrible roundabout was still a nightmare.

Granted, it was a two-lane roundabout; which theoretically should have made maneuvering easier. But there simply was no feasible way to make it across without fully hogging both lanes AND running up on the truck apron to boot.

I retired shortly after that, and left that roundabout far behind, but what's interesting is county public works finally recognized the problems with that disaster and have since "re-engineered" it. It remains to be seen if the changes were for the better.

There's an article from a year ago in the Tracy Press explaining the changes.

Apparently the intersection has experienced numerous accidents since completion – 98 since it opened in 2013 through mid-2018.

"When that roundabout was designed and constructed, there wasn't the vast amount of warehousing and activity to the west," deputy director of San Joaquin County Public Works Mike Selling told the Press.

He said a new Amazon fulfillment center and a build-up of the city's Northeast Industrial Area have resulted in increased truck and commuter traffic, and he attributed the accidents to "either a driver confusion kind of thing or folks trying to pass each other inside the roundabout."

In other words, motorists just didn't like the fact that they had to yield to trucks that had to use both lanes (and then some) to navigate through the roundabout, and they would try to speed up to get past them.

Engineers determined that the solution was to pinch the two lanes into one lane half-way through the roundabout.

"By reducing it to one lane, then you don't get anybody try to cut around," Selling said in his Tracy Press interview, "and then for 11th Street traffic, when they look to their left they are only needing to be concerned with — anybody coming has to come in that one lane, so they essentially have the outside lane free to enter the roundabout."

Look at the photo, and you decide.




The Tracy roundabout after being re-engineered to pinch off one lane
The Department of Transportation's Federal Highway Administration has a report titled "Intersection Safety Roundabouts."
The report starts out by stating, "On projects that construct new or improved intersections, the modern roundabout should be examined as an alternative," and noted that modern roundabouts provide safety and operational benefits over other types of intersections.
The report goes into extreme detail with recommendations for road engineers to design roundabouts to be safe and efficient.
Of note concerning large trucks is that the report recognizes the difficulty of large vehicles in navigating roundabouts, and that designers should use a vehicle the size of a big-rig truck and trailer as the "design vehicle" in their calculations.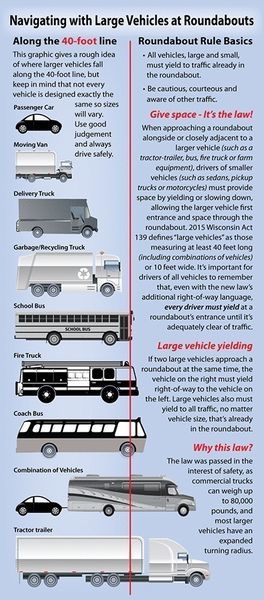 FHWA recommends accommodating large vehicles in their turning radius designs, but not to make the roundabout too wide so as to "maintain a relatively narrow circulatory roadway to adequately constrain passenger car speeds."
In other words, since the primary function of roundabouts is to make traversing intersections more efficient by slowing down traffic, it would be counter-productive to make them easier for large trucks to navigate, since that would encourage higher speeds.
Truck aprons, a circular ring around the center island, should be constructed to have a different texture than the roadway, and should be raised and sloped slightly in order to discourage passenger cars from using them as a driving lane.
And the misuse of truck aprons by motorists is a common complaint of truck drivers.
"That's my biggest pet peeve about roundabouts," Abels said in the Worthington, Minnesota, Globe newspaper interview. "Passenger vehicles just don't provide enough room. Some of them even drive up onto the truck apron."
A number of states have enacted legislation hoping to alleviate the motorist/truck conflict in their roundabouts by giving trucks the right of way in roundabouts and making it illegal to attempt to pass a truck in a roundabout.
For example, the state of Wisconsin enacted a law in 2015 regarding driving around trucks in roundabouts, requiring motorists to yield the right-of-way to trucks and other large vehicles, including combinations of vehicles that are 40-feet long or longer.
The law is enforced by a citation costing the violator $175.30 and four demerit points for the first offence, and $213.10 and another four points for the second or further offences.
Indiana's law, enacted in 2017, has a penalty of $500 for not yielding to a truck in a roundabout. That bill was authored by Rep. Jerry Torr, who was approached by Carmel, Indiana, Mayor Jim Brainard.
Sources: FMWA, The Globe, Golden State Newspapers, Curbed
Tagged Under:
Driver Solutions
Hard Lessons Learned
Truck Driver Safety
Truck Driving Stories
Trucking Accidents
Understanding The Laws