Driver shortage ranks highest in ATRI's latest truck industry survey
Last Updated: Tue, October 27, 2020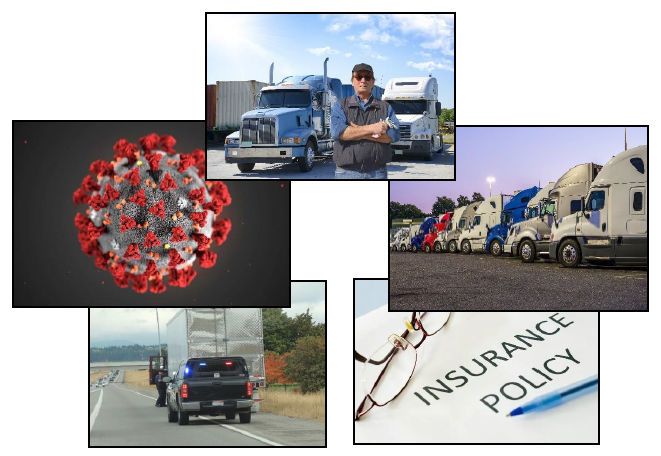 The driver shortage, driver compensation, and truck parking ranked in the top three concerns among drivers, carriers and other trucking industry stakeholders in the just-released American Transportation Research Institute's survey titled "Critical Issues in the Trucking Industry – 2020."
"For a number of reasons, 2020 has been a tremendously challenging one for our industry and our country, but as ATRI's survey lays out, there are a number of issues we must address in addition to the ones put in front of us by this pandemic," ATA Chairman Randy Guillot, president and CEO of Southeastern Motor Freight and Triple G Express Inc., said in ATRI's news release announcing the publication of the survey.
"From finding and keeping qualified drivers to the increased costs of insurance and burdens imposed on our industry by unwarranted lawsuits, ATRI has identified the issues our industry cares most about and outlines plans for how we can solve them."
This is the 16th year that ATRI has run this survey for the American Trucking Associations, and while some concerns have appeared in the top 10 ranking year after year there were some interesting adjustments in the rankings this time, and even some surprising new concerns made it into the higher ranks.
For example, insurance costs and availability made its appearance as the third highest concern by survey respondents in the first ATRI survey in 2005, but quickly dropped out of the top 10 in subsequent surveys.
This year, however, insurance concerns again popped up into a leadership position, ranking as the fifth highest concern – no doubt spurred by driver and carrier reaction to news of notorious "nuclear" verdicts, and by worries of politicians and some insurance industry lobbyists calling for a huge increase in insurance minimums.
"The impacts of litigation and growth of nuclear verdicts in the trucking industry was really apparent in this year's list of concerns," ATRI President and COO Rebecca Brewster said.
"Earlier this year, ATRI quantified the growth in nuclear verdicts in the trucking industry, but even without that critical research, the fact that tort reform and insurance issues have resurfaced in the survey are a clear sign the industry is being impacted by rising costs related to litigation and insurance." Surprisingly, although the effects of reaction to the COVID-19 virus reverberated throughout almost every part of the survey of concerns this year its ranking as an actual concern among survey respondents was relatively low, not even making it into the top 10.
Coming in at 13th place below driver distraction and transportation infrastructure, congestion and funding, concerns about the virus earned only a score of 37 on ATRI's index of concerns, meaning it was only about one-third as important to respondents as the driver shortage, which earned a ICI score of 100.
One thing to note about the COVID-19 survey response, according to the ATRI report, is the lack of disaster response planning among smaller fleets. Research revealed that almost 80 percent of owner-operators and small fleets did not have plans in place for continuity of business in the face of a natural disaster or pandemic.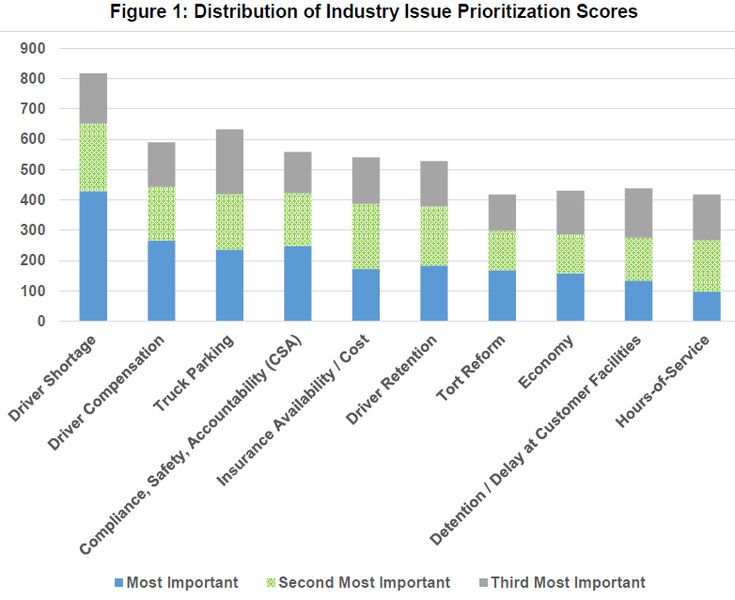 How ATRI conducted the survey
According to ATRI, the 3,122 truck drivers, motor carrier representatives and other industry stakeholders who responded to this year's survey was an all-time record for the 16 years the survey has been held.
"Having such a robust sample gives us a very accurate picture of what issues are of most concern to the trucking industry," Brewster said. "With this information, the industry can best target its resources to address trucking's concerns."
Survey respondents came from a pool of 15,000 entries in ATRI's contact database, as well as responding to advertising and promoting from ATRI's regular Sirius/XM radio shows, major trucking industry and trade press, and through all 50 state trucking associations.
In total, 43.9 percent of responses came from motor carrier personnel, 32.2 percent from commercial drivers, and 23.9 percent from others, including industry suppliers, driver trainers, and law enforcement.
ATRI quantified results separately from drivers and carriers, and even did a breakout of the top three concerns from company drivers compared to owner-operator and independent contractor drivers.
The survey was launched on September 8 of this year, and closed on October 17.
The survey offered respondents 29 critical issues to rank as their top three main concerns. As they ranked their concerns they were also asked to rank their top three preferred strategies for dealing with each concern. Write-in concerns were also allowed.
ATRI then applied a formula to the respondents' own ranking of their top-three concerns, giving three points to their most-important concern, two points to the second-most pressing concern, and one point to their third-most-important concern.
The results were quantified into an Industry Concern Index, with the top issue among all respondents, driver shortage, getting the ICI score of 100, and all others falling in under that one – like grading on the curve.
ATRI believes that drivers', carriers' and others' concerns were largely driven this year by the upheaval brought about by the virus scare.
In its introduction to the survey results, ATRI gave recognition to the record-growth economy experienced by Americans over the past three years, and then perfectly summarized the devastation wrought by the China virus. "The year 2020 can unequivocally be described as the most chaotic and unpredictable time period in many decades," ATRI wrote. "In the course of several months, the U.S. economy – the largest in the world – spiraled from new records in consumer sales growth, low unemployment, industry-favorable trade agreements, and a dramatically improved regulatory landscape … to a COVID-related economic slide paralleling the Great Depression, and all that comes with it.
"Driven by 'shelter-in-place' orders in all 50 states, this same year saw industry business models instantly recalibrated from onsite consumer sales to unparalleled e-commerce growth; huge food product shifts from restaurants to grocery stores; the newly created concept of 'consumer hoarding,' and a temporary decline or elimination of several top industry issues from ATRI's 2019 list.
"In a number of states, fatal crash rates skyrocketed, while fatality crash numbers plummeted – due to limited automobile usage, a dearth of traffic congestion and long, unfettered stretches of roadway. That same operating environment however, allowed trucks to move essential goods to stores, hospitals and fulfillment centers in record time. In many instances, the trucking industry benefited from both temporary COVID-related regulatory exemptions as well as permanent changes to rules such as the hours-of-service."
The rankings
Driver shortage
Despite the notion by some to downplay a driver shortage, it appears that the rank and file behind the wheel and carrier managers do still believe it is a problem. Ranking in the top position this year with an ICI rating of 100, driver shortage was mentioned by more than one in four respondents to be their number one concern.
ATRI attributes a driver shortage to the surge in freight demand and lack of capacity as a rebound to the COVID-19 initial slowdown, and to drivers dropping out during the height of the panic who haven't make it back into the industry yet.
A number of drivers, ATRI said, have also quit because of the stricter enforcement due to the FMCSA Drug and Alcohol Clearinghouse, and to the number of drivers reaching retirement age.
Driver pay
Driver compensation as a concern increased this year to become the number two issue, rising from number three last year, earning an ICI rank of 68.4.
Even though driver pay on average has increased over the past couple of years many drivers believe that a driver shortage could be alleviated by carriers providing more pay or modifying compensation methods.
Truck parking
Truck parking availability wasn't even an issue of concern in the survey before 2012, but has become a regular entry in the top 10 since then, earning its highest ranking yet of third place this year with an ICI score of 67.9.
This bump in concern, obviously experienced mostly by drivers, is attributed to the closure of rest areas and other truck parking facilities because of reaction to the virus.
The remaining rankings of concerns that were in the top 10 include:
4. Compliance, Safety and Accountability – 64.7%
5. Insurance Cost and Availability – 58%
6. Driver retention – 57.4%
7. Tort Reform – 46.6%
8. Economy – 46.1%
9. Detention, Delay at Customer Facilities – 44.7%
10. Hours of Service – 41.2%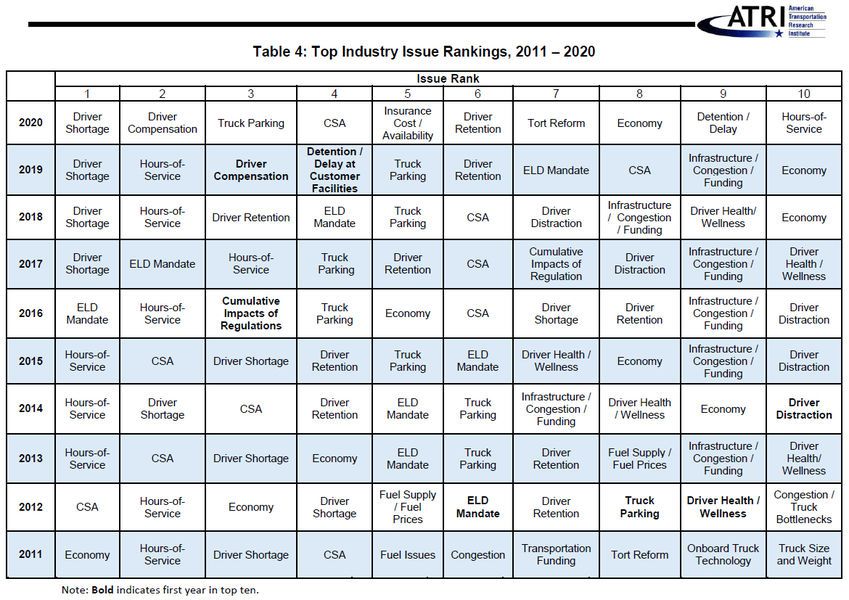 Sources: ATRI Research Paper
Tagged Under:
Coronavirus
CSA
Distracted Driving
Drug and Alcohol Testing
Hours Of Service
Owner Operator
The Economy And Politics
Truck Stops
Trucking Industry Concerns