Truck-mounted LED billboards coming under fire
Last Updated: Tue, July 16, 2019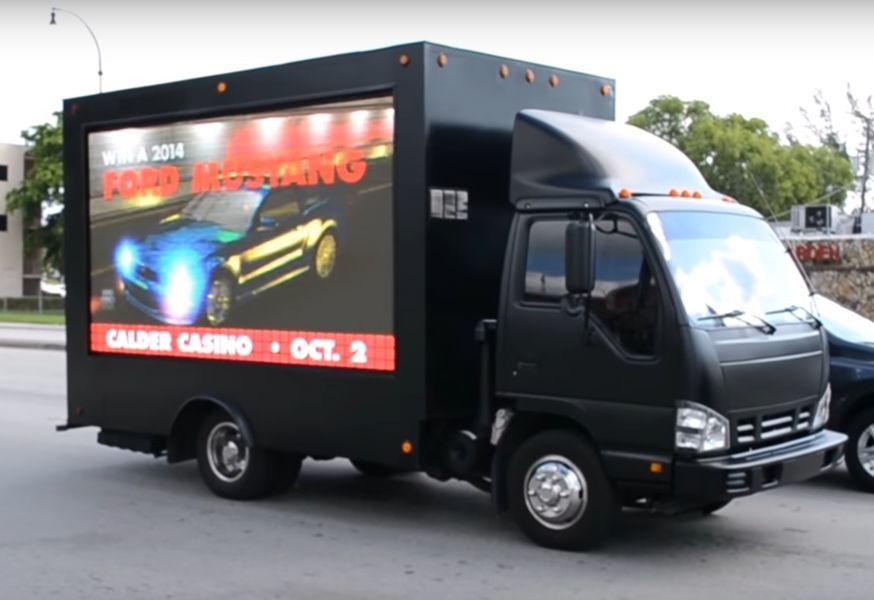 A typical LED truck-mounted mobile billboard
The city of Key West might be the first in a wave of jurisdictions nationwide to severely regulate or outright ban LED advertising trucks.
City commissioners meet this week for a final vote on the measure, after having met earlier for a first hearing, when they voted 7-0 to ban.
What's at stake with this vote, and how well it's received, depends on which side of the issue local residents and business people are on.
Law enforcement officials say the large, brightly colored video billboards affixed to three sides of a box truck are dangerous because they distract drivers. They affect night vision and are as distracting as talking on a cell phone or texting, they say.
"Pedestrians and motorists are distracted much like they would be on a cell phone," said Capt. Randall Smith, at the commission's June meeting, as reported in the Miami Herald. "Their attention leaves the road. Because the images are constantly changing, they tend to get caught in what's the next advertisement. I've watched people walk across crosswalks and they're turned and watching the billboard instead of watching traffic."
Local residents being exposed for the past several months to three traveling billboard screens advertising grocery stores, bars and even a strip club complain that they are obnoxious.
The ordinance would allow an exception for vehicles displaying logos and advertising that are owned by businesses like commercial trucks, taxis and pizza delivery cars, that are on the road conducting their regular business, and that are not strictly driving around just for advertising.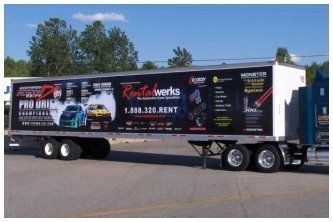 Not to be outdone by the box-truck guys, there are a number of companies offering advertising opportunities to motor carriers wishing to make a few bucks as rolling billboards – albeit the static vinyl variety rather than the LED video kind. The typical sign is a 5-foot high by 12-foot long full-color vinyl overlay, but they can run the full height and width of a 53-foot trailer.
One local business that will be severely affected if the vote goes against them is the advertising company that first introduced the moving billboards to the area.
Yuneisi Canizares, representing LavenirLED, said the company checked with city ordinances before starting up, and that they have never violated an ordinance. The company was brought before a code compliance magistrate earlier this year, and the judge ruled that they were in compliance with city regulations.
"We bought the truck and brought it to the city," Canizares told the Miami Herald. "We hired a lawyer and we looked at the city codes. There wasn't any law against this type of business. They said yes, go ahead and do it."
Then, leading up to this new proposed ordinance the city began citing LavenirLED for violating codes such as off-premise canvassing.
This virtually brand new kind of mobile media for advertising begs the question: How does one balance a promise to give the best exposure to advertising customers against the outright obnoxiousness, and possibly even dangerous distraction, of "in your face" LED advertising?
Advice offered on the website of Spark, a large, Alabama-based mobile advertising company, recommends some do's and don'ts for advertisers and advertising companies keeping mobile advertising looked on "as a good thing for the community":
Do:
Respect all traffic regulations
Keep your trucks clean
Hire off-duty police officers, firefighters, and retired veterans
Sponsor local charities
Donate available ad space to promote city events
Read your local code of ordinances before buying any dedicated advertising vehicle (search for your local sign ordinance at municode.com)
Don't:
Blast music over loudspeakers while driving
Paint your trucks a garrish color
Hire any drivers under the age of 60
Stand up at a public city council meeting with pictures of a DAV that you downloaded online and ask for the city's permission to drive your neon green IN YOUR FACE MOBILE BILLBOARDS truck during rush hours
The author of the website piece said that city fathers considering regulating mobile advertising would have a difficult time arguing that mobile LED's shouldn't be allowed on the roads with Budweiser's 50-foot-long rolling billboards, for example.
"Cities are free to pass ordinances to restrict anything. If four of seven on the council to vote 'yay,' they can make it unlawful to walk your dog in the park, display advertising on your truck, or wear a red shirt on Tuesday. It doesn't matter if you think it's a ridiculous ordinance, or if it's unconstitutional. Until someone challenges and overturns the ordinance in court, it's the law," the article stated.
Sources: Miami Herald, Spark
Tagged Under:
Trailers
Trucking News