WIT and Walmart seek nominations for Female Driver of the Year
Last Updated: Sun, January 5, 2020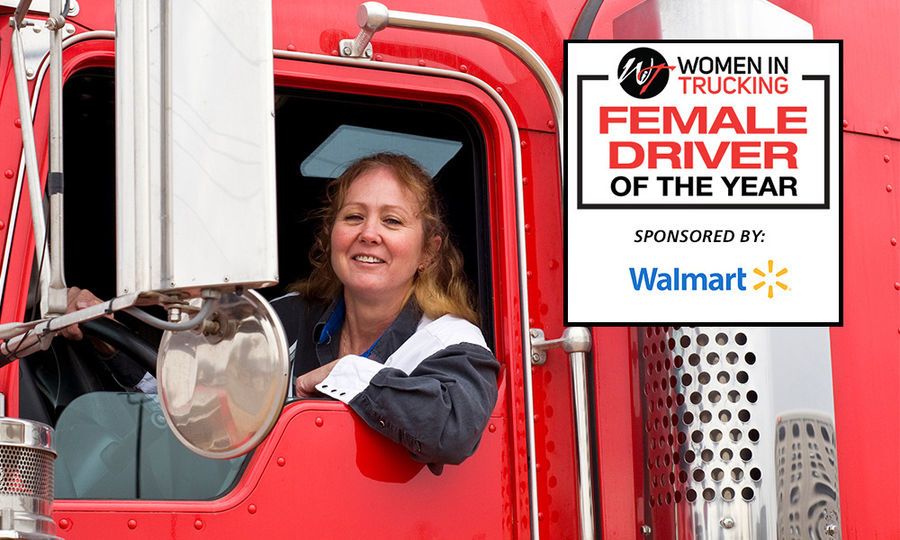 Women in Trucking and Walmart have joined together to find a deserving female driver for their first-ever Female Driver of the Year award. This driver will then be presented the award at the March 27 Mid America Trucking Show's Salute to Women Behind the Wheel.
"Walmart is committed to providing women a great workplace to grow their careers, and is a proud sponsor of Women In Trucking," said Bryan Most in a Women in Trucking news release. Most is vice president of transportation for Walmart and a Women In Trucking board member.
"We are excited to take this relationship a step further and sponsor Women In Trucking's first-ever Female Driver of the Year award to recognize and empower women who are making an impact in the transportation industry."
WIT has long been recognizing women in the industry as leaders with its Member of the Month, Distinguished Women in Logistics awards, and others, along with its support for women in the industry and with its partnerships with carriers throughout the United States. But this Female Driver of the Year award is the first time that WIT has sought to award a driver for her time behind the wheel.
Nominations for the award are open from now until February 15. Details of nomination requirements are expanded below but, basically, WIT is looking for outstanding female drivers who lead the industry in safety standards, who actively work to enhance the public image of the trucking industry, and who have made positive community contributions.
Drivers, both company drivers and independent contractors, must be nominated by the motor carriers that they currently work for, must have safely driven more than one million consecutive accident-free miles, and must have been employed or been leased to and driving for their nominating carriers for the past three years.

"Celebrating women's accomplishments is a key aspect of our mission," says Ellen Voie, WIT president and CEO in the news release. "We're thrilled to honor an outstanding female driver with this new award."
The top three finalists will be announced by Women in Trucking in early 2020, and then the grand prize winner will be announced during the MATS event in March in Louisville, Kentucky.
The winning driver will receive a plaque, a commemorative ring and more.
Contestants must agree to share photos and application information with the contest sponsors. They will be interviewed and photographed for profiles that will appear in industry publications.
In addition, the top three finalists will be expected to attend the MATS conference where the winner will be announced, and the grand prize winner will also be expected to represent Women in Trucking and the trucking industry at events during the year following the award.
Nomination forms are available at Women in Trucking's page at Survey Monkey. Questions can be directed to Lana Michols at (920) 737-9490 or programs@womenintrucking.org.
Rules for nominations
The application must be completed online and submitted through WIT's online application process which will be mid November-February 15th.
Verification of submitted information will include direct contact with the motor carrier by which the entrant is employed and may include credit reports, motor vehicle reports, and other investigation as required.
Each company may nominate up to five drivers. However, only one driver per company can qualify for placement among the top three finalists.
Please note that the judges will carefully scrutinize claims of an excessive number of miles driven annually. Any claim of more than 125,000 miles driven annually must be accompanied by a statement from the company CEO explaining average length of haul, number of hours on duty, and how the miles were logged legally.
Erroneous or false information provided in the application will result in immediate disqualification.
All prizewinners are responsible for any applicable federal, state, and local taxes.
The Association shall retain all applications for one year; therefore, no applications or pictures will be returned.
Four print-quality photographs (300 dpi) featuring the entrant's head and shoulders and taken within the last year must be submitted with the application. They may eventually be used for publicity purposes if the driver is selected as one of the top three finalists.
With due respect for privacy, the contents of the finalists' applications that reflect positively upon the trucking industry may be used for promotional, educational, and training purposes by the Association.
The judges' decision is final.
WIT, officially Women in Trucking Association, Inc., works to encourage employment of women in the trucking industry while promoting their accomplishments and minimizing obstacles they face in the industry.
Some 17 percent of its members are men who support the mission, and supporting sponsors include such prominent members in the industry as Arrow Truck Sales, BMO Transportation Finance, Daimler Trucks North America, Expediter Services, FedEx Freight, Great Dane, J.B. Hunt Transport, Michelin North America, Penske Transportation Solutions, Peterbilt Motors Company, Ryder System, and Walmart.
Tagged Under:
Women In Trucking