Amazon casts around for freight haulers; FMCSA news for drivers
Last Updated: Sun, September 20, 2020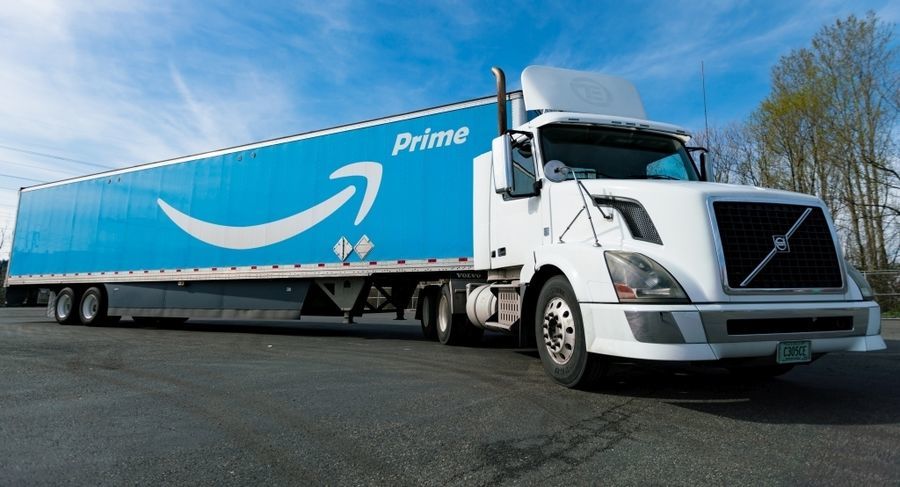 As freight demand grows, especially in anticipation of an early holiday sales season, Amazon is finding itself losing its owner-operator line-haul drivers to the spot market, and is needing to find capacity elsewhere.
But, according to a Business Insider article quoting Cathy Roberson, founder of research firm Logistics Trends & Insights, Amazon is going to have to come up from its traditional 18 percent lower rate structure offered to drivers.
With retailers and manufacturers paying up to 29 percent higher on the spot market these days, many of Amazon's independent freelance truckers are bailing for those higher rates. One driver who used to haul for Amazon told Business Insider he's taking dry van loads for as high as $6 a mile.
So, to meet the increased need for capacity that has come from a huge growth in sales because of virus-related shopping at home, and to counter the decrease in capacity from truckers looking elsewhere for freight, Amazon is turning to some of the medium and larger size carriers to haul their line freight.
However, that might be a tough sale, as Amazon's own entry into freight brokerage has burned bridges with some of the carriers Amazon is now turning to for help.
For example, XPO Logistics was one of the carriers formerly having Amazon as a customer that was burned by the giant retailer's changes in transportation policies. XPO announced last year that it was losing $600 million in expected revenue they would have received from Amazon.
This almost emergency-level need for capacity from line-haul carriers to transport freight from Amazon's air hubs to it distribution centers is different than the fleets of vehicles that Amazon runs in-house for last-mile deliveries.
Before the spot market situation developed Amazon reportedly had around 13,000 truck drivers in their line-haul service network, an increase from only about 3,700 just two years ago.
Business Insider reports that executives at three large trucking companies said that Amazon has dramatically increased their need for capacity in just the last few weeks, and that the retailer is now offering "unusually" higher rates to woo these carriers.
"They need inventory all at once, and that's whats created such a big capacity crunch," Cathy Roberson, told Business Insider. "The trucking industry had a slow period for a while — then, all the sudden, boom." "It's going to be a lot of competition for that capacity going forward," Roberson said. "Amazon's just going to have to be like all the others and have that blank check ready."
FMCSA creates panel of truck driver advisors
Last Friday the Federal Motor Carrier Safety Administration announced the creation of a new Advisory Committee panel that will be made up of commercial motor vehicle drivers.
FMCSA says the panel will provide direct feedback to the agency on important issues such as safety, hours-of-service regulations, training, parking, and driver experience. FMCSA's goal with the new driver panel is to capture the wide array of viewpoints and experiences within the CMV community.
"Truck drivers and other commercial vehicle operators are American heroes who have stepped up during the current public health emergency to keep our economy moving, so their input is essential to strengthening safety on the roads," said U.S. Transportation Secretary Elaine L. Chao.
The new panel will be composed of 20 to 25 drivers from all sectors of the commercial motor vehicle industry including tractor trailer drivers, straight truck drivers, motor coach drivers, hazardous materials drivers, agriculture haulers, and more.
The agency said its new hours of service regulations were based directly on feedback from drivers commenting on the increased need for flexibility and improved safety.
FMCSA Deputy Administrator Wiley Deck noted that, "The Department of Transportation and this Administration believe in listening to our drivers and hearing their concerns directly.
"We know that many of the solutions to the challenges we face don't come from Washington -- they come from the hard-working men and women who are behind the wheel all over our nation. This new subcommittee to MCSAC will further help us hear from America's commercial drivers."
FMCSA reminds owner-operators to register for the Drug and Alcohol Clearinghouse
Owner-operators are subject to the requirements pertaining to employers as well as those pertaining to drivers. So, in order to perform the required annual queries to the Drug and Alcohol Clearinghouse, owner-operators must register with the Clearinghouse as an employer.
The reasoning, according to FMCSA is that anyone who employs a commercial driver's license holder must query the Clearinghouse. This requirement then includes owner-operators because as independent owner-operators they employ themselves as a CDL driver.
That being said, owner-operators must comply with all Clearinghouse requirements imposed on both employers and employees, but an owner-operator's designated consortium/third-party administrator may conduct queries on their behalf. However, the C/TPA is responsible for reporting drug and alcohol program violations to the Clearinghouse for the owner-operator.
Visit the Drug and Alcohol Clearinghouse website for more information.
Sources: Business Insider, FMCSA Driver Advisory Panel, DOT Clearinghouse login
Tagged Under:
Drug and Alcohol Testing
FMCSA
Owner Operator
Understanding The Laws