First autonomous vehicle program student to graduate this semester
Last Updated: Sun, March 14, 2021
Rick Pena, first graduate of the Pima Community College autonomous vehicle driver program
Back in the early summer of 2019 Trucking Truth News published an article about Pima Community College in Tucson, Arizona, offering the first ever autonomous truck driver certificate.
Now, nearly two years later, the college announces Rick Pena as the first graduate of its program. When he graduates at the end of this current semester he will have earned a certificate from the Autonomous Vehicle Driver & Operations Specialist Certificate Program, and will hold the title of autonomous vehicle driver and operations specialist.
Rick applied for the program after having 17 years of experience driving on the open road. He says that he saw the future of trucking changing, and that it was changing in the direction of autonomous vehicles, as they were being developed by a leading innovator TuSimple and being implemented by UPS.
Rick says that he didn't join the program out of a fear of losing his job as a truck driver to automation. He says that self-driving trucks will still need co-pilots, and there will be many trucking industry jobs that will need workers with driving experience, like loading, customer service, and logistics coordination.
He suggests there is a lot of misinformation about truckers losing their jobs as autonomous vehicles become more prevalent on the nation's highways.
"I think there's a misconception about automation. It's not a job loss, but a transition," he said. "The analogy I use with my family is that airplanes have always been autonomous, but they still need pilots. Autonomous trucks need truck drivers to know the system and understand the added technology and sensing devices."
And Rick believes that automation and the new technology that provides for it will mitigate many of the safety and health issues that affect truck drivers today.
"Industry leaders like TuSimple also say their autonomous trucks can address other safety and well-being concerns in the trucking industry, like long hours behind the wheel, dangerous and unpredictable weather conditions, and exhaustion," he said.
He says that this new technology can make a world of difference for drivers. "You're out there on the road and you're driving long haul and always concerned about safety on the road, and the new technology offers a safer working environment for truck drivers, reducing deaths and injuries for everyone on the road."
Pima College says that although Rick is the first graduate from the Autonomous Vehicle Driver & Operations Specialist Certificate Program he won't be the last.
Participants in the program can take courses to prepare them for different jobs in the trucking industry, and help them gain skills to meet the challenges as carriers elect to use a higher level of technology in their fleets.
The program includes classes in how to interact with self-driving vehicles, and understanding the basics of computer hardware components and electrical systems. They also learn about safety, health and environmental regulations as they relate to the trucking industry.
Specifically in the area of autonomous vehicles, the program can prepare drivers for careers as an autonomous commercial vehicle co-driver or operations specialist.
"Truck drivers out there need this continuing education to make the transition," Rick said.
Two years ago, when Pima College announced the new collaboration with TuSimple to create the autonomous vehicle program, TuSimple said it promised that graduates of the community college's program would have hiring preferences. And Rick hopes TuSimple makes good on that promise as he has applied to work at TuSimple's testing and development center in Tucson.
"It's clear that the future of truck transportation will offer new employment opportunities for today's drivers but it will require a set of new skills," Lee Lambert, Chancellor, Pima Community College, said.
"Working with TuSimple to develop this Autonomous Vehicle Driver and Operations Specialist certificate program ensures our students will build competencies in multiple areas – from logistics and information technology to automated industrial technology. These areas are being transformed by autonomy and drivers will need training in order to interact with autonomous trucks."
Pima College literature says that graduating the program can lead to employment having salaries ranging from Class A vehicle drivers, $51,037; heavy and tractor-trailer truck drivers, $40,196; and light truck or delivery services driver, $26,303.
These numbers are computed from associated Pima County-based annual median wages.
In order to be admitted to the program, applicants must already hold a Class A commercial drivers license.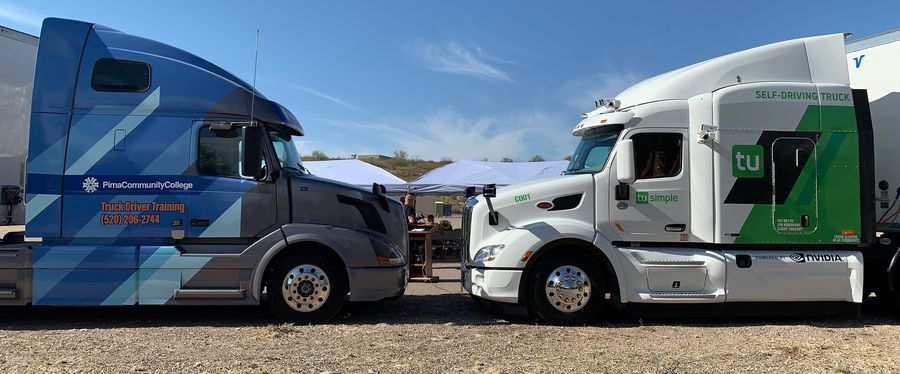 ---
Dave Wickenhauser went on the road driving big rigs after retiring from 33 years in newspaper journalism. His trucking novel, "Crimson Highway" the first in the Hugh Mann series, is available as an Amazon paperback, and as an Amazon Kindle ebook.
Sources: Pima College News Release, Pima College TuSimple, Pima College Certificate Program
Tagged Under:
Autonomous Trucks
Changing Careers
Self-Driving Vehicles
Truckers Technology