Road train pilot program approved by North Dakota lawmakers
Last Updated: Sun, January 10, 2021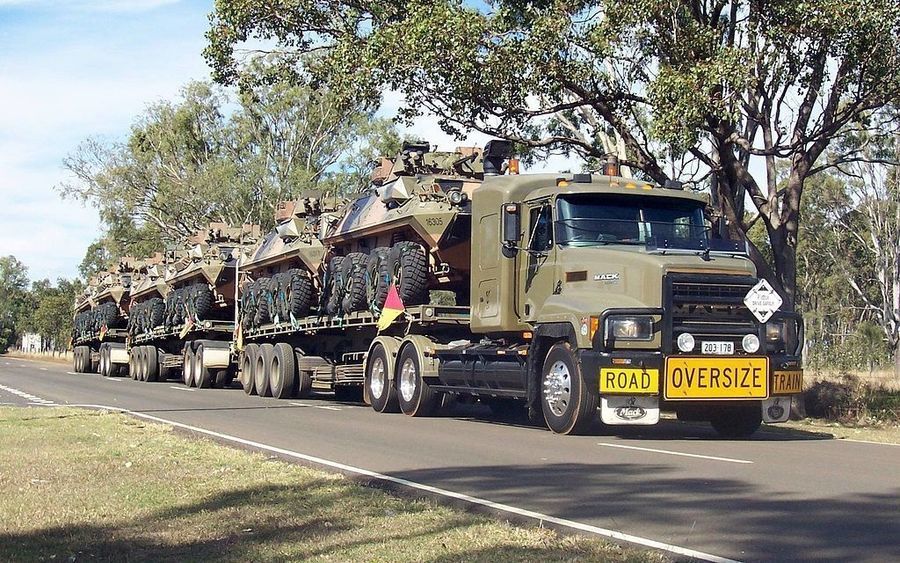 A proposal to open up North Dakota roads to Australian-like "road trains" has been approved by the state's legislature for a pilot program.
Many herald the approval as a positive move forward, but others say the oversize rigs will "kill North Dakota citizens."
In order for North Dakota's approval of road trains to be fully implemented throughout the state on all its roadways, lawmakers are also petitioning the Federal government to take action allowing regional amendments to the size and weight regulations so that North Dakota's road trains can operate on Interstates 94 and 29.
The bill, proposed by North Dakota State Senator Larry Luick cited the need for being able to move more freight, more efficiently, while offering a cleaner environment, as the impetus for the proposal.
"We have an opportunity to not only move freight more efficiently here, but also safer, and also cleaner for the environment," Luick was quoted in an CDL Life article.
He said that his idea of a road train plying the highways of North Dakota is not what people normally think of when thinking about the many-trailers-long behemoths that traverse the Australian Outback.
His vision of a North Dakota road train would be more like three trailers totaling about 200 feet long, and weighing no more than 360,000 pounds. They would not be allowed to carry hazardous materials.
"I'm not into just making a very long unit on the roadway. It has to be practical, and it has to be safe, and it has to be efficient," he told CDL Life.
Supporters of the concept say the industry benefits because more freight being moved by fewer drivers would alleviate the driver shortage problem. Also, while carriers struggle to keep their tractors manned with drivers, the increase in freight demand would be satisfied by hooking up more trailers to one tractor.
"The reality is we need to be able to move more freight with less people," Matt Gardner, North Dakota Motor Carriers Association lobbyist," told CDL Life.
Recounting how the Australian transportation industry solved the problem of hauling freight over huge, sparsely populated distances Michael Notarangeli, executive vice president of logistics at Maine Pointe, a global supply chain and operations consultancy, is quoted in a Supply Chain Dive article.
"Ideally, road trains would operate in rural areas where there is less congestion," he said. "If you can envision a mega-tandem they are best operated on straight roadways — 90-degree turns are impossible."
Another transportation industry official, Torsten Welte, global VP and head of the Industrial Business Unit for Aerospace and Defense, told Supply Chain Dive, "It's always the optimization of how do you get more transported by less effort."
"Establishing these super-long, multi-trailer mega trucks, where you don't have the infrastructure for rail, [but still] need to get the same kind of flexibility and capacity in place [makes sense]."
He added that "with trucks, there is the engine and the driver, but as in rail, the more trailers you have on it, the more efficient you are. You can carry more freight and that means more revenue."
Not all are in favor of the idea of North Dakota road trains
Safety was a common thread posed by opponents to North America's first legal road trains
For example, Fargo attorney Nathan Severson expressed concern about the "human cost" if these longer big rigs are allowed on North Dakota highways.
Citing in the Herald article that the state's harsh winter weather could pose "a substantial risk" to state drivers, Severson said, "It's going to affect and kill North Dakota citizens."
Others said that while they may support the road train concept what was lacking from the bill was a clear definition of the number of trailers, and their size and weight that would be allowed.
Some cited the potential damaging effect these bigger rigs would have on North Dakota roads. In the CDL Life article Landis Larson, president of the North Dakota AFL-CEO said road trains will put "unnecessary strain on an already underfunded and crumbling infrastructure."
Not surprisingly, railroad groups lobbied against the road trains bill.
"The more freight that moves by rail, the less wear and tear on the state's roadways," said Amy McBeth, a BNSF spokesperson, is quoted in The Herald. "There are simply many unknowns and many costs to a program that appears to have limited public and industry support."
And finally, never to be left out of a controversial issue, the Owner-Operator Independent Drivers Association lobbied against the proposal.
OOIDA's Executive Vice President Lewie Pugh wrote a letter dated October 7 to the state's Interim Agriculture and Transportation Committee citing a reduction of safety margins and saying small trucking businesses would be adversely affected by allowing road trains.
"Allowing longer combination trailers would only benefit a handful of large or specialized motor carriers, while damaging the rest of the trucking industry," Pugh wrote, because "small trucking businesses, would be pressured to increase their hauling capacity just to stay competitive."
And these small trucking businesses "constitute a large and critical segment of the American trucking industry," Pugh wrote.
Pugh warned in his letter of a "slippery slope" that would be created by increasing operating weights and sizes, and bring about increased infrastructure costs.
Sources: Grand Forks Herald, Supply Chain Dive, Land Line, CDL Life, The Telegraph
Tagged Under:
Doubles and Triples
Trailers
Trucking News