Friday Short Haul - International Roadcheck 2021, Nikola hydrogen deal, OOIDA wants truck stop vaccines
Last Updated: Thu, February 4, 2021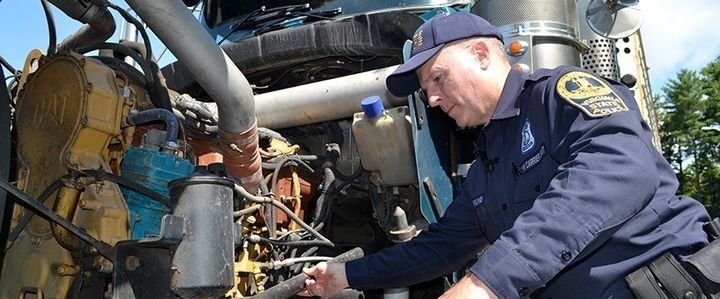 Lighting and HOS will be focus of the 72-hour inspection blitz in May
Vehicle lighting and driver hours-of-service compliance violations are announced as the focus for this year's International Roadcheck, which runs from May 4 through May 6.
Spearheaded by the Commercial Vehicle Safety Alliance, this annual inspection blitz will see inspectors deployed across the United States, Canada and Mexico to ensure that commercial vehicles and their drivers are meeting required standards.
This year, a class of commercial vehicles will be all-but-exempt from inspections – those transporting COVID vaccines.
According to the CVSA news release announcing International Roadcheck, "Every effort will be made to get vaccine shipments to their destination, quickly and safely. COVID-19 vaccine shipments will not be held up for inspection, unless there is an obvious serious violation that is an imminent hazard."
That consideration for the virus is in addition to what law enforcement personnel will do to comply with their departments' health and safety protocols during inspections.
Lighting and HOS will come under special attention during this next Roadcheck because those two stood out as topping the number of violations during 2020 commercial vehicle inspections.
The Federal Motor Carrier Safety Administration reports that the lighting violation, "lamps inoperable" led the number of vehicle violations in 2020, accounting for 12.24 percent of all violations discovered that year. Driver HOS violations was the top out-of-service violation category during last year's International Roadcheck, responsible for 34.7 percent of all OOS conditions.
CVSA routinely sets the focus on the next year's Roadcheck based off of the previous years top violations.
"CVSA shares the dates of International Roadcheck in advance to remind motor carriers and drivers of the importance of proactive vehicle maintenance and driver readiness," said CVSA President Sgt. John Samis with the Delaware State Police. "International Roadcheck also aims to raise awareness of the North American Standard Inspection Program and the essential highway safety rules and regulations in place to keep our roadways safe."
In addition to looking at the focused items, inspectors will be checking that the vehicle's brake systems, cargo securement, coupling devices, driveline/driveshaft components, driver's seat, exhaust systems, frames, fuel systems, lighting devices, steering mechanisms, suspensions, tires, van and open-top trailer bodies, wheels, rims, hubs and windshield wipers are compliant with regulations.
Drivers will have their operating credentials, hours-of-service documentation, seat belt usage checked, as will they be observed for alcohol and/or drug impairment.
"It's important to remember that International Roadcheck is a data collection effort," said Sgt. Samis. "The inspections conducted during the three days of International Roadcheck are no different from the inspections conducted any other day of the year. Other than data collection, the inspection process is the same."
Commercial vehicles that pass the Roadcheck inspection will receive a CVSA decal; which means they will not be re-inspected during the three-month period during which the decal is valid.
Nikola is a step closer to feasible hydrogen fueled semis
In a deal it has just cut with Arizona's Public Service electric utility Phoenix-based Nilola is a step closer to having an economic source of hydrogen to power its planned zero-emission heavy duty big rigs.
State utility regulators approved the arrangement with APS for Nilola to use surplus electricity to generate clean hydrogen gas for its planned network of fueling stations across Arizona and ultimately the United States.
Nikola, which is building a $600 million plant in Coolidge, Arizona, to produce its fuel-cell big rigs, expects to roll out semi trucks by 2023 that will be in the 1,000 horsepower and 2,000 foot pounds of torque range. The company expects to deploy their trucks on a zero-emission route along the 1-10 corridor from Phoenix to Los Angeles.
"The approval of this special rate for hydrogen production is critical for advancing the future of zero-emissions transportation and building a hydrogen economy," Nikola CEO Mark Russell said.
The deal with APS gives Nilola a competitive leg up for the production, processing and dispensing of hydrogen used in its fuel-cell commercial vehicles; which it will use to build hydrogen facilities throughout the state.
OOIDA lobbies for truck stop vaccine shots for truckers
In a letter dated February 1, Lewie Pugh, executive vice president of the Owner-Operator Independent Drivers Association, is asking the CDC to consider making vaccine injections available at truck stops for commercial drivers.
"While truckers certainly appreciate the thanks that officials and the public have heaped on them for their work, that doesn't protect them from the health risks they continually face," Pugh wrote. "Truck drivers have put their own health on the line to get the job done."
He said that truck drivers face distinct challenges for accessing health care, spending on average more than 200 days a year away from home. This makes it particularly difficult to schedule COVID vaccinations, as well as being logistically difficult and economically disruptive to plan to return home for the second booster shot.
"Few truckers know precisely where they will be from week-to-week, making it difficult to return home for shots and often impossible to predict where they may be located when it's time for a second booster," Pugh wrote.
Pugh added, "Even those who are capable of getting vaccinated while they work will undoubtedly experience difficulty accessing vaccination sites – visiting a clinic, pharmacy or medical facility by car is much easier than finding a location to temporarily park a commercial motor vehicle."
Pugh suggested providing vaccinations, preferably the one-time dosage type, at truck stop clinics or rest areas throughout the country.
"Please make truck drivers a priority in distributing the vaccine and make it available where they can access it easily," Pugh concluded.
The letter was addressed to Dr. Rochelle P. Walensky, Director, Centers for Disease Control and Prevention.
Sources: CVSA news release, AZ Big Media, OOIDA letter
Tagged Under:
Coronavirus
Electric Semi
Electronic Logbooks
Hours Of Service
Owner Operator
Truck Stops