Travel advisories and restrictions announced for Midwest weekend storm
Last Updated: Sun, January 19, 2020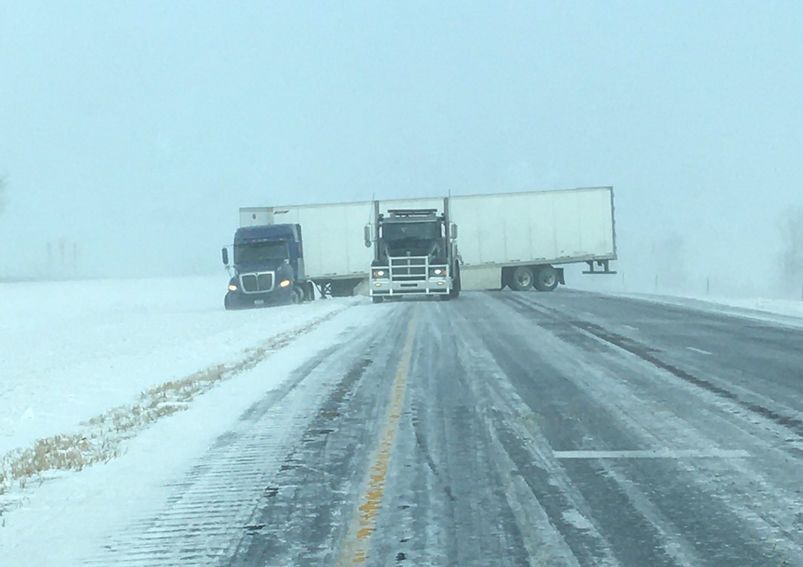 This was an ugly weekend for drivers caught out in the major snow, sleet and ice storm in the Midwest. That same storm quickly moved into the Northeast causing highway closures and vehicle travel restrictions.
Because of the high winds, sleet and ice that accompanied the storm's progression into the Northeast, the Pennsylvania Department of Transportation began imposing restrictions for trucks and passenger cars all along Interstates 86 and 90.
Besides urging drivers to generally slow down during the storm conditions PennDOT invoked its Level 1 travel restrictions … storm rules that affect truck drivers specifically, as well as RVs and commercial buses, including school buses.
As listed on the Fox 43 website, the following vehicles were banned beginning noon Saturday by PennDOT during the Level 1 restriction period:
Tractors without trailers
Tractors towing unloaded or lightly loaded enclosed trailers, open trailers or tank trailers
Tractors towing unloaded or lightly loaded tandem trailers
Enclosed cargo delivery trucks that meet the definition of a CMV
Passenger vehicles (cars, SUV's, pickup trucks, etc.) towing trailers
Recreational vehicles/motorhomes
School buses, commercial buses and motor coaches
Motorcycles
PennDOT makes the restrictions known via highway message boards and the 511PA traveler information website, and also via smartphone apps.
During the Level 1 restriction period all vehicles must observe a maximum 45 mph speed limit, and commercial vehicles not banned by the restrictions are required to remain in the right-most lane.
PennDOT also reminded that driving with ice or snow on their vehicles will subject the motorist to a fine of up to $1,000 if that ice or snow falls from their vehicle and strikes another vehicle or causes injury or death.
Snow plow trucks will be out in force during the storm clearing roads as quickly as they can. PennDOT offers the following tips that are useful for all drivers in all states experiencing winter storms.
When encountering a snow plow, drivers should:
Stay at least six car lengths behind an operating plow truck and remember that the main plow is wider than the truck.
Be alert since plow trucks generally travel much more slowly than other traffic.
When a plow truck is traveling toward you, move as far away from the center of the road as is safely possible, and remember that snow can obscure the actual snow plow width.
Never try to pass or get between several trucks plowing side by side in a "plow train." The weight of the snow thrown from the plow can quickly cause smaller vehicles to lose control, creating a hazard for nearby vehicles.
Never travel next to a plow truck since there are blind spots where the operator can't see, and they can occasionally be moved sideways when hitting drifts or heavy snowpack.
Keep your lights on to help the operator better see your vehicle. Also remember that under Pennsylvania state law, vehicle lights must be on every time a vehicle's wipers are on due to inclement weather.
In addition to driving safely around plows, motorists are urged to drive according to conditions.
If motorists encounter snow or ice-covered roads, they should slow down, increase their following distance and avoid distractions. Last winter in Pennsylvania, preliminary data shows that there were 440 crashes resulting in 221 injuries on snowy, slushy or ice-covered roadways where aggressive-driving behaviors such as speeding or making careless lane changes were factors.
After announcing closure early this weekend because of a tractor trailer crash, PennDOT has reopened Interstate 90 westbound in Erie County on Sunday. However, the speed limit reduction is still in force on I-90 from the Ohio state line to the New York state line.
Storm-related incidents this weekend
The great piglet escape
More than 1,700 young pigs made a break for freedom on an onramp to Iowa Interstate 35 this weekend when the semi truck transporting them overturned just north of Des Moines.
Iowa State Troopers had to close the onramp to allow workers to unload hundreds of pigs from the overturned trailer and to round up the piglets that escaped.
Semis jackknife in Missouri storm
Interstate 35 in northern Missouri got a lot of storm action this weekend as conditions rapidly deteriorated for motorists in the area.
A reporter for KMRN AM1360 said he saw five tractor trailers jackknifed, and watched truck drivers struggling in the heavy freezing rain and sleet conditions.
Fatality involving a semi truck in Nebraska
The current storm claimed the life of a Colorado man on Friday when he lost control of the pickup truck he was driving on Interstate 80 near Hershey, Nebraska, causing him to swerve into the path of a semi truck.
The truck driver was not hurt in the incident where the pickup truck crossed the freeway median and swerved into his path.
Nebraska state troopers reportedly responded to more than 200 storm-related incidents this weekend.
Sources: MissouriNet, ABC 8, PennDOT, Des Moines Register, Fox 43, ABC 4
Tagged Under:
Adverse Conditions
Dealing With The Weather
Safe Driving Tips
Trucking Accidents
Winter Driving Tips