Friday Short Haul - HOS revisions delayed, AEB mandate proposed, Koch sued for sex discrimination
Last Updated: Thu, August 8, 2019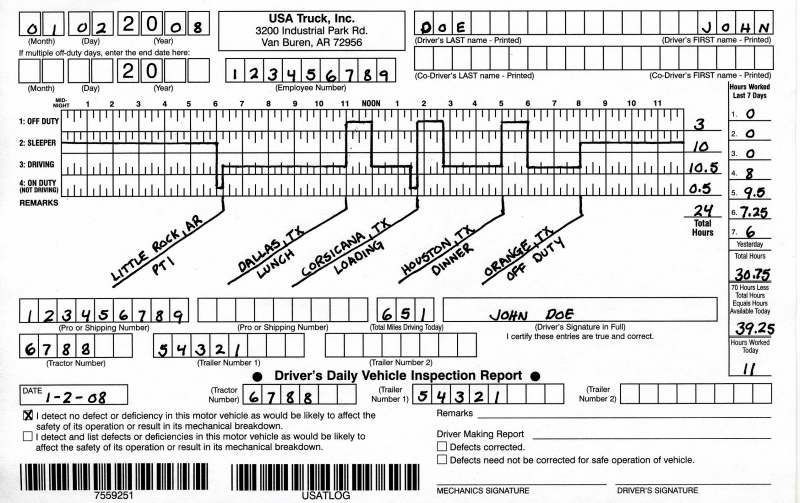 Truckers might not see revised HOS rules until 2020
Announcement of the widely anticipated new changes to the hours of service rules for truck drivers has been pushed back again – possibly to next year.
The White House Office of Management and Budget has had the proposed rulemaking under review since early this year, which the Federal Motor Carrier Safety Administration was hoping to fast-track with publication in June.
The FMCSA then announced a July 31 tentative publication date, which has now been pushed back to the end of this year, and possibly into early 2020. But implementation once the proposed ruling is approved would be three to six months later.
Part of the reason for the delay, according to FMCSA chief Ray Martinez, was the federal government shutdown in December 2018.
The proposal for revising HOS rules began with an Advanced Notice of Proposed Rulemaking that was published in August 2018. The announcement included a comment period, during which more than 5,200 comments were received.
FMCSA is looking at four main areas of HOS rules for revision.
One is the proposal to make the 100-mile short-haul exemption of 12 hours consistent with the rules for long-haul drivers by extending short-haul drivers' on-dute time to a 14-hour day.
Another was a consideration for drivers facing adverse driving conditions. The revision would allow adding up to two additional hours to their 14-hour on-duty day.
Yet another HOS rule for revision is considering changing the mandatory 30-minute break for truck drivers after 8 hours of continuous driving.
And finally, for drivers having a sleeper cab FMCSA is proposing a rule change giving the option of splitting up the required 10-hour off-duty rest break.
In addition to FMCSA's proposed rule changes, included in the proposal are two petitions arising from the trucking industry.
The Owner-Operators Independent Drivers Association requests adding up to three hours of off-duty time to the 14-hour on-duty day, and eliminating the 30-minute rest break altogether.
And TruckerNation, which represents smaller carriers and operators, has petitioned FMCSA to allowe for an unlimited driving day as long the drivers have not logged 14 hours of on-duty time.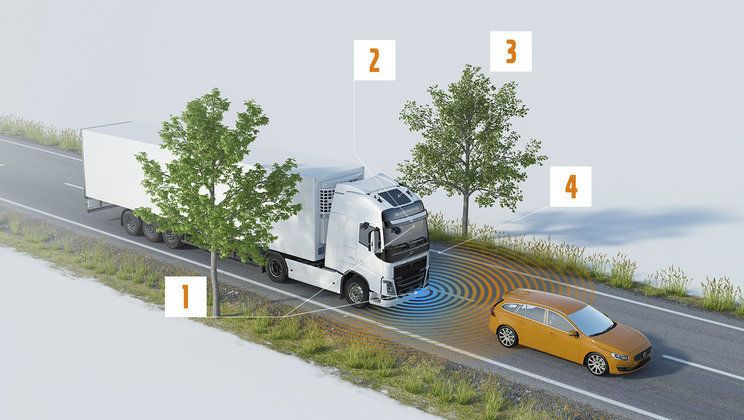 Using a camera and a radar, Collision Warning with Emergency Brake continuously monitors objects ahead. If a collision is imminent, a warning is issues, and if the driver fails to respond, the emergency brake is automatically activated. -- Volvo Trucks
Lawmakers seek truck emergency braking mandate for new commercial vehicles
Calling "carnage" on America's highways "unacceptable," a highway safety advocate fully supports proposed legislation that would require new commercial vehicles to be equipped with automatic emergency braking systems.
As reported in a National Safety Council news release, Advocates for Highway and Auto Safety President Cathy Chase says, "Truck crashes, deaths and injuries are unacceptably high. This carnage would not be tolerated in any other industry. It is imperative that Congress and the U.S. Department of Transportation get serious about solving this problem. Solutions, including requiring advanced technologies in all new trucks, are readily available – they just need to be implemented."
Toward that end, U.S. Representatives Jesús García (D-IL) and Hank Johnson (D-GA) have introduced H.R. 3773 mandating AEB equipment in all new commercial motor vehicles.
In a July 17 press release, Garcia said this technology would be "a simple, common-sense solution to deploy proven crash-avoidance technologies."
"Tragically, the simple installation of automatic braking systems on all commercial motor vehicles might have prevented these deaths and countless others across the country," Johnson said in a July 16 press release. "America's roads and highways should be safe for all drivers. Taking full advantage of technologies that are available and proven to anticipate and prevent crashes will save lives."
The Owner-Operator Independent Drivers Association voiced a cautionary opinion about the proposed legislation on July 18, stating that AEB systems "are still in their infancy."
OOIDA cautioned that automatic braking systems must take into account the human factor. For example automatic braking might work at lower speeds, but a sudden application of brakes using autonomous technologies at higher speeds could startle a driver, resulting in possible erratic behavior because of the driver's reaction.
The National Safety Council reports that commercial motor vehicles were involved in 4, 657 fatal crashes in 2017; which is a 9-percent increase from 2016, and a 45-percent increase since 2009.
Koch & Sons Trucking under the gun for sex discrimination
The Equal Employment Opportunity Commission filed lawsuit on Thursday against Koch & Sons Trucking charging that the Minnesota-based carrier violates federal law by using a strength test that discriminates against women truck drivers.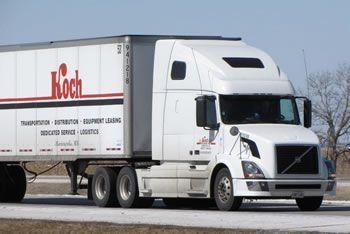 The EEOC lawsuit arises from the original complaint from a female Koch truck driver who was fired from her job when she failed a physical test.
Koch; which reports having a fleet of 800 tractors and 2,000 trailers, uses the CRT Test developed by Cost Reduction Technologies, Inc. The lawsuit alleges that use of the CRT Test screens out women who would otherwise be qualified for driver positions with the company.
EEOC is filing on behalf of the class of women who were fired by Koch for failing the CRT Test, and is asking for an injunction to prevent the company from continuing to use the test.
"Employers cannot use a test that disproportionately excludes women unless they have proof that the test is actually related to one's ability to do the job," said Julianne Bowman, the EEOC's district director in Chicago, in a news release. "The EEOC is committed to expanding women's access to traditionally male-dominated careers through the removal of unnecessary and discriminatory barriers to employment."
Sources: FreightWaves, NSC, EEOC
Tagged Under:
FMCSA
Hours Of Service
Owner Operator
Split Sleeper Berth Rule
Truckers Technology
Trucking Accidents
Women In Trucking