ELD mandate deadline looming, many still not compliant
Last Updated: Wed, July 10, 2019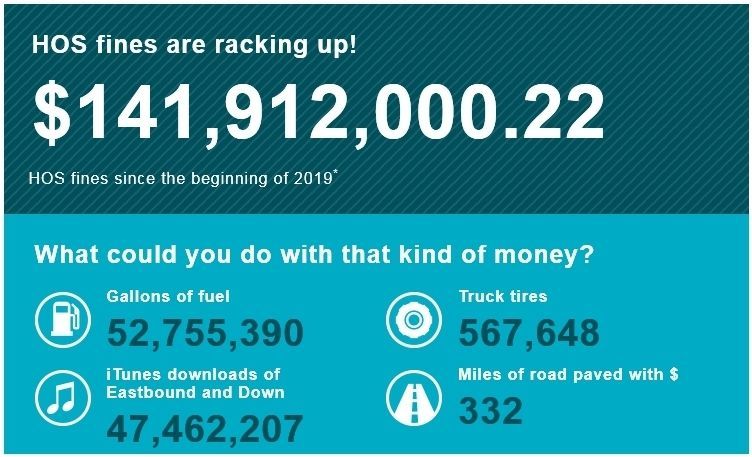 Click on the image to view the up-to-the-minute HOS violations total.
With the hard deadline for ELD compliance looming ever closer, and with no more extensions or grandfathering to be counted on, a significant portion of commercial carriers industry wide have yet to install the devices in their fleets.
And FMCSA has stated that the December 16 deadline is for full deployment. In other words, carriers must have the systems installed and in use – by drivers and office personnel alike – by that deadline.
FreightWaves reported on a survey this week by CarrierLists for EROAD where it was found that almost one-fifth of regional and super-regional carriers, and slightly more than one-tenth of national carriers haven't made the move to be compliant yet.
For the survey, CarrierLists sampled 123 carriers, among them were regional carriers that drive within a 150 to 1,000-mile radius, super-regional carriers that run more than 1,000 miles but not nationwide, and nationwide carriers.
It was found that regional carriers were 81 percent compliant, super-regional carriers were 79 percent compliant, and national carriers were 88 percent compliant.
At this point, since the December 2017 deadline has passed for being ELD compliant, only carriers grandfathered into the extended date of December 18, 2019, because they use automatic onboard recording devices, should be left needing to switch over to ELDs.
But the hard December 2019 deadline kills that grandfather, and all carriers must be using ELDs by then.
Companies wishing to keep grandfather alive by installing AORBDs and waiting until the final December 2019 deadline to install ELDs found themselves up against a hard deadline for doing that too, and it is too late now.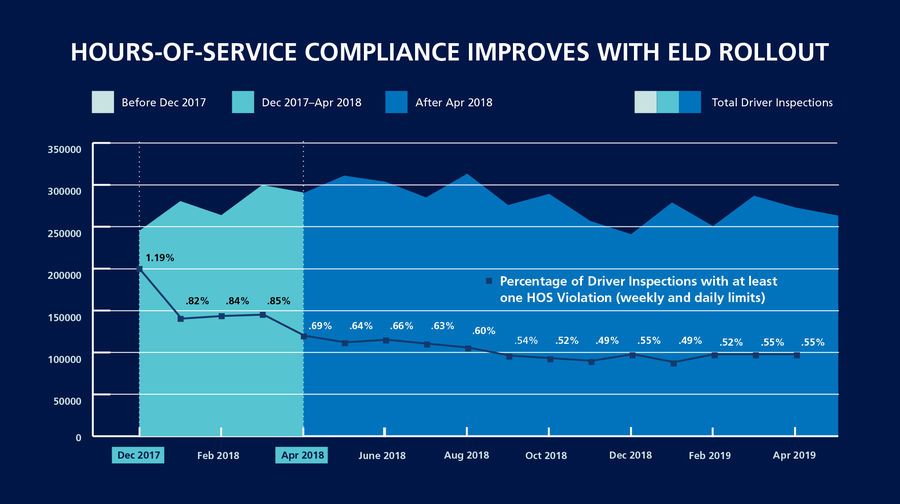 FMCSA is tracking the impact ELDs are having on industry compliance with hours-of-service regulations. As you can see in the graph, hours-of-service violations have fallen steadily with ELD rollout. These critical regulations ensure that CMV drivers get the breaks they need, increasing the safety of everyone on the road. -- Source: FMCSA
The FMCSA ruled that carriers relying only on paper logs had to have had AORBDs or ELDs installed no later than December 18, 2017.
"We are starting to see a divergence of which carriers are still using AOBRDs," FreightWaves Director of Research Kevin Hill reported in the FreightWaves article. "This pattern is very similar to the one we saw leading up to the April 2018 (enforcement) deadline from paper logs to electronic logs. Flatbed and dry bulk carriers have lower ELD adoption rates, along with carriers who focus more on shorter hauls."
It seems that it's the regional carriers holding out on upgrading from AOBRDs to ELDs, possibly for financial reasons. EROAD President Norm Ellis told FreightWaves that's understandable, but could cost more in the long run.
"Unfortunately, waiting longer to make the switch could end up costing you more. Coordinating a technology switch with the shop or qualified installer, and working through business process changes with the back-office staff and drivers can eat up valuable time, essentially costing you more."
It takes time to train drivers and office personnel in the use of ELDs, intergrating these entirely new systems into existing office systems, and testing them for a final rollout. And carriers risk coming up short with ELD supplies the closer the deadline looms.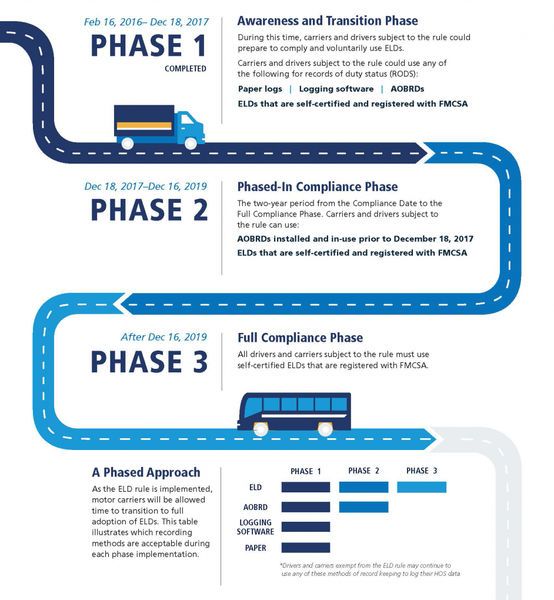 Only a handful of commercial vehicles will be exempt from the ELD mandate. These will include drivers using paper records of duty status for eight days or fewer during every 30-day period, drivers delivering the vehicles that they are driving, and drivers of vehicles built before 2000.
The FMCSA approved citing drivers beginning in December 2017, and enforcing out-of-service orders beginning April 2018 for drivers who did not have either a grandfathered AOBRD or an ELD. Presumably, FMCSA will enact a similar phased approach for violations of the December 2019 deadline.
Out-of-service orders can become extremely costly to carriers. Initially, a non-compliant driver could be sitting for 10 hours; which potentially affects deliveries and possibly future business with that shipper.
However, problems compound if the driver continues to drive non-compliant and is stopped a second time.
Omnitrac's live HOS Fines Tracker tells the story. By mid-May the first year that the ELD mandate was being enforced hours of service fines were racked up to the tune of $102 million.
This year so far, HOS fines are pushing over $140 million.
Sources: FreightWaves, ELD Facts
Tagged Under:
Electronic Logbooks
FMCSA
Hours Of Service
Logbook Questions
Time Management
Truck Equipment
Truckers Technology
Trucking Industry Concerns