UPS takes giant leap in its drone delivery program
Last Updated: Tue, October 1, 2019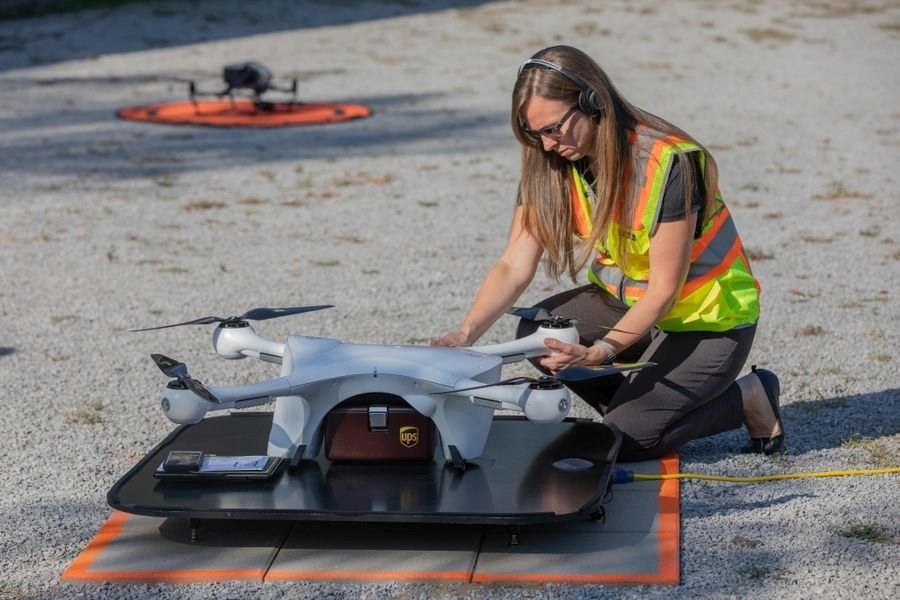 Edging out its competition in the race for commercial drone deliveries, the drone subsidiary for UPS became the first in the field to receive Part 135 Standard certification from the United States Federal Aviation Administration.
This means that UPS can now fly an unlimited number of drones making deliveries anywhere in the United States, at night, above people, out of sight of an operator, and without being subject to the 55-pound total weight limitation. This is the highest level of certification a drone operation can achieve.
This puts UPS Flight Forward, Inc., way ahead of other drone delivery innovators like Google and Amazon that are still limited by more restrictive FAA regulations. Its FAA certification is very similar to what is offered to regular airlines.
The company's drone fleet will join UPS' fleet of 564 airplanes that it leases or owns for making bulk deliveries.
Since early this year UPS has been using drones to deliver medical supplies at the WakeMed hospital campus in Raleigh, North Carolina. The company has made more than 1,000 such flights.
But with its Part 135 Standard certification, UPS plans to immediately ramp up its program to hospitals across the country, and will be exploring deliveries to customers beyond the healthcare industry.
Even in its formerly limited scope UPS became the first revenue-generating commercial operator in the United States to be allowed deliveries beyond visual line of sight.
"This is history in the making, and we aren't done yet," said David Abney, UPS chief executive officer, in a UPS news release. "Our technology is opening doors for UPS and solving problems in unique ways for our customers. We will soon announce other steps to build out our infrastructure, expand services for healthcare customers and put drones to new uses in the future."
"UPS Flight Forward is benefitting from our knowledge as one of the world's leading airlines. The Flight Forward organization is building a full-scale drone operation based on the rigorous reliability, safety, and control requirements of the FAA," Abney said.
In granting this advanced certification United States Secretary of Transportation Elaine L. Choa extolled the value of UPS' program: "This is a big step forward in safely integrating unmanned aircraft systems into our airspace, expanding access to healthcare in North Carolina and building on the success of the national UAS Integration Pilot Program to maintain American leadership in unmanned aviation."
During the runup to becoming certified, UPS has tested its drone delivery service over water, has funded and supported humanitarian deliveries in Africa, and has tested commercial residential delivery in rural areas with drones launched from a UPS package delivery car.
The idea is that the UPS driver would launch a drone delivery from his vehicle to one location, and then proceed to make his own delivery at another location. The drone would meet up with him after dropping off its package … and then do it all over again with a new delivery.
UPS says it has plans in the future to extend regular commercial deliveries to residential areas, primarily rural or suburban areas that are more cost-effective and safer than in higher-density urban areas. But it says one limitation is the weight limit of five pounds for the drones currently being used.
Government regulators have drawn from UPS' experience as they worked to establish rules for safe drone operations in the United States. And since 2017 a UPS senior executive has sat on the FAA's drone advisory committee as a corporate advisor.
Going forward, now that Part 135 Standard certification is in hand, UPS plans:
Expansion of the UPS Flight Forward delivery service to new hospitals and medical campuses around the country.
Rapid build-out of ground-based, detect-and-avoid (DAA) technologies to verify drone safety, while enabling future service expansion.
Construction of a centralized operations control center.
Regular and frequent drone flights beyond the operator's visual line of sight.
Partnerships with additional drone manufacturers to build new drones with varying cargo capacities.
Adding new services outside of the healthcare industry, including the transport of special commodities and other regulated goods.
Teamsters opposed UPS' drone delivery plans
As negotiations opened early in 2018 between the Teamsters and UPS for a new five-year contract spanning 2018-2023, the Teamsters initially demanded a prohibition against UPS using drones or driverless vehicles.
The agreement, one of the largest collective bargaining agreements in the United States, covers some 260,000 UPS employees.
This tough position against UPS drones was proposed by the Hoffa administration, but a dissident group within the Teamsters headed by Denis Taylor orchestrated the withdrawal of the ban from negotiations; and the final contract has no mention of drone technology.
Taylor heads the teamster's package division, which oversees labor relations between the union and UPS.
Sources: UPS News Release, Business Insider, Bloomberg, Fox Business
Tagged Under:
Trucking Industry Concerns
Unions In Trucking