Friday Short Haul - 'Thank God for truckers!' CA state senator proposes bill to suspend AB5, TA furloughs 3,000 workers
Last Updated: Thu, April 23, 2020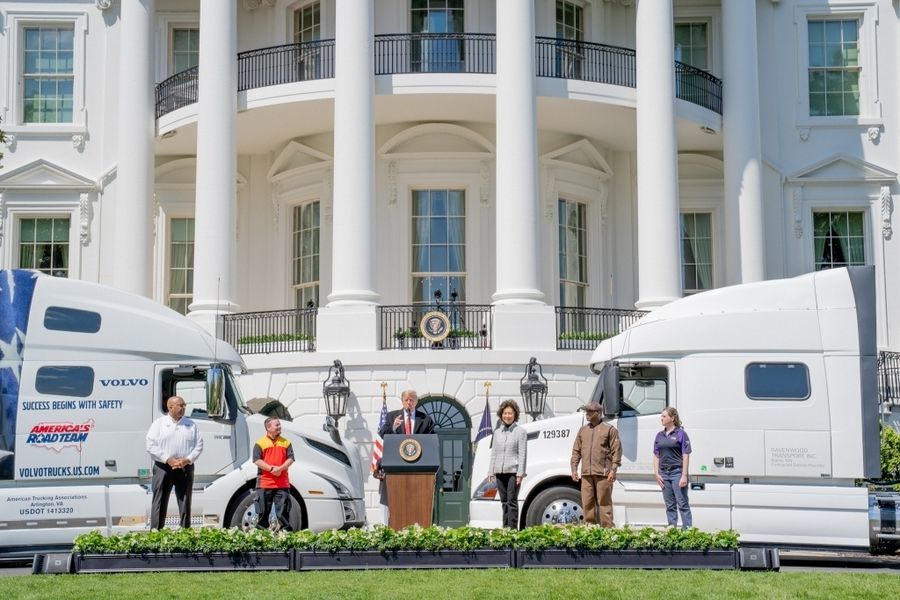 Pres. Trump Tweet: 'Thank God for truckers!'
Big rig trucks drove up onto the White House lawn recently, but it was not to protest Federal regulations.
They were there as invited guests to join President Trump, Department of Treasury Elaine Chao and the American Trucking Associations in an event honoring the critical role that truck drivers have played during the COVID-19 crisis.
"In the war against the virus, America's truckers are really the foot soldiers that are carrying us to victory," President Trump said. "Truckers are playing a critical role in vanquishing the virus, and they will be just as important as we work to get our economic engine roaring."
Among the drivers invited to the podium to share personal stories of driving during the crisis was Stephen Richardson, a driver with Big G Express of Decatur, Alabama.
"As a professional driver, I am proud to stand here representing my fellow drivers out there doing the important work of delivering for America," he said. "I am proud to be a truck driver and I am especially proud of the work all of the drivers are doing now in response to this crisis."
Other truck driver speakers included Charlton Paul, UPS Freight, Chester, New York; and Tina Peterson, FedEx Ground/Ravenwood Transport, Blaine, Minnesota. They spoke of their experiences and received a gold key from President Trump, which he called an expression of thanks for their "essential" work.
"President Trump is absolutely correct in calling America's truck drivers 'the lifeblood of our economy.' As he said, they truly are 'brave, bold and incredible' heroes," said ATA President and CEO Chris Spear.
"We thank the President and Secretary Chao for recognizing these drivers, who are touching the lives of Americans in a very tangible way, and for appreciating the hard work and sacrifice these men and women are making to deliver shipments of food, medicine and other crucial supplies to the frontlines of the fight against this virus."
California state senator proposes AB5-killing Senate bill
A Republican California State Senator has proposed a bill that he hopes will suspend further enforcement of AB5, the California anti-independent contractor bill that went into effect on January 1 of this year.
AB5, proposed by Democrat California Assemblywoman Lorena Gonzalez, has come under considerable opposition with opponents winning injunctions, and numerous others being granted exemptions to the strict independent contractor test required by the new law.
While many in the state's gig-worker economy have earned "carve outs" from the law, enactment has killed many thousands of freelance and independent contractor jobs and changed whole industries.
According to the California Legislative Analyst's Office, AB5 has already affected more than 1 million independent contractor and freelance working Californians.
It has been revealed that AB5 was written by the AFL-CIO, and entities seeking exemptions to AB5 are finding themselves being pushed to unionize in order to win the exemption.
California State Senator John Moorlach (R-Costa Mesa) has introduced SB990 to suspend the job-killing AB5 and end the carve-out deals that he's seen go on behind the scenes. If passed, SB990 would suspend AB5 until January 1, 2022.
"AB 5 converted numerous consulting, and related professions, from independent contractor status to common law employee status, thus causing many businesses who retain certain individuals, whose skill sets were not specifically carved out in AB 5, to lose their business relationships," Moorlach said.
"Carving out certain industries shows a favoritism that should not be mandated in the state's income tax code. Therefore, AB 5 is technically flawed and must be subject to a serious pause button."
"I'm going to continue to pound the table until AB 5 is suspended," said Moorlach. "Senate Bill 990 is a critical piece of legislation that should be enacted if Governor Newsom fails to act."
California Governor Gavin Newsom has been lobbied by independent contractors, gig economy workers and freelancers to use his emergency powers to suspend AB5 during the virus crisis.
TA furloughs more than 3,000 employees
Travel Centers of America, which operates under the brands of TA, TA Express and Petro, participates with other travel centers in severely curtailing food services because of the COVID-19 panic, while providing essential services to drivers like fuel, showers, restrooms and convenience store types of edibles.
Also, employees take precautionary measures at work like social distancing and being extra careful about cleaning.
However, because of state and local government stay-at-home orders demand has fallen for TA's services so Travel Centers of America has taken a further step in furloughing 2,900 of its workers and about 122 corporate employees.
Jon Pertchik, CEO of TA, said the move ensures that essential services will remain available for the truck drivers who still find themselves on the road during the virus crisis.
TA operates more than 260 locations in the United States and Canada.
"This decision was very difficult, but these are unprecedented times," Jon Pertchik, CEO of TA, said in a recent statement. "We believe this step is necessary to preserve the long-term success of our company and to ensure our essential services remain available for the millions of professional drivers who rely on us daily."
Furloughed employees who have existing health benefits plans will continue to receive the benefits of those plans. In addition, laid off employees will be eligible for enhanced unemployment benefits that were enacted as part of last month's CARES Act stimulus bill.
Sources: ATA News Release, Legislative Analyst's Office, California Globe, TA News Release
Tagged Under:
Owner Operator
Trucking Industry Concerns
Trucking News