Autonomous trucks outpacing self-driving cars, will come to market sooner
Last Updated: Sun, July 25, 2021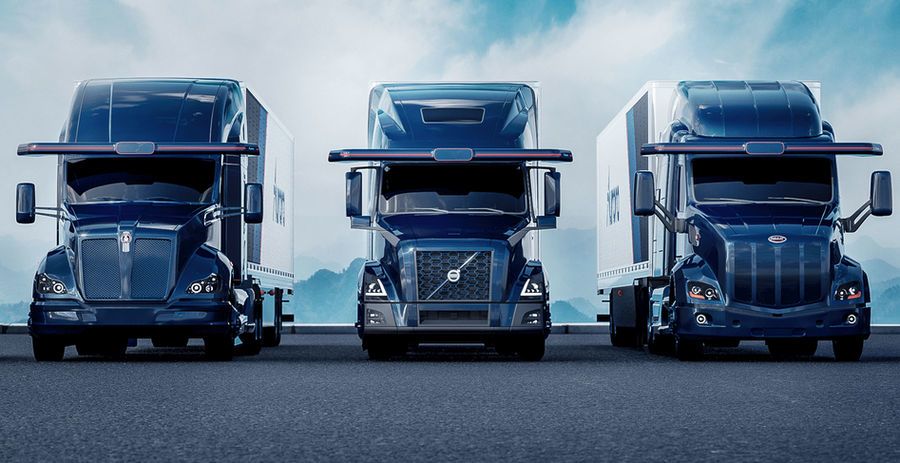 Industry observers are beginning to believe that self-driving big rigs are going to win the race to mass market before self-driving cars do.
The reason that innovation of autonomous large commercial trucks is proceeding at a faster pace is because developers see a greater demand for semis over passenger-carrying cars, and they find it easier to engineer trucks because of the lesser demand for technologies to navigate America's roads.
For example, autonomous semi-trucks can be more easily designed for straitaway trips down wide, open freeways rather than facing challenges of designing for pedestrians, bicycles, jaywalkers and the variety of traffic encountered on cities' and towns' surface roads.
Furthermore, in the minds of innovators the demand for self-driving commercial trucks far outstrips that for self-driving cars. Investors were delighted when autonomous vehicle startups reacted to this discovery and have funded self-driving truck technology to the tune of $11 billion in just the past two to three years, with $5 billion of those investments occurring just this year.
The American Trucking Associations says that the freight industry enjoys an $800 billion payout each year from shippers needing freight hauled. That compares to only about $35 billion taken in by the ride-hail industry for companies like Uber.
That distinction is important because some of the early self-driving vehicle innovation, like three years ago, centered first around creating autonomous robo-taxis. But self-driving truck innovators, even those who initially started out engineering for the self-driving ride-hailing market, see the greater potential and benefit of carving out a chunk of nearly a trillion dollars freight economy than with the vastly smaller ride-hailing market.
This is exemplified in the evolution of Aurora's path through the self-driving technology to the point where the five-year-old startup is now focusing on semi-trucks.
Began in 2016, Aurora formed partnerships with major car makers like Hyundai and Volkswagen to develop self-driving ride-hailing vehicles.
Within three years, however, Aurora decided that it would be quicker to bring a self-driving vehicle to market by shifting its emphasis to large commercial trucks. While waffling over when they would finally be ready to bring a self-driving car to market, they have recently announced that "Aurora Driver" trucks will be available by 2024.
Like Embark Trucks, Plus and TuSimple before them, Aurora has plans to go public to rake in a greater windfall of investment funding. Google's Waymo and Locomotion have hinted at future public offerings.
The truck freight industry is showing some optimism and enthusiasm for the prospect of fielding autonomous fleets. For example, Penske Truck Leasing, Schneider National and U.S. Xpress signed a deal with TuSimple this spring to pre-purchase 6,775 self-driving trucks, with the first units expected to be coming off the assembly line in 2024.
Embark has inked deals with HP, and with mega carriers Knight-Swift and Werner Enterprises.
Autonomous truck innovators hope that commercial carriers will be attracted to the prospect of saving operating costs by reducing the number of drivers, and taking advantage of the claimed savings of operating costs of self-driving big rigs.
Embark, for example, claims that fleets will enjoy a cost savings of 80 cents per mile using their brand of self-driving trucks. Some of that savings will come from about a 15 percent decrease in fuel use, but also because robot drivers don't need to be paid or to take breaks … and will never threaten to unionize.
Locomation places its bet on platooning
One self-driving startup that hasn't drawn as much attention to itself as the others is a venture-funding company called Locomation. The company was started by robotics engineers from Carnegie Mellon, who are placing their emphasis on developing a self-driving hybrid, of sorts, for convoying or platooning.
Locomation has quickly grown to employing 62 people, and has branched out to working on such diverse projects as the Mars rovers, and for such clients as the Defense Advanced Research Projects Agency.
Convoying is not new, but Locomation is adding a technology component that allows an active driver in a lead truck to electronically tether his truck to a following truck that has a driver who need not be an active operator.
The following truck uses sensors to keep a close, but safe, following distance, and its speed, braking and steering depends on what it senses the lead truck is doing.
The big benefit of Locomation's platooning system is that when the lead, active driver runs out of his hours of service, or just needs to take a break, he can pull in behind the following truck, which then becomes the lead truck, whose driver is fresh from having rested or slept.
Locomation says its platoon strategy will allow it to bring its trucks to market quicker than the innovators developing fully autonomous trucks, and it expects to deploy some trucks by the end of 2022. The company says it has two carriers committed to buying 2,120 systems that will be retrofitted onto the existing fleet.
In the future, Locomation plans to develop trucks that require no driver in the following truck, sort of an electronically hitched road train.
Need for HOS regulations for self-driving truckers
A concern to Locomation, as is a growing concern of all autonomous commercial truck developers, is how will an off-duty driver fit into the hours of service regulations set by the Federal Motor Carrier Safety Administration.
Last year, the FMCSA denied a request by Pronto for an HOS exemption for drivers of its brand of autonomous big rigs. Pronto was asking for an additional two hours of driving per day, and to bump the 14-hour on-duty day up by one hour to 15 hours.
Pronto asserted that its technology assisted the driver so much in operating the vehicle that it mitigated the risk of driver distraction and inattentiveness.
In its denial of Pronto's request, the agency said they lack sufficient data to support Pronto's assertion.
The agency is, however, looking toward examining the possibility of HOS regulations for self-driving truckers because of the growth in the self-driving truck industry, and as technologies edge ever close to satisfying SAE Level 4 compliance.
Carriers purchasing these technologies will be wanting a competitive advantage and will increase their appeals to the FMCSA for more friendly self-driving regulations.
---
Dave Wickenhauser went on the road driving big rigs after retiring from 33 years in newspaper journalism. His trucking novels, Crimson Highway, the first in the Hugh Mann series, and the sequel, Road Test, are available at Amazon as paperbacks, and as Kindle ebooks.
Sources: Wired, Forbes, Yahoo News, Transportation Nation Network
Tagged Under:
Autonomous Trucks
FMCSA
Knight Transport
Schneider National
Self-Driving Vehicles
Swift Transport
Werner Enterprises