Trucking industry concerned about state licensing agency closings
Last Updated: Tue, April 7, 2020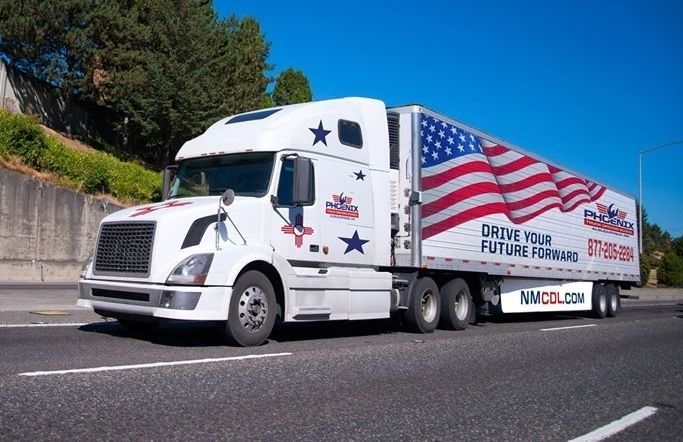 Phoenix Truck Driving School, Albuquerque, NM -- Facebook
In response to the current COVID-19 panic more than half of America's states have closed their state driver licensing agencies, and the ones with open offices are operating on a limited basis.
This action, while conducted in the interest of general public safety, has had a particularly negative effect on a vital national pipeline that provides new commercial truck drivers to an industry that claims it is always in need of these new drivers.
So, as it stands right now, thousands of prospective new drivers aren't currently able to obtain conditional learners permits or acquire their commercial drivers licenses during this period of motor vehicle office closings.
This effectively creates a void in the supply of new drivers, a bubble of negative space so to speak, that will impact the pool of new drivers long after the economy returns to normal.
Even now industries that rely on CDL drivers have begun to note the adverse impact on their ability to source new drivers while at the same time facing increased shipping volume demands.
To address this issue and to forestall the cutting off of this vital supply chain of new drivers the nation's largest association of commercial driving schools has led a coalition of major corporations, associations and commercial driving schools to persuade federal and state officials to open their licensing offices to continue to offer CLP and CDL services.
The organization spearheading the effort, the Commercial Vehicle Training Association, made its request in the form of two letters – one to the National Governors Association, and the other to Congressional leaders.
In a press release announcing the effort the CVTA pointed out that the trucking industry moves 71 percent of all freight across the country relying entirely upon drivers that have commercial drivers licenses, and that, "Abruptly halting the process of getting 25,000-40,000 new truck drivers trained, licensed, and on the road impacts a number of significant industries and the nation's supply chain."
Don Lefeve, president of CVTA, notes that state closings of their motor vehicle offices were done despite the guidelines issued by the U.S. Department of Homeland Security stating that transportation workers were among the exempted critical workforce.
In the letters Lefeve reminds federal and state officials that the guidelines exempt from closures "employees supporting or enabling transportation functions, including truck drivers, bus drivers …" and includes "[w]orkers who support necessary credentialing, vetting and licensing operations for transportation workers," meaning state departments of motor vehicles employees.
"Commercial driver training schools are working together with participants across the supply chain to facilitate Americans' access to needed goods and services, including food and critical supplies (like prescription medications) during this pandemic," Lefeve says.
"To avoid truck driver shortages, which are critical to our nation's response and recovery, it is imperative that state and federal governments work together so CDL schools and SDLAs can remain open to train, test and license new commercial drivers."
Letter to the state governors
Lefeve said the coalition is proposing that governors need to recognize that commercial vehicle training schools and state licensing agencies are essential services and should enact executive orders reopening those services while maintaining COVID-19 health safety protocols.
Specific proposals in the letter to state governors include:
Open designated SDLA locations with limited hours so students may obtain their CDL permits;
Establish a temporary online CDL permit test;
Allow SDLA employees to administer the CLP test to students at the school's location;
Allow out of state students to take CDL skills exams in your state; or
Issue temporary authority to accept a state licensed CDL school certificate in lieu of a CLP if state SDLAs are closed.
"It's imperative that individual states recognize the national impact of their decisions to shut down CDL training schools and SDLAs. We need them to specifically recognize that CDL training schools and SDLAs are essential services," Lefeve said.
Letter to federal officials
The letter to federal officials recommends granting the Secretary of Transportation temporary authority to administer commercial learners permits and testing for commercial drivers licenses.
The way it would work, according to Lefeve, is that proposed legislation would allow the federal government to administer CLP and CDL testing, or to approve designated CDL schools, motor carrier training programs, unions, etc., to conduct the training and certify that new students have the knowledge and skills required to drive commercial vehicles interstate.
He says he believes the legislation could be implemented quickly by the Department of Transportation while at the same time maintaining safety.
It is vital, according to CVTA for "Congress to give the Secretary of Transportation the temporary authority to create a pathway for the supply chain to continue. This starts with commercial driver training and licensing."
Signing onto the letters were 23 trade associations, 52 commercial carriers, 77 CDL schools, and 19 suppliers and service providers.
National Grain and Feed Association
Not a signatory to the CVTA letters, but similarly concerned nevertheless with disruptions in the agricultural food chain and the driver workforce, is the National Grain and Feed Association, which wrote a letter to state governors stating the closing of state licensing offices is, "An issue of growing importance that threatens both of these essential workforces."

In the letter NGFA stated that, "The agricultural industry depends on a steady flow of new commercial driver's license (CDL) drivers to maintain its supply chain. Often, the agricultural industry serves as a pathway for many of the nation's full-time truck drivers, thus the loss of a process to issue new CDLs may impact the food and agricultural industry disproportionately hard."
The association asks governors to implement temporary rules allowing their state licensing agencies to implement "creative alternatives" like online or appointment-only processes for issuing licenses, or to employ "an emergency and temporary alternative process to enable new drivers."
NGFA represents some 1,000 grain, feed, processing, exporting and other grain-related entities, that operate more than 7,000 facilities handling more than 70 percent of all U.S. grains and oilseeds.
Sources: CVTA News Release, CVTA Letters NGFA letter
Tagged Under:
CDL Exam
CDL Training
Getting Your CDL
Trucking Industry Concerns