2016 trucking documentary released to YouTube for public viewing
Last Updated: Sun, May 17, 2020
In early November 2016, on the eve of when voters nationwide would be deciding whether to vote on investments in transportation and infrastructure, film makers Jennifer Clymer and Marijane Miller debuted the screening of a trucking documentary that they hoped would help influence infrastructure funding.
The documentary, titled "Be Prepared to Stop" was initially first screened at the Minnesota History Center, and has since been available only for-pay, until this month when it was released on YouTube for the general population to view for free.
The theme of the video was summed up by United States Congressman Earl Blumenauer (D-Ore.) in his comment during the 2016 debut:
"In November, voters across the country will cast ballots on transportation investments in their communities," Congressman Blumenauer said at a recent invitation-only screening held at the U.S. Capitol Visitor Center Theater in Washington, D.C., as reported at OverDrive. "This documentary provides a needed call to action that Congress should heed, as it has failed to provide sustainable funding to rebuild and renew America."
Clymer, the video's creator, told OverDrive back in 2016 that, "All films need to be entertaining. A good documentary needs to be informative."
"We knew a documentary about a less-than-sexy topic such as infrastructure would have to be both if we were going to reach a general audience We've shared this film with a few preview audiences, and just like tonight I always enjoy hearing the laughs in the right spots and the quiet when you know people are really listening. And I love it when people say to me two days later, 'I'm still thinking about the film. I even drive differently now around big trucks.'"
Now, three and a half years later Clymer said that many of the elements of the hour-long documentary -- which admittedly are focused more on problems with infrastructure – are poignant today because of the disruptions caused by the COVID-19 virus panic.
One particularly prescient theme throughout the documentary is imagery of what would happen to the economy in the event that trucks were no longer able to deliver freight.
On the first day medicine would not be available, grocery stores would run out of products, deliveries would not be available, and hospitals couldn't meet essential services like clean linens.
The theme progresses to Day 5 when hospitals would be out of supplies like medicine and oxygen, availability of fresh drinking water would be rapidly declining, industrial production would stop, and ambulances wouldn't be running anymore, and – finally – civil unrest would begin to boil.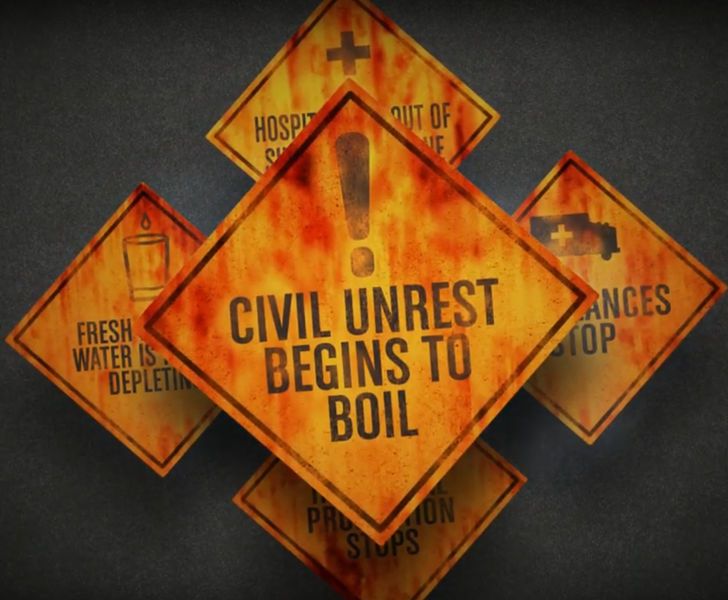 We've seen during this recent extreme national over-reaction to the COVID-19 virus that many aspects of shortages might not need to get to Day 5 in order to experience civil unrest and unreasonable consumer panic. Anybody who had a legitimate need to buy toilet paper in April who didn't manage to get into the stores before the panic hoarders knows what that was about.
Clymer told FreightWaves in a recent interview that it was time for her to release the video for everybody to see, stating jokingly that now that we're all "deep into the lockdowns" we've all seen all the Netflix movies we want to see and it is time to move on to something else.
The documentary's story is framed around one family in particular, headed by Steve Williams, chairman and CEO of Maverick Transportation. Clymer told FreightWaves that she met Williams at a film festival in Washington D.C. They struck up a conversation about trucking, and especially the growing problem of America's highway and bridges.
Williams told Clymer that there has been no increase in the national gasoline tax since about 1993, which was supposed to fund infrastructure, and that the current needs have way outgrown that funding.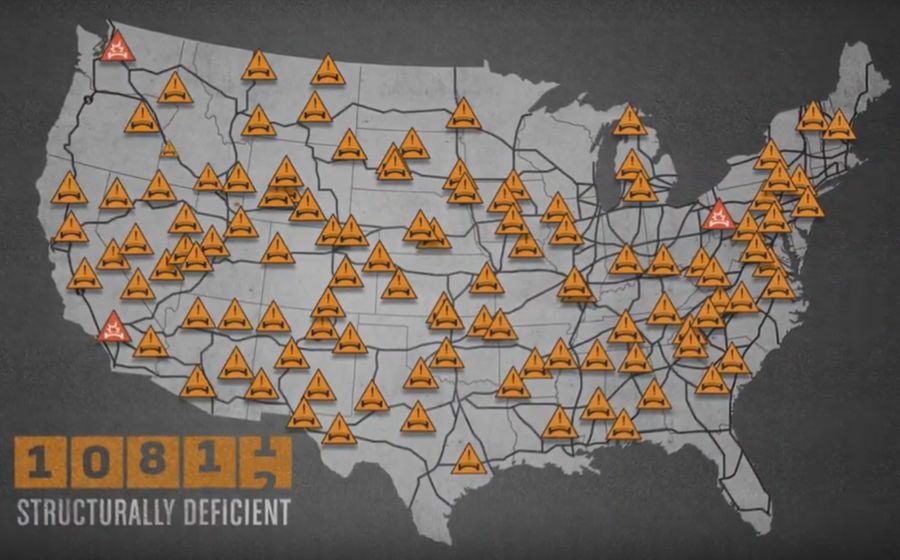 Bridges across the nation that are in such poor condition they pose a danger to the public>
"My company has spent tens of millions of dollars on safety technology over the years to help ensure that our drivers make it home to their families while delivering the 'quality of life' to which Americans have grown accustomed," Williams told OverDrive in 2016. "Unfortunately, our industry and our infrastructure have been taken for granted. It's already too late for too many. It is time for real action."
Besides Williams and other members of his family who help him run Maverick, the film interviews many drivers about their experiences driving on America's crowded, crumbling highways and bridges.
One driver, for example, told the film maker that sometimes he has a hard time holding onto the steering wheel in particularly badly pot-holed segments of highway.
Clymer closed her recent FreightWaves interview by saying she is "really proud" of "Be Prepared to Stop," and that she hopes the film "bridges the gap between the people who really understand it and people who are just side-by-side with you guys on the road."
"We needed to make it digestible and tangible for the general public."
Sources: OverDrive, FreightWaves, YouTube, Be Prepared to Stop website
Tagged Under:
Adverse Conditions
Life On The Road
Maverick Transport
Self-Driving Vehicles
Trucking Accidents
Trucking Industry Concerns