Nearly 300,000 drivers would lose jobs if hair testing was mandated
Last Updated: Tue, July 14, 2020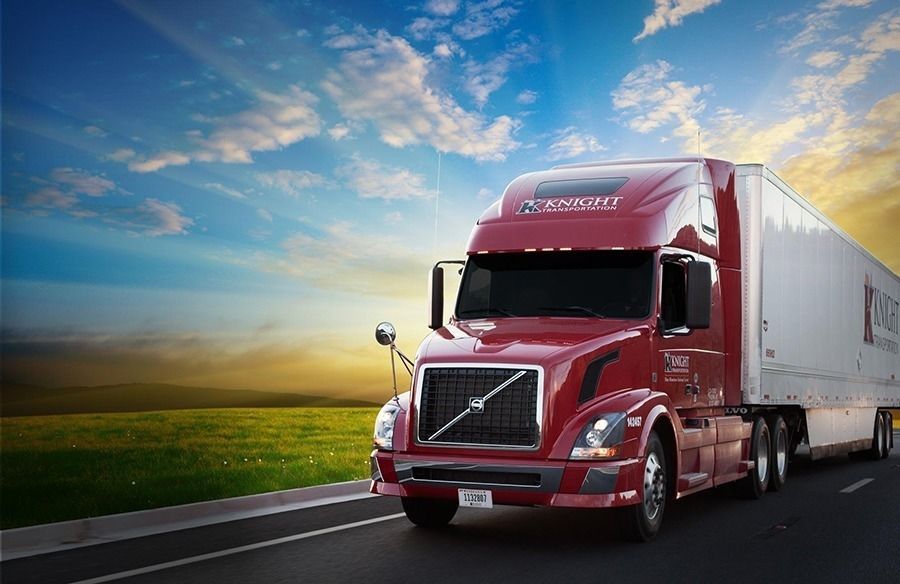 Knight is one of few carriers that uses hair follicle testing
Nearly one-tenth of all truck drivers currently plying America's highways would be pulled off the road if the more-conclusive hair testing for drug use was mandated in addition to, or in place of, the currently mandated urine test.
That's the conclusion of a recent study conducted by the Alliance for Driver Safety and Security, commonly known as the Trucking Alliance.
Trucking Alliance conducted the survey in light of the fact that, "Virtually everything we own was transported by truck at some point." That would be almost 11 billion tons of freight, about 71 percent of the nation's total being transported by all methods.
To ensure the safety of the roadways the U.S. government mandates that all of the nation's 3.5 million drivers pass a urine drug screen before employment, during random screening, after an accident, and subject to a number of other factors.
Recognizing, that urine testing can be easily thwarted by drivers, and that some trucking companies also use the more-stringent hair drug screen, Trucking Alliance wanted to find out if there was a pass-fail difference between the two procedures.
They studied 151,662 paired pre-employment urine and hair drug test results from 15 different trucking companies that used both screening methods to compare the pass-fail rates. Their results indicated that 949, or .6 percent, applicants failed the urine test while 12,824, or 8.5 percent, failed or refused the hair test.
Due to urine testing's insufficiency, and the lack of federal recognition for hair testing, many carriers including Schneider, Knight-Swift Transportation, J.B. Hunt Transport, Werner Enterprises and Maverick USA use more stringent hair drug tests to help ensure driver sobriety.
Extrapolating those findings to the nationwide driver population, researchers concluded that if hair testing was used throughout the trucking industry some 300,000 drivers would be relieved of their driving duties.
Opponents to hair testing, however, object to hair testing on the grounds that the test is biased against ethnic minority groups.
That's why Trucking Alliance asked the University of Central Arkansas to engage in two studies and independently determine:
whether their sample is generalizable to the broader U.S. driver population, thereby supporting their claim that hair testing would exclude roughly 275,000 drivers from the workforce and
whether hair testing is biased against ethnic groups based on drug test pass/fail rates.
UofCA researchers Dr. M. Douglas Voss and Dr. Joseph D. Cangelosi, Jr., took on the task of analyzing the Trucking Alliance study data, and released their findings in a report titled, "Drug Testing In The U.S. Trucking Industry: Hair Vs. Urine Samples And The Implications For Policy And The Industry."
The researchers accepted the premise that urine testing is "less effective than we all hope," in weeding out drug-abusing drivers.
They quoted published literature that "truck drivers may frequently abuse psychoactive substances, and note that these drugs reduce driving competence while also increasing the risk of safety incidents."
That's because drivers wishing to thwart the drug-detecting tests know that urine tests generally have a two to three day "lookback period," and that "truck drivers could refrain from drug use for 3 days, pass a scheduled pre-employment urine test, then begin driving and using drugs again," according to the UofCA report.
That conclusion was borne out from a 1998 Oregon program where law enforcement agencies conducted unannounced urine drug screens of commercial truck drivers during inspections at the roadside and at ports of entry.
From 822 urine specimens collected they found that 21 percent showed positive for one or more substances including stimulants, cannabinoids and alcohol.
Oregon officials stated the obvious: "…in spite of comprehensive drug testing in the trucking industry, some tractor-trailer drivers are continuing to take illicit and other drugs with the potential of having a negative effect on their driving ability."
The question remained, though, if Trucking Alliance's study of more than 151,000 drivers' drug tests were conclusive for the driver population as a whole, and whether a hair test was biased against certain ethnic groups.
That was the task taken on by Voss and Cangelosi.
Analyzing the study data
The researchers compared the number of drivers in the Trucking Alliance study, by state, to the number of licensed commercial drivers in each state, and found that the results indicate a significant .880 correlation between the distribution by state of Trucking Alliance drivers and that of drivers in the national population.
Based on this information, researchers concluded that:
The Trucking Alliance sample is large enough to generalize across the national driver population,
The Trucking Alliance sample is representative of the national driver population,
The Trucking Alliance urinalysis v. hair test results can be generalized across the national driver population.
"This supports the notion that roughly 275,000 current drivers would be unable to perform safety sensitive functions if forced to undergo hair testing."
Then the UofCA researchers examined whether Trucking Alliance's conclusions about hair testing could be wrong because of bias against ethnic minority truck drivers.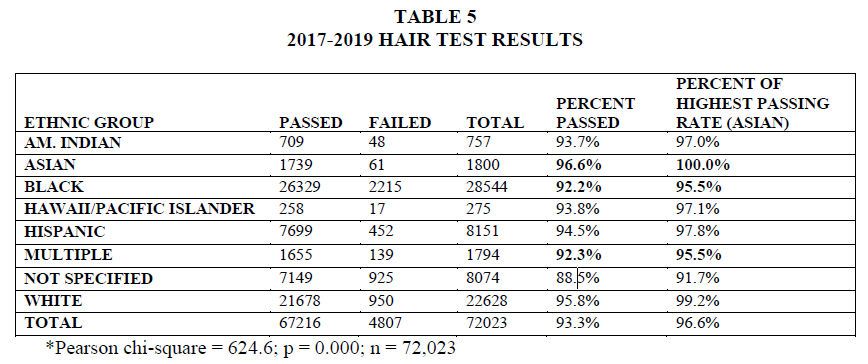 To answer this question, researchers employed the four-fifths rule that is defined by the Federal government to determine if a procedure is impacted by race, sex or an ethnic group. Basically, the Federal government says that an adverse impact will be indicated by 80 percent of a group failing to pass at the highest passing rate achieved by another group.
Examining the data, researchers found that the ethnic group achieving the highest pass rate for pre-employment hair screening were Asians at 96.6 percent. Blacks passed at a 92.2 percent rate; which was well within 80 percent of the Asian pass rate to meet the Four-Fifths Rule threshold. All other identified groups, including whites, passed at a rate averaging 93.1 percent.
They concluded that, "Utilizing independently provided urine and hair pre-employment drug screen data, University of Central Arkansas researchers were unable to find disparate impacts of hair testing among the ethnic groups. Results for each test in each sample met the required Four-Fifths Rule threshold."
The researchers cited literature that argues that "hair testing is superior to urinalysis because hair is easily handled, not as prone to degradation, and does not require special storage conditions."
They went on to say, "No trucking industry safety manager wants to get the call that their driver has been involved in a reportable safety event. Hair testing is a powerful tool that can help prevent safety incidents or lessen potential liability when they occur.
"Managers should ask themselves, 'How many of our drivers could be included in the 275,000 who would be unable to drive if forced to pass a more stringent drug test?'
"While this question presupposes that these 275,000, left on the road, would lead to a number of additional deaths, this is a first order impact that, while accurate, may not tell the whole story. There is also a second- order impact.
"The trucking industry has to replace these 275,000 drivers with more qualified, sober employees if it wishes to improve roadway safety.
"Additional research is needed to better understand the impact of taking these 275,000 drivers off the road and how the trucking industry can improve driver recruitment and retention."
Sources: ,
Tagged Under:
DOT Physical
Drug and Alcohol Testing
Hair Follicle Drug Testing
JB Hunt
Knight Transport
Maverick Transport
Medical Certification
Pre-Employment Screening Program
Schneider National
Swift Transport
Werner Enterprises