Texas doing something about nuclear verdicts against truckers
Last Updated: Wed, March 17, 2021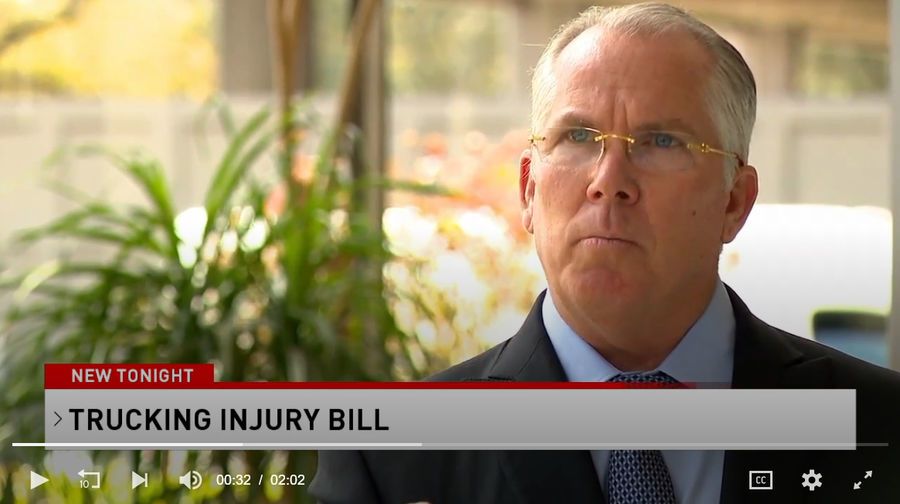 Screen capture from a Thomas J. Henry infomercial at Fox 29.
In a paraphrase of a quote that might or might not be attributable to Mark Twain: Everyone talks about nuclear verdicts but nobody does anything about it.
Texas State Legislatures have introduced House Bill 19 and companion Senate Bill 207 that they hope would put that paraphrased quote to rest.
The gist of the bill is that plaintiffs in crashes involving commercial carriers in Texas would have to prove the carrier was grossly negligent in order to extract a large verdict from them as the result of a trial.
If passed, the bill would ensure that only the truck drivers involved in such crashes would be held liable.
Passage of HB19 is proposed to go a long way toward alleviating the run-away prevalence of lawsuits against carriers, and the pumping up of claims to get awarded $1 million-plus verdicts.
Supporting this legislation is the Keep Texas Trucking Coalition along with the Texas Trucking Association and Texans for Lawsuit Reform.
Chief among outspoken opponents of the legislation is Thomas J. Henry, a personal injury attorney. He has amassed a following with his infomercials on Texas cable channels. His catch phrase is, "If we don't stop that legislation, more people are going to die."
John D. Esparza, who is president and CEO of the Texas Trucking Association, said in a video on the TXTA website that, "We are in an environment of lawsuit abuse that the industry can't sustain. If this continues, trucking companies will stop operating. It's already happening."
Besides that fact that a commercial carrier's logo is like having a target on its back in the sights of an aggressive lawyer, every trucking company suffers because these greater verdicts drive up insurance rates, which increasingly runs carriers out of business.
In a news video at CBS7, Lincoln Thompson, general manager of Duncan Thompson Transportation says that his company's insurance rates have increased by 225 percent in the last six years. "There's no way I can raise my rates 225% just to stay level, because nobody would use our services. There's no way to keep up."
Texans for Lawsuit Reform spokesperson Lucy Nashed told CBS7 that HB 19 will address "issues where the commercial vehicle wasn't at fault in an accident and is still being sued, or an instance where the damage was minimal in the accident, but the lawsuit's coming in for policy limits of a million dollars or more."
How do verdicts reach the nuclear level
A Keep Texas Trucking White Paper has done an excellent job describing how attorneys misuse the system to drive up payouts for their clients.
"Plaintiff lawyers have developed a strategy to maximize their fees in commercial vehicle litigation," the White Paper states.
"This scheme has resulted in several massive judgments in Texas, and created a litigation vortex that is encouraging more lawsuits and more settlements, which cause insurance premiums to skyrocket -- increasing the cost of goods and services for everyone."
According to the White Paper, this creates a climate where insurers, afraid of getting into a massive judgment situation, settle without regard to merit, thus further encouraging plaintiff attorneys to run ads to encourage more lawsuits.
The public then sees these ads, wanting a piece of the action, which encourages them to file these lawsuits. As a result, insurers increase their premiums for all commercial vehicles, even ones that don't have a bad claim history.
The problem is that healthcare providers over-diagnose, over-treat and over-bill for services when providing for plaintiff's clients, according to the White Paper.
Attorney find healthcare providers who will work on a contingent fee based on the lawsuit result, which often is a better payout than if they had submited bills to a health insurance provider or to Medicare. They pump up those bills, which the attorney presents to the jury, bills that are often three to four times higher than they should be.
"The entire scheme is intended to use medical bills as a litigation profit center by avoiding compliance with Texas' existing 'paid or incurred' statute, which is supposed to prevent the use of medical billing to create 'phantom damages.'"
Then, when attorneys have the attention of juries they feed their fears using what is called the "Reptile Theory," appealing to their "innate fight or flight instinct," in order to extract the highest awards from them.
Attorneys employ language painting the trucker or carrier company as a danger to the motoring public, and prey on their fears of trucks. Often the "facts" presented to the jury are irrelevant to the actual accident, and are there only to prejudice jury members against truckers.
A "send them a message" plea is often part of an attorney's opening or closing statements in their attempt to influence juries to grant the highest possible awards. In other words, they need to punish evil truckers and their companies.
Personal injury attorney leading opposition to HB 19
Thomas J. Henry, a leading Texas personal injury attorney who specializes in getting his clients the highest possible payouts from commercial carriers is " leading the charge to educate Texans and gather support to stop House Bill 19 and Senate Bill 207," according to an infomercial about him on Fox 29.
"I'm urging our citizens to go to those locations and tell their legislators listen, don't wait. Trying to pass laws that make our state less safe; pass laws that make them more safe," Henry said in a recent video. "Don't try to pass laws that step on little people, middle class people, without the resources to take on these companies when they get rolled over and killed. That's why I'm asking people to do that. It's fundamentally wrong and unfair."
He says the purpose of the legislation is to "protect billion-dollar trucking companies," even some that are not based in Texas.
"If we don't stop that legislation more people are going to die and everyone else who's a citizen is going to have to pay for those big trucking companies who kill people," he said in the video. "Big companies and special interest are plowing money into those legislators so they can sneak it by while everyone's worried about COVID and they're worried about ERCOT."
Henry said he has made multiple efforts to speak to the authors of the two bills, and received only a written statement from House Member Jeff Leach of Plano who introduced HB 19.
Leach wrote, "The bill will protect victims, ensuring that any Texan who is injured by the negligence of a commercial vehicle operator can still recover the full array of damages in a lawsuit. It will also protect Texas businesses of all sizes from the frivolous, abusive lawsuits being filed by a handful of money-hungry personal injury lawyers."
But Henry rebuts Leach's statement. "Representative Leach is misrepresenting to the public that the law allows for a claim against a negligent driver. What the law does is not allow you to even involve a trucking company that's responsible for that driver."
---
Dave Wickenhauser went on the road driving big rigs after retiring from 33 years in newspaper journalism. His trucking novel, "Crimson Highway" the first in the Hugh Mann series, is available as an Amazon paperback, and as an Amazon Kindle ebook.
Sources: Texas HB19, TXTA Fact Sheet, TXTA White Paper, CBS 7, Fox 29
Tagged Under:
Trucking Accidents
Trucking Industry Concerns