Rodney Lara creator of petition asking for change to the way brokers manage loads
Truckers protest cheap rates
Independent truck drivers gathered in three cities recently to protest the low rates they are getting for hauling freight during the COVID-19 crisis.
The initial surge of freight activity that occurred because distributors were frantic to keep up with the demand as hoarders cleared out store shelves and emergency personnel needed essential supplies has flattened out considerably because so many businesses creating the goods have shuttered.
According to a report from DAT Solutions, rates have plummeted to a four-year low, offering drivers only $1.48 per mile.
"Truckload rates fell lower again last week for dry van equipment, and there's no clear sign of when they might rebound. It could be a couple more weeks before rate trends even flatten out. There's no good news for truckers this week, although some markets and lanes are less terrible than others," DAT Solutions wrote in an April 22 blog post, as reported at CDL Life.
So, the freight broker industry has caught the brunt of complaints during the trucker protest in Houston, Los Angeles and Phoenix, as many drivers held signs urging drivers to "say no to cheap freight."
Many drivers believe freight brokers are taking advantage of the crisis by padding their own profit margins at the expense of drivers by slashing rates and pocketing the difference.
In addition to the protests, there is also a petition circulating that more than 20,000 people have signed asking for changes to the way that brokers manage loads.
The petition's creator, Rodney Lara, explained how he believes brokers are taking advantage of the crisis to "keep every penny they can," at the expense of the drivers:
Brokers with whom many truckers work with are the middlemen between the shipper and the carrier. They, not all, but most are the problem. These individuals found a way around the system and try to keep every penny they can. Offering loads from a lot less than they are getting them and have no regulations what so ever on how they conduct their business. Meanwhile truckers are tracked thru electronic log books and are audited to check the mileage run, the states run, the fuel purchased and much more. Even when the owner operator takes the load, they have contracts in place in order to be able to reduce the amounts paid, such as having to do check calls, or been late to appointments (both can cause reductions of up to $200 each). Then, when the brokers are in the wrong, they leave the trucker up the air.
More information about the petition can be seen at Change.org.
1 million masks distributed to truck drivers
The Federal Government through the Federal Emergency Management Agency has begun distributing 1 million masks free to truck drivers.
About 800,000 masks will be distributed through state law enforcement resources to truck stops throughout the United States, and 200,000 will be given directly to commercial carriers to distribute to their drivers.
The distribution will be on a rolling basis, with some states already announcing dates and locations. The FMCSA website will be updated as others announce their distributions.
States that have already announced mask distribution include:
Arkansas: I-30 East/West at MM 93 (2.1 miles east Hwy 84) – Social Hills Rest Area, Alma - I-40 east and west at Arkansas – Oklahoma Border, Hope - I-30 east and west at Arkansas – Texas Border, Riverside - I-40 west at Arkansas – Tennessee Border, and Bridgeport - I-55 west at Arkansas – Tennessee Border.
Distribution begins at 10:30 am
California: I-5 NB at MM 203, outside of Los Angeles, I-5 at Fort Tejon pass rest area, north of Los Angeles, and California Highway Patrol Field Divisions in: Redding, Sacramento, Fresno, Vallejo, Los Angeles, San Diego, San Luis Obispo and San Bernardino.
Georgia, April 30 & May 1, 2020:
I-75 SB, MM 179, in Forsyth/Juliette, GA just north of Macon, GA.,
I-85 SB at Georgia – South Carolina Border (Franklin County Inspection Station) MM 169,
I-95 SB at Georgia – South Carolina Border (Chatham County Inspection Station) MM 111,
I-75 NB at Georgia – Florida Border (Lowndes County Inspection Station) MM 23,
I-75 SB at Georgia – Tennessee Border (Catoosa County Inspection Station) MM 343,
I-85 NB at Georgia – Alabama Border (Troup County Inspection Station) MM 23,
I-95 NB at Georgia – Florida Border (McIntosh County Inspection Station) MM 55,
I-20 WB at Georgia – South Carolina Border (Columbia County Inspection Station) MM 188,
I-20 WB at Georgia – Alabama Border (Douglas County Inspection Station) MM 43, and
I-16 WB from Savanah Port Area (Bryan County Inspection Station) MM 144
Illinois, April 30, 2020: I-80/I-294 [Tri-State Tollway] EB at MM 1. Distribution begins at 10am local time.
Indiana, May 1, 2020: Rest Areas at I-70 WB MM 107. Greenfield, IN, I-70 EB MM 65. Plainfield, IN, I-65 SB MM 150. Thorntown, IN, and I-65 NB MM 72. Columbus, IN. Distribution Hours are from 1000-1400.
Nebraska, April 30, 2020:
Goehner Truck Parking Area Interstate 80 MM 375 WB
Melia Hills Rest Area (Omaha) Interstate 80 MM 431, WB
Waverly EB Interstate 80 MM 415 EB
Waverly WB Interstate 80 MM 415, WB,
North Platte EB Interstate 80 MM 180, EB
North Platte WB Interstate 80 MM 181WB
Nebraska City EB/WB Hwy 2 MM 501 EB/WB
Fremont NB/SB Hwy 77/275 MM 123 NB/SB
Hebron Hwy 81 NB/SB MM 4 NB/SB
Distribution Hours are 0800-1600.
New York: New York City (Bronx)-Hunts Point Food Distribution Center, 1400 Viele Avenue (temporary COVID-19 truck parking location-55 truck capacity), and New York City (Staten Island)-Global Container Terminal, N. Washington Avenue off of I-278 (temporary COVID-19 truck parking location-25 truck capacity), and on May 4 and 15, I-87 NB at MM 33. Sloatsburg Rest Area (North of NYC)
Texas: I-35 NB MM 362A approximately 5 miles south of Hillsboro, midway between Dallas/Ft. Worth and Waco, and at Texas Inspection facilities at Mount Pleasant – I 30, Queen City – US 59, New Waverly – I-45, Falfurrias – US 281, Riviera – US 77, Penwell – I-20, Devine - I-35, and Seguin - I-10
Trucker Tools adds parking search to its app
Trucker Tools, a service that has been used for fleets and businesses seeking longer-term parking solutions for multiple trucks, trailers and intermodal containers, has switched gears recently and is now also providing a service called SecurSpace that drivers can use to find parking in previously sparse parking locations in cities and industrial areas.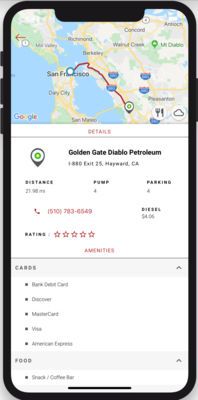 The Trucker Tools app, which has been downloaded by almost 1 million drivers and small-fleet owners, with SecurSpace will point drivers to businesses that have the space to offer secure, reliable parking outside of the normal rest areas and travel centers where available parking is getting harder all the time to come by.
Prasad Gollapalli, founder and chief executive of Reston, VA-based, Trucker Tools, says that, "Drivers tell us they want access to more resources, and a less time-consuming process to find and secure reliable parking," he said. "This is a strategic imperative and one of the top 'asks' we get from drivers."
According to a Trucker Tools press release, SecurSpace is used "every day by hundreds of businesses to reserve parking and storage for commercial vehicles, overnight truck parking, trailer and container drop yards, and many other needs."
Lance Theobald, co-founder and CEO of SecurSpace, headquartered in Charlotte, NC., said offering overnight parking to over-the-road truckers adds to the company's focus up to this point of offering fleets and businesses longer-term parking options.
"Trucker Tools has a great reputation in the industry and has aggregated a very deep pool of owner-operators and small fleets by staying focused on driver needs and improving their life through great service and great apps," Theobald said.
Sources: CDL Life, Change.org, FMCSA, DCVelocity
Tagged Under:
Adverse Conditions
FMCSA
Owner Operator
Safe Haven
Trip Planning
Truckers Technology