Schneider donates trucks; Congress considers women-driver-friendly bill
Last Updated: Mon, November 18, 2019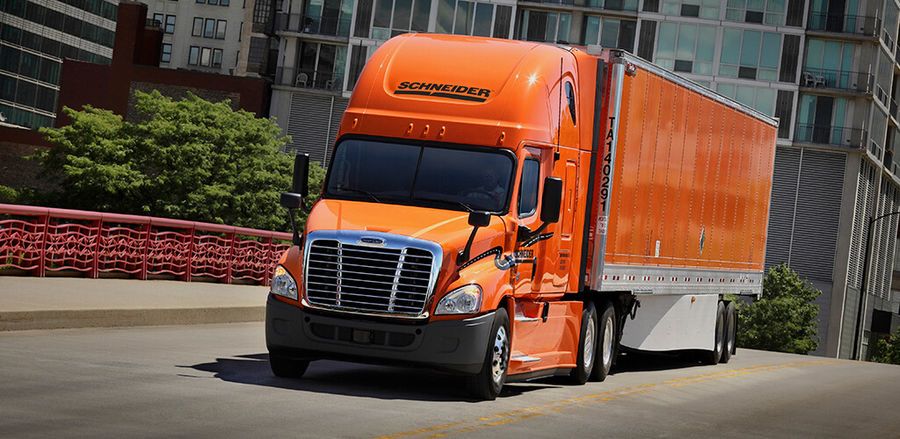 With the driver shortage in view, and having an eye toward attracting prospective new drivers to its company, Schneider National, Inc., announced it is donating 10 used Schneider tractors to CDL training programs at four community and technical colleges.
The tractors are "gently used," late-model Freightliner Cascadias, according to a Schneider press release. The 10 units are new enough to contain some of the trucking industry's latest technologies, including automated manual transmissions.
Schneider believes that for new students training time will be significantly more efficient, allowing the student to focus on maneuverability and other driving factors rather than changing gears.
"In addition to hiring many experienced drivers across the country for the many types of positions we offer, Schneider also recruits graduates from CDL driver training programs," said Rob Reich, EVP and chief administrative officer at Schneider, in the press release.
"We know that many driving training programs have limited resources, and we want the next generation of professional drivers to train in the best trucks in the business as they embark on new careers."
Chosen to receive the 10 Cascadias are Central Tech of Drumright, Oklahoma; Fox Valley Technical College of Appleton, Wisconsin; Hawkeye Community College of Waterloo, Iowa; and Houston Community College of Houston, Texas.
Schneider hopes that donations of these Freightliners will attract prospective new drivers from among those who haven't ordinarily looked at a career as a professional truck driver.
"Women and younger adults are an emerging driver pool, and we believe technologies like automated manual transmissions, safety and connectivity will attract a more diverse audience to the trucking industry," said Reich.
"Learning on modern equipment spec'd with some of the latest technologies and creature comforts helps attract new candidates and allows them to adjust more quickly to the new trucks operating within our fleet."
Government hopes to boost female trucker numbers
Speaking of taking measures to encourage more women to consider truck driving as a career, two U.S. senators introduced a bill last week that would create a "Women of Trucking" advisory board reporting to the Federal Motor Carrier Safety Association.
The board would be given the task to remove "the barriers that get in the way of women pursuing and retaining careers in trucking is key," one of the co-sponsors said in a news release.
The bill, officially titled "Promoting Women in Trucking Workforce Act," was introduced on November 14 by Senators Jerry Moran, R-Kansas., and Tammy Baldwin, D-Wisconsin.
The bill is supported by several leading trucking interests, including the Owner-Operator Independent Drivers Association, Women in Trucking, and the American Trucking Associations.
"Because women are substantially underrepresented in the trucking industry, Congress should explore every opportunity to encourage and support the pursuit of careers in trucking by women," Sen. Moran said in a news release. "I'm proud to introduce this bipartisan and sensible bill with Sen. Baldwin that will lead to new job opportunities for women and increase equality for women already in the trucking industry."
The senators say that although women make up nearly half of the United States labor force, they are only about 7 percent represented in the truck driving career field.
"In Wisconsin, we make things, and we need to ensure we have a strong workforce to transport our goods to market," Senator Baldwin said in her press release.
"Women currently make up less than ten percent of the truck driving workforce, and removing the barriers that get in the way of women pursuing and retaining careers in trucking is key. I'm proud to lead this bipartisan effort with Senator Moran because more job opportunities for Wisconsin women will lead to more economic security for working families."
Specifically, the board would advise FMCSA with:
Industry trends that directly or indirectly discourage women from pursuing careers in trucking.
Ways trucking companies, nonprofit organizations, and trucking associations may coordinate to facilitate or support women pursuing careers in trucking.
Ways to expand existing opportunities for women in the trucking industry.
Opportunities to enhance trucking training, mentorship, education, and outreach programs that are exclusive to women.
Senate committees, such as Commerce, Science, and Transportation, as well as the Committee on Transportation and Infrastructure in the House of Representatives would also be recipients of the advisory board's findings.
Those speaking on behalf of the legislation include:
Collin Long, OOIDA's director of government affairs -- "OOIDA is supportive of the approach, and we're actively working with the sponsors to expand the proposal to include greater focus on the retention of women drivers.

"Getting more women behind the wheel is critically important, and we have to ensure once they've entered the industry they can thrive and advance."

Ellen Voie, CEO and president of Women in Trucking -- "By creating an advisory board to utilize the expertise and resources of the Federal Motor Carrier Administration and the members of the board, we can increase the opportunities for women as drivers, technicians, owners, trainers and in other relevant career roles.

"I look forward to working with you and your office (Sens. Moran and Baldwin) in advancing this bill."

Chris Spear, CEO and President of American Trucking Associations -- "On behalf of the American Trucking Associations, I write to express thanks and support for the introduction of the Promoting Women in Trucking Workforce Act.

"Your (Sens. Moran and Baldwin) thoughtful and timely legislation brings important attention and focus to the advancement of female representation and participation in trucking."
Sources: Schneider, Senator Baldwin press release, Senator Moran press release
Tagged Under:
Attending Truck Driving School
Automatic Transmissions
Choosing A Truck Driving School
Choosing A Trucking Company
Company Trainers
FMCSA
Schneider National
Truck Driver Training
Women In Trucking