WorkHound analyses what drivers think about the COVID-19 crisis
Last Updated: Tue, April 28, 2020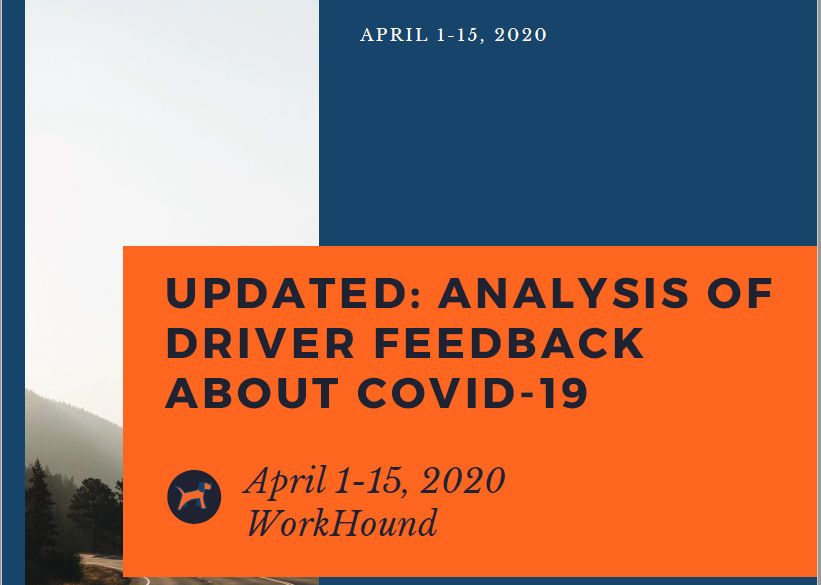 WorkHound, an online platform for drivers to anonymously provide feedback to their companies, has released its latest analysis of driver comments regarding the COVID-19 crisis.
The study analyses comments from drivers in the April 1, 2020, through April 15, 2020, period, and has noted some significant changes in drivers' perceptions about the virus.
The early trends
To start, WorkHound has found that drivers began commenting about COVID-19 in February, but that by the beginning of March only 1 percent of comments concerned the virus.
That number jumped significantly as March progressed as feedback about the virus began to climb to about 14 percent of the total comments by the end of the month.
Then by the first half of April, until April 15 when the current analysis period ended, WorkHound had found that more than 27 percent of the 1,791 comments on the platform from truck drivers related to the COVID-19 crisis. It's these April comments that are the basis for WorkHound's analysis.
In addition to an increase in comments about the virus from March to April, WorkHound has seen a change in the prominent themes. In March, sanitation and planning appeared prominently in comments, but in April so far moral and pay were looking like they are becoming the top themes.
Morale increasing
More than one-fifth of drivers commenting so far in April wanted to talk about morale, up almost double from the same topic in March. WorkHound reports that the majority (78 percent) of drivers commenting about morale expressed a "sense of optimism and perseverance, while a smaller portion (22 percent) conveyed frustration and negativity."
The number of driver comments expressing concern about protective equipment and other sanitation measures dropped from the March influx of comments, leading WorkHound to surmise that sanitation and protective measures are being met by the drivers companies at this time.
Company policy changes affecting drivers during the early part of the COVID-19 crisis decreased as a concern for drivers into April to only 16 percent of comments, indicating that "drivers may be more satisfied with their companies' response and communication around policy changes," according to the WorkHound analysis.
"I just want to take time to thank you all for doing your best right now to take care of your employees! I know these are uneasy times, but I know you all are trying your best to help us all survive. Thank you for your efforts."
WorkHound notes that a "substantial portion of drivers acknowledge COVID-19 and the challenges it represents, and then just get right back to work. These drivers feel a sense of duty to keep their trucks moving and the significance that has for the country. They also express gratitude to the people working to support them and keep them rolling throughout the pandemic."
Negative comments in the morale category, about 22% of morale comments, included drivers feeling "all alone" on the road without any support.
"...they have done a fine job to protect office workers, but nothing with the drivers, and they say the drivers can be replaced if they get sick, but the office people are more important. We should all be equal."
Pay concerns
More than one quarter of drivers said they deserve additional compensation for working through the hazardous conditions brought on by the virus. They also commented that they would like other financial considerations such as deferral on truck payments, or their tuitions.
At 35 percent of COVID-19 related comments by mid-April, pay has become the most prevalent theme for the month so far, up from just 6 percent of comments in early March.
And comments about pay have morphed from drivers just requesting more pay to drivers suggesting changes in policies around those truck and tuition payment schedules.
"I wish our bosses would see these dark days and not only say 'good work,' but put at least more cent per mile in such days," one driver commented.
"'Good job' is not enough when things in stores are now expensive. I wish you look into that ... It's a very hard decision to make to be on the road and nowhere to buy food, always eating McDonald sandwiches, driving tired and weak because the body needs good food and the food is so expensive to buy ... That's a lot of money to spend when we have families home which are starving."
Because of the virus, the public is recognizing that drivers are considered an essential part of the supply chain that supports the economy, but drivers express that their pay does not accurately reflect that elevated "essential" status, especially in light of the higher-risk jobs that they are doing while driving.
"Is it possible to stop our lease payments for a couple weeks or a month so we can get through this troubling time?" a driver asked.
WorkHound reports that a "small portion of commenters thanked their companies for any actions being taken to support them financially, such as bonuses and reimbursements for additional cleaning supplies."
Coming in at smaller numbers of driver comments were concerns about risk (17 percent), work (12 percent), necessities (3 percent), and denial (0 percent).
Risk
Down 2 percent from March, concerns about the risk of driving into COVID-19 hotspots made up only 17 percent of driver comments by mid April.
"Worried about going into the hotspots where covid19 is rampant. Don't need to take anything home to my family and to top it off I have sleep apnea and I've smoked for the last 27 yrs, so I'm at a greater risk," a driver commented.
WorkHound reported that although slightly down from the earlier period of the virus, drivers believe the risk of going into "red zones" still remains significant.
Work
"Was great till the covid-19 set in, and now no work."
This driver's comment represented about 12 percent of comments in April, and echoes other drivers' concerns about low freight and the difficulty of getting loads.
"They understand that the situation is uncertain and want some assurance they will still have a job in the future as they see carriers furlough office staff and fellow drivers," WorkHound noted.
Necessities
Coming in at only 3 percent of comments in April, down from 4 percent in March, drivers express concerns about being able to meet their needs while on the road because of the closing of rest areas, restaurants and many services at the travel centers.
"Truck stop restaurants are being closed. This puts a large strain on drivers' health and wellbeing if we can not eat, we can not operate efficiently," once driver commented.
Denial
Being only 4 percent of comments in March, denial of the severity of the virus crisis dropped to zero by mid April.
Comments in March included this one, "The media has blown it all way out of proportion. There have been more people die of the regular flu than this one. We had the bird flu, and the swine flu just to name two viruses that were the pandemics to end all."
WorkHound's analysis suggests that as the virus situation progressed drivers have had more exposure to better information about COVID-19 and might also know, or know of, someone who has been affected by the virus.
For more information about the way that WorkHound receives driver feedback and how it is used by participating carriers visit the WorkHound website.
Tagged Under:
Adverse Conditions
Life On The Road
Truck Driver Safety
Trucking Industry Concerns
Trucking News