Proper way to fly the American flag on your truck this Fourth of July
Last Updated: Tue, July 2, 2019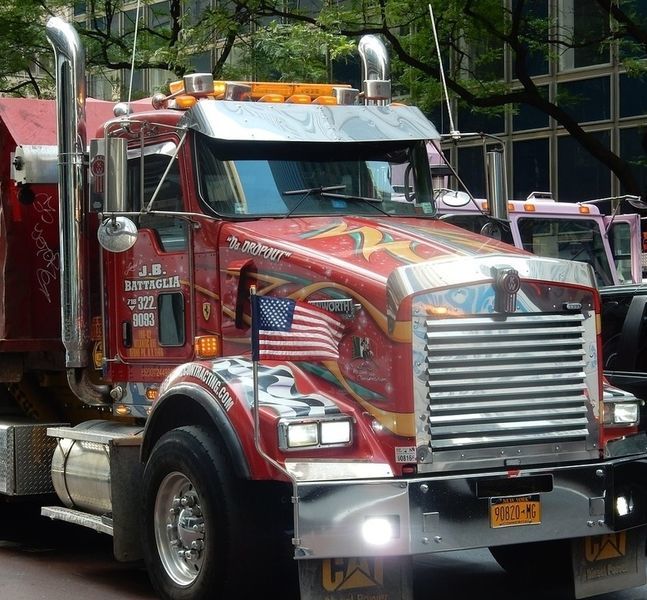 If you find yourself on the road this Fourth of July, like many truck drivers do, you might be wanting to display your American pride by flying the American flag on your truck.
But don't be too quick to mount that flag any which way without considering what is the legal, ethical and respectful way to do it.
Organizations representing former military members, like the American Legion, appreciate when a flag is treated with the proper respect.
The Military Salute Project has an 11-page advisory document spelling out in detail how flags should be flown on automobiles and motorcycles. The Project does not carry the weight of law, but its recommendations are used by many jurisdictions in forming their own flag display laws.
In addition, the Federal Flag Code specifies proper flag etiquette. The federal code does not impose penalties for violations of its provisions since the Supreme Court ruled such flag laws unconstitutional in 1989, but leaves that up to the individual states to make their own laws.
With that in mind, CDL Life has provided the following tips based on the Military Salute Project and the Federal Flag Code for proper flag display on truck drivers' vehicles:
Federal flag code says that you should not drape a flag over the hood, top, sides, or back of a vehicle. Instead, "when the flag is displayed on a motorcar, the staff should be firmly fixed to the chassis or clamped to the right fender."
In most cases, you'll want to make sure that the flag is mounted on the right as the vehicle is moving forward, but it's generally also considered acceptable to mount a U.S. flag on both sides of the vehicle if you're displaying two flags.
If you're mounting a flag on the roof of a vehicle, it is acceptable to either mount the flag on center of the roof or on the passenger side of the vehicle. It is also acceptable to mount the U.S. flag in the center of a a row of odd-numbered flags on the roof of a vehicle as long as it is higher than the other flags.
No other flag that you display on your truck should be in a higher position that the U.S. flag, according to flag code.
Flag code also forbids ever displaying a flag in a manner in which it could easily get dirty or damaged: "The flag should never be fastened, displayed, used, or stored in such a manner as to permit it to be easily torn, soiled, or damaged in any way."
Ensure that your flag does not in any way obscure your view or the view of other drivers — this is not only dangerous but also could be illegal.
It's a matter of good flag etiquette not allow the flag to touch the ground when you display it or move it.
Make sure that your flag is secure and won't come loose, wherever you choose to display it on your vehicle.
When your flag becomes too grimy or damaged to continue to display, it's important to retire the flag with honor. This is often done by burning. Some veterans groups also allow you to drop off flags to be "retired" in an official ceremony.
Hopefully this won't be an issue this Fourth of July but flags mounted on moving vehicles should never be flown at half-staff. Instead, the flag can be furled and secured with a black ribbon, or can be flown with a black ribbon streaming from the top of the pole.
Other interesting details about flying state flags, service flags, regimental flags, and organizational and institutional flags can be found in the Military Salute Project pdf document.
Neither of the two sources above were clear about flying a flag on a vehicle at night or during inclement weather, but the Federal Flag Code says that stationary flags should be displayed only during the hours of sunrise to sunset, and never during inclement weather, so drivers should use their best judgment.
Driving on the Fourth of July
Because some drivers might be able to get the holiday off, meaning trucks with trailers might be left unattended, cargo theft increases during these times. Truckers need to take extra precautions.
Also, law enforcement agencies choose busy holiday traffic periods to mount blitz-style enforcement campaigns. LEO presence is increased dramatically, often causing traffic slowdowns.
Finally, we've all been there when hauling freight on holidays … you know that the motoring public gets into a driving frenzy during holiday travel times and seems to leave common sense at home as soon as they get on the road. It is up to truck drivers to be extra diligent in protecting these people from themselves.
Be safe out there.
Sources: CDLLife, The Military Salute Project, Thunder Funding, Federal Flag Code
Tagged Under:
Driver Responsibilities
Life On The Road
Understanding The Laws