When a social media presence could hurt a driver or carrier
Last Updated: Sun, October 4, 2020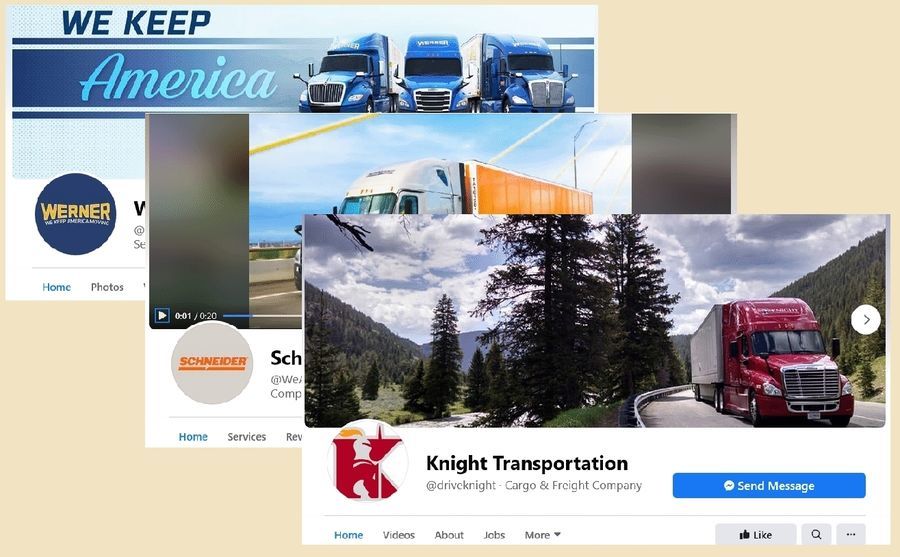 This is how it goes when someone asks a lawyer this common question:
"Can I be sued if …?"
Before the person even gets to finish the question, the lawyer answers, "Yes."
In today's hyper-litigious climate anybody can be sued for anything. More appropriately, the question should be: "Can I successfully defend against a lawsuit, and how much will it cost me?"
Truck drivers, however, have questions and concerns that go beyond even that simple scenario. One question that drivers should be constantly asking … even long before a lawsuit situation develops, after an accident for example … is what am I doing now that is going to be used against me big time if I am sued?"
The truth is that attorneys representing truck-car crash victims want to paint truck drivers and trucking companies in the worst light, and they have gotten wise to searching social media for evidence to be used against truck drivers.
Although the vast majority of truck-car accidents are caused by the car drivers, often a truck driver's social media postings are the grounds for large jury verdicts against him and/or his employer carrier.
In a run-up to its Virtual Solutions conference that begins October 19 Commercial Carrier Journal interviewed several legal, insurance and logistic risk control specialists who expressed concern about how social media and websites are influencing large jury verdicts against drivers and their carriers.
They said that plaintiff attorneys hire companies whose specialty is digging up social media content that puts the defendants in an unfavorable position when viewed by a jury.
Drivers and trucking companies should be proactive about the kind of reputation the public, and potentially a jury, will perceive about their social media posting and their websites.
"Companies really need to be dialed in on what their social media Internet presence is," Steve Setliff, managing partner of Setliff Law, told CCJ.
That's "because it's been my experience in trying these cases and in dealing with jurors afterwards that the judges admonition to not check any outside sources goes out the window."
In other words, even though jurors are required to sequester themselves from learning about the cases they are sitting in on through outside sources, it is virtually impossible to enforce that requirement these days.
Setliff offers advice to carriers, but independent owner-operators will be well-served to observe the same practices.
For example, Setliff suggests that carriers enter every safety contest they can, and become involved in their communities with donations to organizations like the American Heart Association or the Little League. Carriers should then publicize all of this activity on their website.
"It's just a good way to behave in an affirmative manner that projects a good image of us that jurors will see," he told CCJ.
Michael Nischan, also a Virtual Solutions panelist, is Vice President of Transportation Logistics Risk Control for EPIC Insurance Brokers and Consultants. He points out nuances for a carrier's website that don't seem important to a casual observer, but could make a vast difference to a jury considering an award against them.
"At least once a year I will look at a website and I see a picture of a truck that is portrayed to be moving relatively fast in the spirit of its company's name," he told CCJ. "And I'll see an image of the truck crossing a double yellow line."
He recommends carriers take a critical look at such content and change anything that gives the message that "we'll get it there under any circumstances type scenario."
Carriers are also susceptible to the message being portrayed on their drivers' social media – especially negative perceptions that can be used to encourage juries to be looking at an eight or nine-figure award rather than a six-figure one.
Setliff remembers one case of a driver who was passed out on the hood of his truck surrounded by beer cans. Another client posted a meme stating "you cut off a tractor trailer, you're asking for an 80,000 pound suppository," Setliff told CCJ.
"If they put that up, what they're really doing is subjecting themselves to potential personal civil or criminal liability," he told CCJ, "because some of those things can go toward state of mind and there are some cases where we disavow the actions of our drivers, so it's just a dumb thing to do."
Smart phone cameras are so ubiquitous these days, but the wrong use of them post-crash can also make a huge difference in a jury's impression of the truck driver.
While carrier safety officers instruct drivers to take photos after an accident Nischan warns drivers that posting those photos to social media, even if they at first appeared to be harmless, can be used by unscrupulous plaintiff attorneys to paint the driver in an unfavorable light.
"Less is better. Zero, preferably is better," Nischan told CCJ." Don't talk about it. Don't share about it. All that public perception, the more you post, the more is used against you."
For those who might be interested in attending CCJ's Virtual Solutions conference these are the topics that will be held in seven sessions October 19-22:
Biden vs. Trump: What the Next President Could Mean for Trucking
Costly Jury Verdicts Driving Up Insurance Rates
Heavy Hitter Insights on Freight Flows
Electric vs. Hydrogen: Trucking's Next Big Thing?
Putting Driver Safety Data to Work
Unplanned Maintenance's Impact on Total Cost of Ownership
Raising the Bar: How to Discover and Draw Top Talent
Registration is free, and can be completed at CCJ's Solutions website.
Why drivers should be on social media
Factor Finders reports that according to Randall-Reilly Market Intelligence, more than 96 percent of truckers have a Facebook account.
Likewise, many, if not most, trucking companies have a Facebook, Instagram and/or Twitter presence that they use to attract new drivers and post job openings by communicating their company's culture to the world.
Newer truck drivers cannot imagine life on the road as it must have been decades ago before the Internet and social media, as they rely so much on technology for keeping in touch with loved ones at home, for off-duty entertainment, and networking via trucking websites and forums like the extremely popular venue here at Trucking Truth.
But, as stated above by CCJ's panelists, with the reward of social media comes a risk that a thoughtless or careless personal expression, often made in jest, could lead a driver and/or a carrier into a multi-million dollar loss after an accident.
Sources: CCJ, Factor Finders
Tagged Under:
Entertainment
Owner Operator
Photos
Truckers Technology
Trucking Accidents
Trucking Industry Concerns
TT Website