Friday Short Haul - Daimler self-driving Freightliner, driver's ed students, StopTheTires cancelled
Last Updated: Thu, November 19, 2020
Fast Lane Truck does a Daimler self-driving truck walk-around
They say a picture is worth a thousand words. So a video must be worth … what?
Andre Smirnov, managing editor of The Fast Lane Truck website, recently did a walk-around tour of Daimler North America's newest iteration of its self-driving truck testbed at the Daimler proving grounds; which was then featured in an article by Nathan Adlen.
Daimler told Andre that its latest version is very close to achieving SAE Level 4 autonomous vehicle capability, but that it is currently restricted to boundaries set by a Geo-fence that establishes an area like a particular warehouse district, a stockyard or on highways that have been previously mapped into the truck's software.
This latest Freightliner test vehicle currently employs 8 LIDARs, 10 Radars with short, mid-range, long-range and ultra-long-range capabilities, and 12 cameras, along with a host of other instruments to aid the truck down the highway.
Daimler says that much of this technology has evolved from original exploration of self-driving vehicles for the military by DARPA, the Defense Advanced Research Projects Agency, that is also credited with pioneering the earliest venture into a world-wide web.
While the rollout of a completely independent self-driving semi truck is still way into the future in technology time, like as soon as the next decade, critics as well as proponents have no lack of things to say about the autonomouos truck concept.
According to the article, job security comes up often among truck drivers. It's no secret that fully autonomous big rigs can be built much less expensively without having to design to accommodate for the comforts and practicality of having a human being on board.
Proponents say that drivers will still be needed; for example to finish the last mile, and for refueling, repairing and inspecting the trucks.
Common among criticisms as well is the fear that people have at the thought of a 75-foot-long, 80,000-pound monster barreling down the road without a driver at the wheel. Technology is never 100-percent perfect, and a system mishap could indeed turn into a major fatal crash.
And, haven't we all been in the position of hearing that lane-change warning blaring at us because the sensor interpreted a streetlight's reflection on wet pavement as a lane change?
Here are some sample comments posted on YouTube within a day of the above video being released:
"Now tell me how many blips and bips and alarms I will hear after 1 hour in winter on road covered in snow slush and salt."
"Interesting technology. But if this is implemented on the highway then millions of people will be out of a job in America alone. Imagine the job loss globally."
"If this thing can slide its tandems and fifth wheel without supervision, I'll be impressed."
"Back into a loading dock, that will convince me."
"Let me put you to rest. Daimler CANNOT even fix the adaptive cruise control. They sense objects (ghosts) that don't exist, causing full activation of brakes. Fleets have asked Freightliner to address this to no end."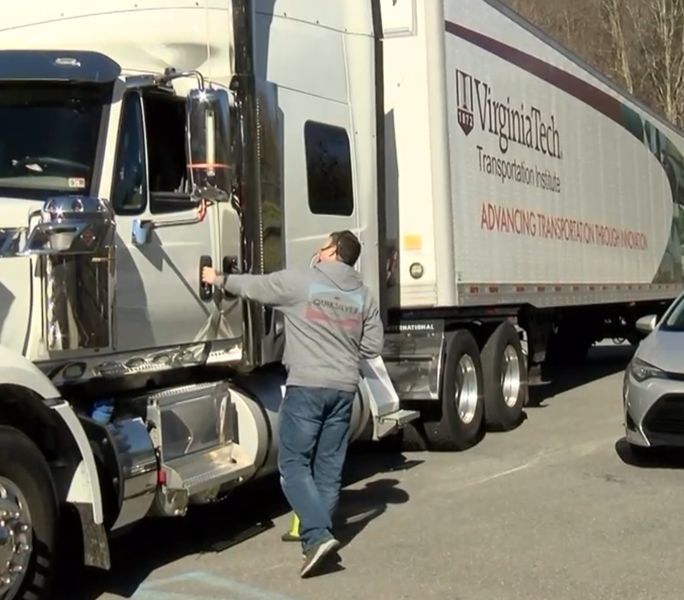 Scott Tidwell of Virginia Tech's Transportation Institute gets ready to take a Greenbrier West High School driver's ed student on board to give some perspective on what can be seen from a big rig's cab.
High school driver's ed students get a cab-high view
Virginia Tech's Transportation Institute has partnered with the driver's ed program at some West Virginia schools to give driving students a chance to observe what a truck driver sees … and doesn't see ... while on the road.
In the video playing on the WVVA online article about the program Scott Tidwell, a field researcher at Virginia Tech's Transportation Institute, says, "Driver's education programs throughout the country don't always teach a lot about safely sharing the road with these vehicles. and why that's important to the students."
Students at Greenbrier County's Greebrier West High School got an opportunity this week to get a first-hand look at the view from inside a big rig's cab.
"As you can see from the size of one of these vehicles compared to a car or SUV, the majority of people that die in these type of crashes come from the car or SUV, it's not the the truck driver or the bus driver that die in these collisions." Tidwell said in the video.
The school system actually wanted to implement the program earlier this year but was thwarted because of the virus situation.
"We had it scheduled for last spring, and then we shut down, so we had to make adjustments, so we were able to work it out and bring it to our students, right now it's going to our driver's ed," said Deborah White, director of secondary education for Greeenbrier County schools.
Tidwell expressed in the video how the experience can benefit the driver's ed students. "Actually getting to sit in the driver's seat of that tractor -trailer and seeing for themselves what a truck driver can and cannot see when they're out on the roadway, it's a really good experience for them and that's a big take away, that they have when they get their driver's license and are out on the roadway."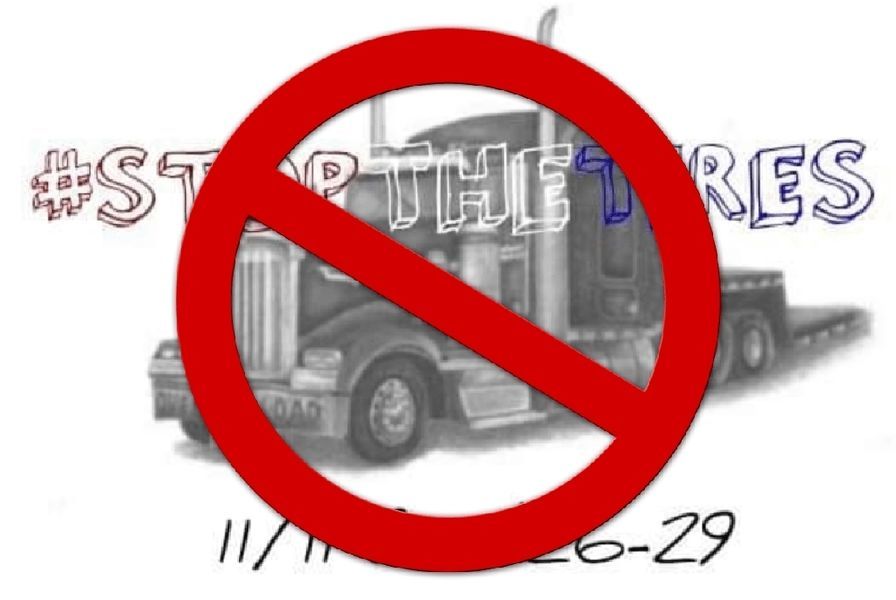 Stop the Tires trucker shutdown is cancelled for now
StopTheTires2020 founder Jeremy Rewoldt says that his "what if" query about all tires stopping that he posted on a brand new Facebook page because of recent calls by Democrats to stop fracking has turned into something bigger than he expected … or even wanted.
Then others began running with the idea, coming up with "devising and disruptive" plans that Rewoldt never intended, so Rewoldt has announced that he does not support a trucker's strike at this time.
In a transcript from a Truckers Independent Broadcasting Network interview that was published at CDL Life Rewoldt explained what happened.
"It [starting the Facebook page] was emotionally motivated." Rewoldt said in the interview with Truckers Independent Broadcasting Network on Sunday, November 16th, as reported by CDL Life.
"I mean, I live in a blue state … I'm sitting there watching election results come in like anybody else … A bunch of my buddies were talking that week afterwards and I'm like 'you know, a lot of drivers like us are pissed off in our area, so why don't we create a Facebook page and shoot the shit?'
"That's literally what it was about. So we could talk and have our thoughts amongst each other and connect with other drivers. So I created the page Friday night, went to bed and woke up the next morning and there was 10,000 people in it. The page was public so anybody could join. There was no control over it at the time and Facebook sets it up so that you have to wait 3 days for it to turn private. So within three days of everyone sharing and everyone seeing the page, I couldn't control who was joining the page and who was coming and going.
"It just gained a lot of traction. There was no way of me controlling anything when it was open to the public."
Future events might be out of Rewoldt's hands however, as hundreds of truckers might still intend to shut down on the originally planned dates of November 26 through 29. Last weekend, some 300 drivers had posted on the StopTheTires2020 Facebook page that they were planning to participate by shutting down.
In the interview Rewoldt did say that an alternative to a nationwide trucker shutdown could be a boycott of cities that were "burned to the ground, pretty much."
"Absolutely. I mean the bigger cities decided the outcome [of the election]. I mean you can look at the whole map and break it down by county and see where the blue spots are," Rewoldt added.
Rewoldt did express that one good thing that has come of this experience is that truckers are coming together to have their voices heard.
"The brotherhood is back. We're actually talking again," he said.
Sources: The Fast Lane Truck, WVVA, CDL Life
Tagged Under:
Autonomous Trucks
Self-Driving Vehicles
Truckers Technology
Trucking News
Videos