Friday Short Haul - Protests, dark days ahead, TuSimple
Last Updated: Fri, January 22, 2021
Truckers training how to stay safe during protests
Instructional Technologies, one of the key players in the truckers training field, has opened up a new program that would have been in the "Huh? What's that for?" category just a few months ago.
IT now has training for truckers in how to stay safe if caught in a protest.
On their website announcing the new training program, IT says, "We're not going to get into the politics of the moment, but our training is all about dealing with real-world problems. Your drivers have a job to do, and protests that block their route pose a unique set of risks that they may not be prepared to deal with," IT says.
"You don't want them in a high-stress environment, surrounded by hundreds of angry people making the wrong call that puts themselves, their equipment, the load or the protesters in danger. So training helps them understand the priorities: safety first."
The driver safety in protests training is now included in IT's Road Rage courses for drivers of commercial vehicles.
The main advice offered by IT for drivers who might become tangled in a protest situation is to try to avoid being in the wrong place at the wrong time in the first place.
"Whenever possible, you and your drivers should listen to local news and social media for information about protests and look for alternate routes to avoid known protest areas," IT says.
If drivers are on the road and unable to keep abreast of when and where a protest might occur IT recommends that dispatch staff stay on top of local news, and that they should remind drivers that "their vehicles and loads are not worth their lives, and it's far better to be delayed than to risk their safety!"
If drivers find themselves in the middle of a protest where the police are nowhere to be found they are encouraged to:
Avoid provoking or engaging with protesters
Set the parking brakes
Lock all doors and windows
Remain in the vehicle if safe to do so, but evacuate with your belongings if you feel at risk
Call law enforcement — they may not know there's a problem
Use a mobile phone or dash cam to record the event, but not if it provokes people
Dark days ahead for smaller trucking companies
Giving a warning that should be a surprise to nobody who is following current events a spokesman for small trucking companies says that the new administration will usher in a "dark day" for the trucking industry.
"It's a very dark day for small business in general, not just for trucking," David Owen, president of the National Association of Small Trucking Companies told Transportation Nation Network of the situation, as reported at Big League Politics.
He expects that former vice president Joe Biden will sign into law a revitalized transportation bill from 2019 that would mandate carriers carry more than $2 million in liability insurance.
The bill, part of the Moving Forward Act, had been stalled by Republican Senators in the past, but the political makeup of Congress changed dramatically during the recent elections.
While President Donald Trump is well-known for his affirmative support of truckers, it is expected that the coup administration under Biden will gift trial lawyers, a group they have a long-standing allegiance to, with even stricter insurance mandates – possibly doubling the minimum to $4 million -- thus enabling lawyers to win even larger awards by suing truck drivers and carrier companies.
The mega carriers could easily absorb the increased insurance minimum mandate, but smaller carriers and independents will find the increase difficult to meet for their smaller fleets of drivers. Expect to see a surge of the largest trucking firms absorbing the smaller guys.
Also, Biden has already signed executive orders affecting domestic fuel production, like halting Keystone pipeline construction, which will cause fuel prices to take a huge increase.
"I'm pretty discouraged. I don't know how anybody can think an anti-capitalist agenda can be good for transportation," Owen said.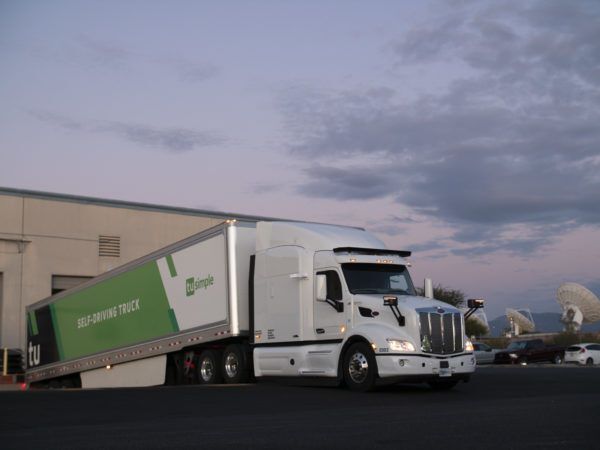 Werner and Schneider invest in TuSimple
TuSimple, already the leader in developing autonomous Class 8 trucks, has received some significant investment boosts from two of the country's largest commercial carriers.
The autonomous trucking technology company announced that Werner Enterprises has invested an undisclosed amount in their nearly six-year-old company, and described it as "an important milestone in the journey to become an environmental leader," according to a Transport Topics article.
Werner hopes to capitalize on their investment by focusing on the "growth and deployment of automated driving systems," as well as gaining the benefits from increased safety, and reduced emissions, in order to be ready for the eventual industry adoption of autonomous trucks.
"Our customers are experiencing continued business transformation, one that requires immediate fulfillment, industry leading service and safety and a greater desire for solutions that further their business and the sustainability of our planet," Werner CEO Derek Leathers said in a press release.
At the same time, TuSimple has announced that Schneider CEO Mark Rourke has been added to TuSimple's executive advisory board. Earlier, Schneider had taken a nominal investment in TuSimple, and will be making its trucks available for testing autonomous features.
The announcement of these two latest investments in TuSimple follows several others from last year. Volkswagen AG's heavy truck unit took a partnership position with TuSimple in September, while Traton Group took a minority stake.
In July, TuSimple announced a partnership with engine maker Navistar to further develop their self-driving trucks to SAE Level 4.
Sources: Instructional Technologies, Big League Politics, CDL Life, Transport Topics
Tagged Under:
Adverse Conditions
Autonomous Trucks
Owner Operator
Schneider National
Self-Driving Vehicles
The Economy And Politics
Truck Driver Training
Truckers Technology
Trucking Industry Concerns
Werner Enterprises