ATRI survey points to the need for a nationwide truck parking availability system
Last Updated: Tue, June 15, 2021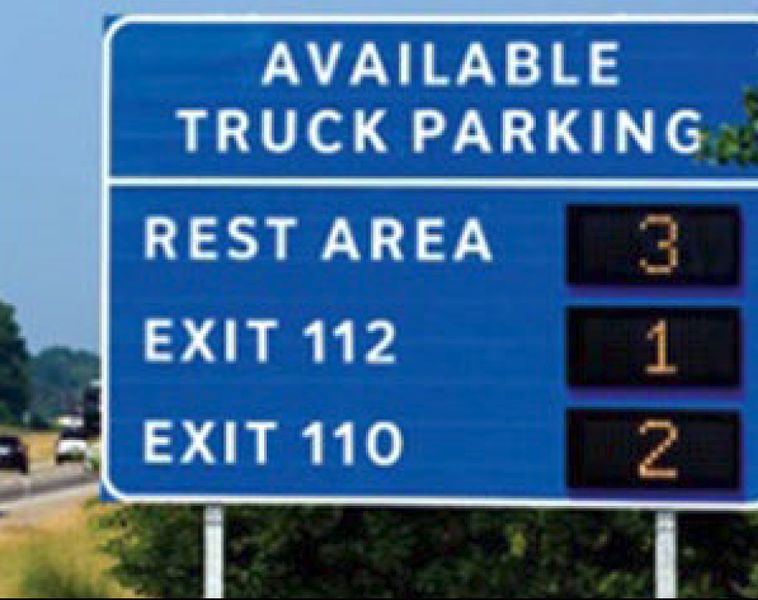 Results of an American Transportation Research Institute survey of truck parking availability systems in use by truckers points to the need for more accurate systems and the standardization of these systems across state lines.
ATRI surveyed truck drivers from all sectors, including age groups, experience levels and gender, and tabulated the results from the 1,103 drivers who responded.
The short version of the study's conclusion is that the various truck parking availability systems in use by public sector agencies are based on "disparate technologies and information distribution channels," and that these disparate systems are creating confusion and distrust by the drivers who use them.
In other words, public agencies are managing to offer truck parking information at the local level, but long-haul truckers are the preferred users of those systems, and they are saying that the systems should not differ considerably from one state to another.
In its news release announcing the completed survey, ATRI quotes Bill Hambrick, a professional driver for Werner Enterprises and an America's Road Team Captain: "This new research on driver issues and preferences toward truck parking information systems is hopefully a first step in developing a national driver-centric system, built on clear standards and approaches."
In 2012, Congress passed "Jason's Law," to address the risk that truck drivers face in having to park in unsafe locations when safe truck parking is not available. Despite the efforts of some jurisdictions, there is still a shortage of truck parking and a lack of the ability of truckers to find available spaces.
In October of last year, ATRI released the results of an industry-wide survey where truck parking availability came in third as the most important concerns to the industry, following only driver shortage and driver compensation in importance.
According to this latest survey, drivers are reporting that because of the new hours of service regulations they are having to seek parking earlier than they used to and are forced to park on shoulders, ramps and other undesignated locations because of the difficulty in finding available parking.
This lack of parking spaces can be calculated to result in more than $4,600 in lost revenue annually per driver.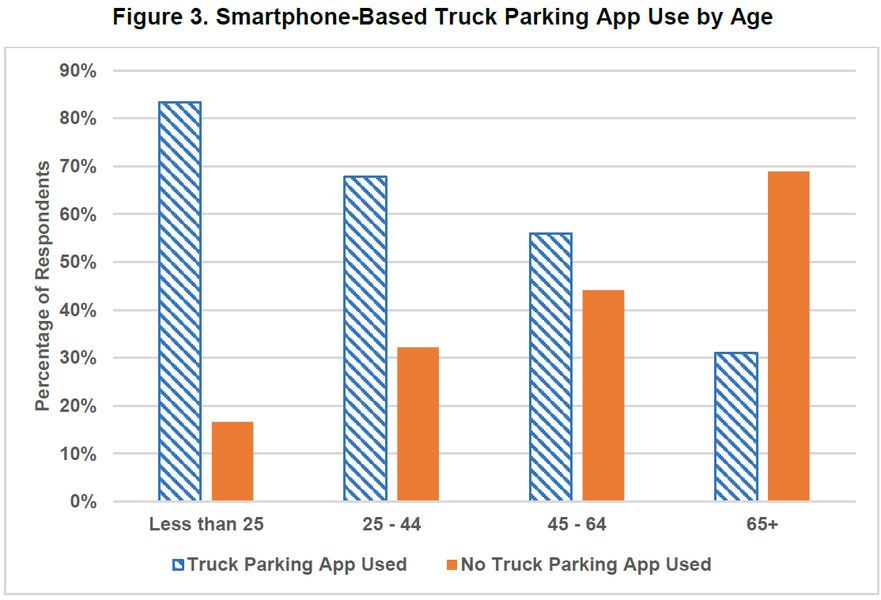 Demographics and results of the truck driver responses
Of the 1,103 truck drivers who completed the survey, the majority were male (83%), younger, between 25 and 64 years of age (90.3%), company drivers (65%), and more experienced, with 11 or years behind the wheel as a commercial driver (68%).
It's interesting how the demographics played out in their answers regarding how drivers have adapted to using technology to find available parking spaces.
For example, more than 80 percent of the under-25s reported using smartphone-based apps to find parking, while only a little more than 30 percent of the over-65s made use of their smartphones to find parking.
Similarly, more than 80 percent of drivers with one to five years of experience responded that they use a smartphone app to find parking, while only 50 percent of drivers with more than 11 years of experience reported using their smartphone to find parking.
Other findings revealed in the survey on the use of smartphone-based apps for truck parking availability include:
Drivers paid by the mile were approximately two times more likely to use a truck parking app than drivers paid by the hour
Use of truck parking apps was highest among drivers working for larger fleets, with 65 percent of drivers working for fleets of 1000+ trucks using truck parking apps, compared to 51 percent of drivers at fleets with 20 or fewer trucks
Drivers told ATRI they placed a lot of importance on an app's ability to give up-to-date accurate information, the ability to reserve parking spaces in advance, and the convenience of using the app.
Conversely, drivers said they would discontinue using an app if it lacked accuracy, if it needed multiple apps to perform its function, and if it was difficult to navigate the app platform.
Three truck parking apps took the lion's share of drivers' business. The top three most frequently cited truck parking apps were Trucker Path (46.4%), MyPilot20 (26.3%) and TruckSmart (18.0%).
With the heavy emphasis on distracted driving and no-hands cell phone use, many jurisdictions have turned to alerting drivers to parking availability with variable message signs posted some miles before a parking location.
Nearly a quarter of the drivers responding to the survey said they still rely exclusively on their smartphones to find parking even when the VMS are being deployed. Nearly 15 percent of drivers said they rely exclusively on the message signs, and around 33 percent reported that they use both.
Identifying opportunities for improvement
Some 72 percent of the truck driver survey respondents said they would like to have more available truck parking capacity. Only a little less than 16 percent said they'd recommend improving placement and content of message signs, just under 12 percent recommended making truck parking information more accurate, and 6.3 percent said they'd like to see parking data updated more frequently.
According to the survey conclusions, "This ATRI truck parking survey confirms the important role that truck parking information systems can play in better managing existing truck parking capacity, but also identifies opportunities for improvement."
Some areas for improvement identified by the survey:
Parking Monitoring Technologies. The ideal parking information system would utilize highly accurate, automated cameras to count available truck parking spaces. Digital imaging using cameras is highly accurate but relatively expensive. Most importantly, video systems do not impact the pavement and substructure of the parking surface – which is important to government agencies when freeze/thaw cycles exist. In total, these factors make this technology implementable across the United States, particularly when lower cost 2D solutions are developed.
Variable Message Signs. A majority of drivers, especially long-haul and inter-regional drivers, found that variable message signs were both useful and accurate. Being both useful and accurate indicates the necessity of variable message signs in any technological implementation, and should be standardized for all rest stops, both public and private, on major thoroughfares.
Smartphone Applications. Applications are a popular way of receiving parking information, but different tools and information are provided by different applications. The varied truck parking information can lead drivers to install multiple applications – as evident in the 212 driver respondents to this survey with more than one application on their phone. This alone demonstrates a need for more comprehensive information, and improved standards for collecting and disseminating core truck parking information.
Embedded "Information Push" Systems. Driver distraction is a legitimate safety concern, and state and federal laws ban almost all texting while vehicles are in motion. Yet, it is costly and inefficient for truck drivers to exit roadway systems to search for truck parking. The most efficient and effective solution is to automatically push truck parking availability data to the truck driver only when it is geographically relevant to know where truck parking availability exists. This concept was tested in the Smart Park 4 Trucks project, whereby the location of moving trucks was geo-fenced and monitored, and when the truck approached geo-coded locations, the real-time space availability information was "pushed" to the truck driver's embedded telematics device. The concept received extremely favorable reviews from truck drivers involved in the field test.
Expanded Outreach. A next important outreach phase in ATRI's truck parking research is to work directly with the National Association of Truck Stop Operators (NATSO), state DOT staff and state legislatures, truck driver groups and technology vendors in an attempt to implement a standardized truck parking information framework across the U.S. A coalition of stakeholders could be convened to first validate and conceptualize a national truck parking information system architecture, or an expanded version of the U.S. DOT National Truck Parking Coalition could be tasked with setting up the framework. This initial development step is critical to creating the foundation for an efficient and accurate truck parking information program, providing great value to millions of truck drivers throughout the country.
Dave Wickenhauser went on the road driving big rigs after retiring from 33 years in newspaper journalism. His trucking novels, Crimson Highway, the first in the Hugh Mann series, and the sequel, Road Test, are available at Amazon as paperbacks, and as Kindle ebooks.
Sources: ATRI News Release, Full ATRI Truck Parking Report
Tagged Under:
Truck Stops
Trucking Industry Concerns
Trucking News