Simulator use is catching on for schools, carriers
Last Updated: Sun, April 28, 2019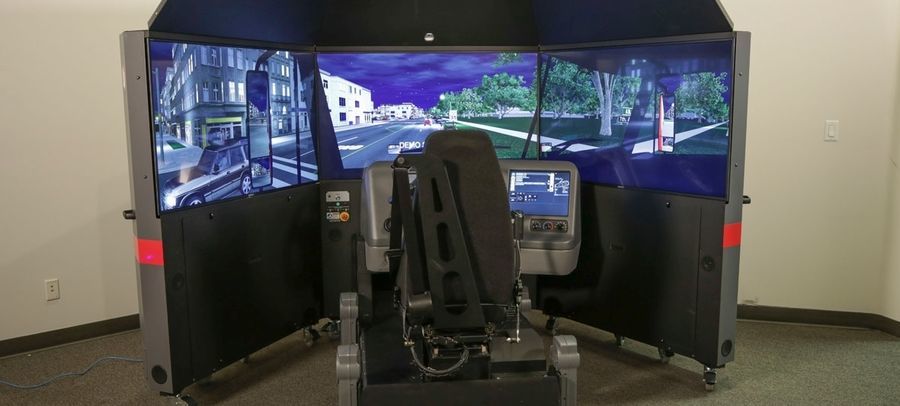 Training simulators have been in use for aviation and military purposes for some time, but these training devices are now catching on in truck driving schools across the country.
In a 2017 study titled, "Transfer of Training in Basic Control Skills from a Truck Simulator to a Real Truck," written by researchers from Laval University and the business school HEC Montreal, it was found that truck driver training simulators are at least as effective as cab training with a live teacher for the first few days of being introduced to driving – and in some cases are more effective.
Simulators are more effective for such tasks as shifting gears and braking during the initial phase of the training, but advocates of simulators say these devices are not a replacement for the teacher-led in-cab experience.
The study used control groups to test in-cab versus simulator training's effectiveness. They found that trainees on simulators and in-the-truck performed equally proficiently for straight-line backing and 45-degre backing.
In the gear-shifting part of the study researchers discovered that both groups performed equally proficiently, but that the simulator-trained students picked up on gear shifting quicker than the in-the-truck students. But after a few days both groups performed equally.
"Shifting can be a stressful situation with an instructor watching. The simulator lets the student relax and pay better attention," Pierro Hirsch, a co-author of the paper and a program developer for Virage Simulation, a Montreal-based provider of simulators, told Transport Topics.
Besides the Virage model, other companies offering simulators for schools include L3 Technologies' TranSim VS, FAAC Inc's FAAC TT-1000, and Advanced Training Systems' TransMaster Plus.
Schools and carriers like simulators
One of many schools offering simulation training is Transportation Training Services at Del Mar College in Corpus Christi, Texas. Their program incorporates up to 20 hours of simulator training in its 200-hour CDL package.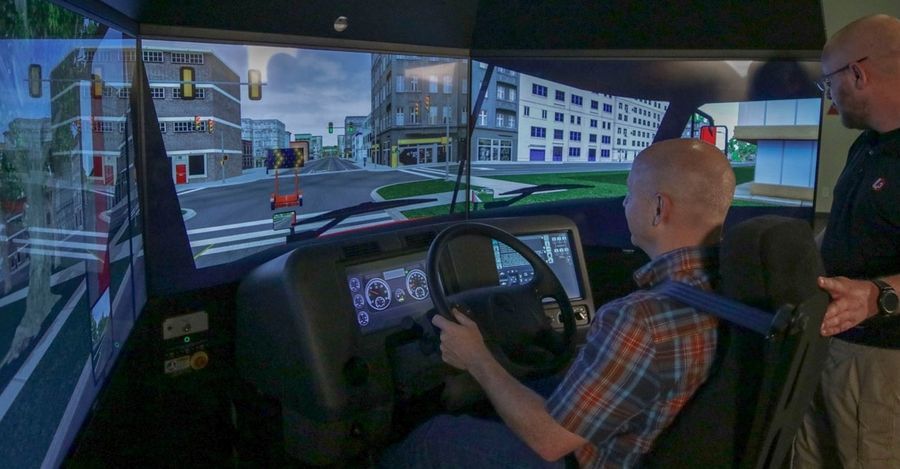 John Rojas, director of the college's truck driver training program, told Transport Topics that students on the simulators quickly "understand looking in mirrors, they shift confidently, they coordinate their leg and hand (when shifting)."
Rojas said he appreciates that there are no safety issues, nor wear and tear on the truck's equipment. And less fuel is used during the simulator portion of training.
Brett Bell, a trainer with Basic Energy Services, of Fort Worth, Texas, said simulator training for their drivers has resulted in fewer rollovers with the company's 1,620 tractors, and they have experienced fewer accidents overall.
Dan Columbus, of Westcan Bulk Transport, of Edmonton, Canada, said that simulator training has cut fuel costs by 30 percent on average by teaching correct driving techniques.
Hawkeye Community College in Waterloo, Iowa, incorporates simulator training it its CDL program.
The school touts the benefits of the simulators, saying that students are introduced to truck driving in a safe and risk-free environment that is much less intimidating – and, less stressful for instructors.
The simulator has shortened the time for students to begin range work from a week or more of class time to less than two days. There is also the added benefit that students are not burning fuel at the rate of three to five gallons per hour and wearing out clutches and transmissions with their first attempts at in-the-truck driving on the range.
Also, less stress on drivelines, tires, and suspensions means the school's trucks are in the shop less often for repairs.
Students can safely maneuver their virtual "trucks" in changing environments like weather, day/night, and different road conditions, depending on which settings the instructors apply to the simulator. They also get to experience different manual transmission configurations and even different diesel engines such as Mack and Cummins.
Advanced Career Institute's Fresno Campus says that use of a truck driver training simulator has become a great resource in their CDL program.
The simulator's on-screen displays and in-cab steering, shifting and braking components teach students backing, clutching, and driving in various weather and road conditions; which the school believes better prepares students for having the skills for passing their CDL tests.
Sources: Transport Topics, Hawkeye Community College, Advanced Career Institute, Del Mar College
Tagged Under:
Becoming A Truck Driver
CDL Training
Getting Your CDL
Truck Driver Training
Truckers Technology