Four-state coalition forms to alleviate I-10 corridor truck parking problem
Last Updated: Sun, November 1, 2020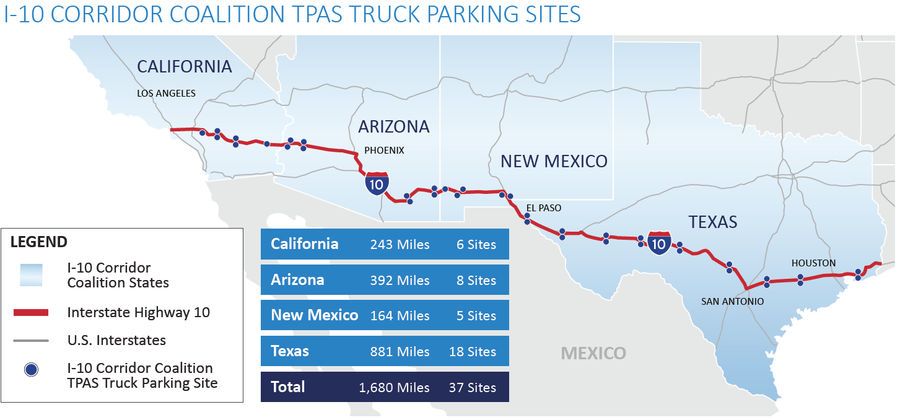 In most, if not virtually all, online listings for the top 10 or top 25 most unsafe roads in America the I-10 corridor across the southern states makes the list … sometimes even coming out at the top or near the top.
A study of dangerous highways in each state during the summer months conducted from 2015 to 2017 revealed that the 329 miles that I-10 runs through Arizona had experienced 100 fatalities, placing it number five throughout the nation.
News reports from other states in the I-10 corridor report similar alarming statistics.
Of interest to truckers, as well, is the lack of truck parking along the long stretches of desert landscapes which constitute the Western states portions of the Interstate.
That's why the departments of transportation from four Western states along the I-10 corridor came together to create the I-10 Corridor Coalition, with the idea to institute a program called the Truck Parking Availability System.
Last year the coalition received $6.85 million from the U.S. Department of Transportation to implement its TPAS project in the four Western states of California, Arizona, New Mexico and Texas.
The four states then kicked in matching amounts, bringing the total to $13.7 million.
According to the coalition's website, "The Coalition's goal is to work together to promote safer and more efficient travel for both people and freight along the I-10 corridor by sharing expertise and resources, jointly testing technology, and implementing innovative transportation improvements and best practices."
The coalition's activities came under wider notice when it was featured this week on the Federal Motor Carrier Safety Administration's Facebook page from an article about TPAS at AZBigMedia.com.
The article stated that prior to the COVID-19 lockdowns as many as 10,000 semi trucks traveled across Arizona's portion of I-10 every single day.
"[These] truck drivers frequently spend a significant amount of time looking for a place to park and rest for a required break, or at the end of their workday," Laura Douglas, Arizona Department of Transportation Communications Project Manager, is quoted at AZBigMedia.com.
"Drivers who have not found parking before exceeding their hours of service are often forced to park in unauthorized, unsafe locations such as highway shoulders, on and off-ramps, or on local streets."
One study conducted last year on truck parking availability in Arizona pointed out, however, that the number of parking spaces for trucks is not the problem, and that there are plenty of available parking spaces. It's that, "It is possible that available truck parking spaces are not known by some drivers," the study concluded.
"Right now, a truck driver may decide to stop early because they can see a spot on the road or they're like 'You know what, I'm not going to risk it and I'm going to pull over now' because they don't have any way to make an informed decision," Tony Bradley, President and CEO of the Arizona Trucking Association, told AZBigMedia.com.
The I-10 Corridor Coalition's TPAS system is designed to alleviate the problem by monitoring and reporting on more than 550 truck parking spaces across 37 locations in the four Western states. The system will deploy dynamic roadside signs, have a smartphone application and keep a website up to date.
Once implemented the TPAS project can help truck drivers and dispatchers make informed decisions about where to park along the I-10 corridor.
"Truck drivers along this corridor frequently have difficulty finding authorized parking, which can result in decisions to park in unauthorized or unsafe locations (such as along highway shoulders, entrance and exit ramps, or local streets), or to continue driving beyond Hours-of-Service limits," the coalition's website stated.
"The TPAS project will create a system that can detect where truck parking is available at locations along the corridor and disseminate that information to truck drivers and dispatchers in real-time. This will reduce the amount of time and fuel spent looking for parking, as well as the risk that drivers will park in inappropriate locations or continue to drive while fatigued."
The TPAS project is scheduled to be completed by summer 2023.

Truckers comment on the FMCSA's Facebook announcement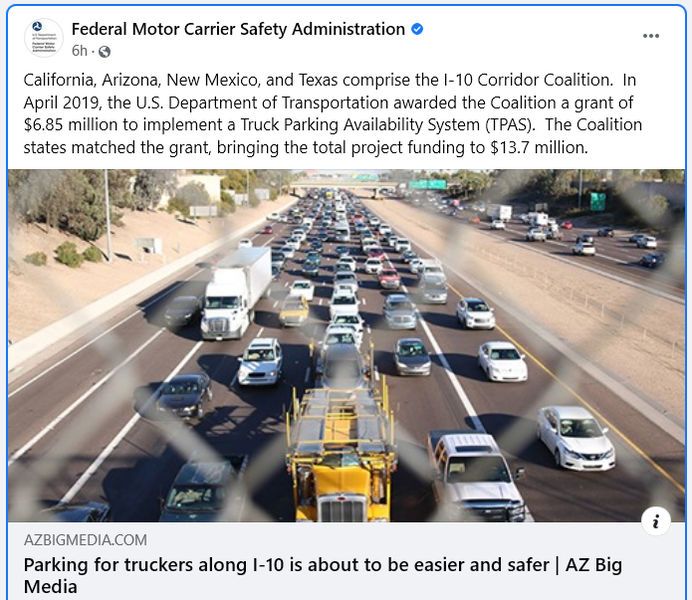 Truck drivers, the ones who run 1-10 and who have a personal stake in the parking situation along the corridor, expressed some disagreement with the premise of the TPAS system.
"That is not the case!" one trucker commented. "They drive to a spot closest to their shipper or receiver as driver time allows! It is a shortage of convenient parking! You can have all the parking in the world, but if it is not convenient to where they need to be according to available time it does little good. Tony you should know this. Very few do what you are saying!"
Another driver said she agreed with the article until it stated that there was enough parking on the I-10 corridor, but that drivers simply do not know where they are.
"No. Thats not the case at all," she said. "There isn't enough parking on I-10 throughout all three states, especially in Arizona and New Mexico.
"Its not that you don't know the parking is there. It's literally there's 500 trucks that need parking and only 100 spaces. There's definitely not enough parking outside major cities like Phoenix, Las Cruces, El Paso, and multiple other spots along that stretch of highway.
"There are not a lot of safe options either. No one wants to park in certain stops due to cleanliness issues, the fact that the operators of the smaller truck stops charge to park in an area that's not exactly deemed safe, or they are rude racist people that chase folks away due to their xenophobic nature.
"All of this comes down to one thing, there is not enough parking on I-10 through all three states to satisfy the amount of freight that moves through the area."
Another driver commented that the money to develop road signs and apps would be better spent building more truck parking facilities.
"Regardless of what you say, there is NOT enough available parking along I-10 and wasting money on technology isn't going to improve it. The trucking industry needs actual physical safe parking constructed. It's ridiculous to put up signs without actually creating parking space."
Another driver summed it up by saying, "Imagine how many spots for parking could have been created with $13.7 million dollars!!"
Sources: AZBigMedia, TPAS Fact Sheet PDF, I-10 Corridor Coalition
Tagged Under:
Adverse Conditions
Driver Solutions
FMCSA
Life On The Road
Tips for Parking
Trip Planning
Truck Driver Safety
Truck Stops
Trucking Industry Concerns