Memorial Day holiday is prime time for cargo thefts
Last Updated: Fri, May 24, 2019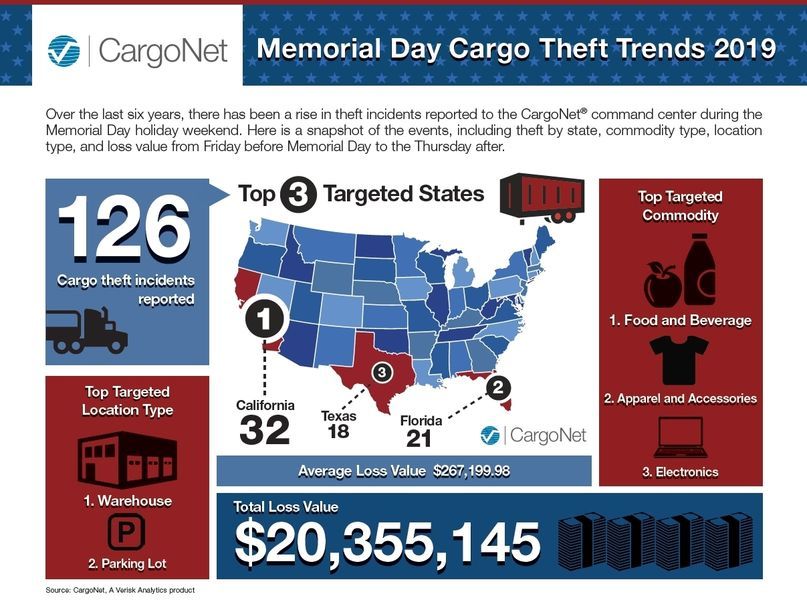 Memorial Day weekend is something to look forward to for a large segment of the United States population, including truck drivers, but it's that time that drivers are away from their trucks and their loads that makes Memorial Day weekend prime time for cargo thieves.
Two of the nation's leading cargo theft prevention organizations, SensiGuard and CargoNet, warn drivers to be particularly diligent over the weekend, especially if planning to leave their rigs unattended.
In tracking cargo theft activity during the Memorial Day holiday weekend over the past few years they report a spike in theft rates up to 43-percent higher than non-holiday weekends, and average values of cargo stolen up to 253-percent higher – some $20.36 million worth of cargo for that weekend alone since 2013.
The thieves expect to find unattended cargo at truck stops, closed warehouse facilities, and even at drivers' homes and mall parking lots.
"It's a standalone holiday and people are ordering summer supplies and preparing for their Fourth of July vacations," CargoNet Vice President of Operations Keith Lewis told Supply Chain Dive. "All these loads are being moved while the whole country is pretty much shut down and ... a lot of factories and automotive plants [also tend to] shut down around this time."
Certain states appear to be more popular for cargo thieves than others.
According to CargoNet, in a five-year period from 2013 to 2018 there were 24 states and provinces reporting cargo thefts during this holiday weekend. California received the most cargo thefts, followed by Florida and Texas.
Fridays and Saturdays were the most popular days for theft. 2013 had the highest theft count with 27 recorded thefts, but 2018 earned the distinction of the highest value of thefts because of a theft of jewelry, resulting in a loss of $5.7 million.
Notable thefts during Memorial Day weekend for this time period included:
$5,700,000 in jewelry from a warehouse in Walton, Kentucky
$2,920,000 in cell phone accessories in Memphis, Tennessee (recovered)
$1,500,000 in tablets from a warehouse in Wilmington, Delaware
$1,200,000 in seafood from the port in Elizabeth, New Jersey (recovered)
$900,000 in gaming systems from a carrier lot in Carson, California
$600,000 in copper from an unsecured yard in Pennsylvania
Tips for preventing cargo theft
Cargo theft prevention for the holiday weekend is no different than common sense measures that should be practiced year-round. The difference is that cargo thieves are more on the lookout for vulnerable victims during this period.
For drivers intending to leave a tractor and/or trailer unattended, prevention groups recommend looking for the following:
A parking space with controlled access
A spot with adequate lighting
Somewhere with a lot of people activity
Somewhere under personal or video surveillance
A place that the driver knows has low-crime experience
A parking situation where the trailer can be backed up against something solid, like a wall or stout fence.
Also, drivers should look into theft-resistant locks and seals for not only the trailer, but also tractors and other cargo compartments as well.
It is recommended to secure all trailers (loaded and unloaded) with high-security ISO 17712 compliant barrier seals in combination with hardened padlocks. Utilize king pin locks for unattached trailers.
Secure all tractors with high-security locking devices, such as air-cuff and steering column locks.
And technology is a trucker's friend … GPS, RFID or satellite monitoring is advisable for the tractor, the trailer, and also within the cargo itself. That's because thieves often find it easier to make away with a whole rig, tractor and trailer, and breaking into a trailer later at a safer location for them, rather than attempting to break into a trailer on the spot.
CargoNet reports that fully 52 percent of thefts involve the whole rig.
Sources: Land Line Mag, Supply Chain Dive, CargoNet
Tagged Under:
Advice For New Truck Drivers
Driver Responsibilities
Home Time
Safe Haven
Tips for Parking
Truck Driver Safety
Truck Stops
Trucking Industry Concerns