Friday Short Haul - Weigh station parking, rest areas reopen, HOS waiver expanded, freight prices increase
Last Updated: Thu, March 19, 2020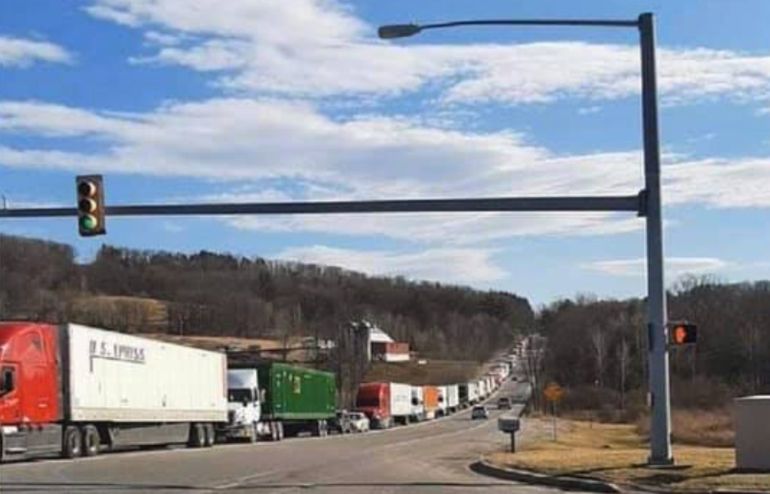 John Johnson left this comment on the Indiana Motor Truck Association's Facebook page: "These trucks are lined up outside the Proctor & Gamble plant near Tunkhannock, PA. The line stretches for as far as you can see, and then some. What do they make at this plant? Toilet paper. Let that sink in."
Indiana State Police open up weigh stations to truck parking
Recognizing the importance of truck drivers in keeping essential goods moving during the COVID-19 panic, authorities are bending rules in order to keep drivers comfortable and safe while on the road.
Indiana State Police have opened up all Indiana weigh stations to truck parking in conjunction with the Federal Motor Carrier Safety Administration's hours of service waiver during the COVID-19 period.
Truck drivers wishing to use the weigh stations to rest, including for overnight parking, do not need to be hauling essential relief goods or equipment as specified in the HOS waiver.
Trucks using the scale houses must abide by the following rules:
Parking does not interfere with the operations of the facility
Parking in only marked, striped parking spaces
No parking on any ramps
No parking in the scale lanes or in front of the inspection barns
No parking in unmarked areas of the parking facilities or areas designated for staff or handicap parking
No parking in other areas identified by on-site ISP or INDOT staff
No littering of any kind
No alcohol or drug consumption on state property
Restroom facilities may not be available
Adherence to any other rules set forth by the facility's ISP or INDOT staff
PennDot reopens rest areas for truckers
Pennsylvania Department of Transportation's original response to the COVID-19 panic was to immediately close and block all 30 of the state's rest areas.
However, under pressure from the American Trucking Associations and the Owner-Operator Independent Drivers Association, PennDot has announced it will begin opening select locations. As of Thursday there were 13 rest areas unblocked for truckers.
Presently, at those open rest areas the indoor bathrooms will remain closed for lack of personnel to clean them and keep them sanitized. Each location will have five portable toilets; which will be cleaned once each day.
It is expected that within a few days, however, there will be more services added including restrooms with running water and restaurants offering a limited take-out menu.
FMCSA expands drivers who qualify for HOS waiver
The Federal Motor Carrier Safety Administration on Wednesday expanded its list of the types of freight that qualify drivers for the hours of service waiver that it implemented last week on Friday.
The new announcement expands the waiver to drivers who are hauling paper products, fuel and other materials used in manufacturing essential items to fight COVID-19 like paper, plastic or alcohol.
This is the new full list of products that fall under the expanded HOS waiver:
Medical supplies and equipment related to the testing, diagnosis and treatment of COVID-19.
Supplies and equipment necessary for community safety, sanitation, and prevention of community transmission of COVID-19 such as masks, gloves, hand sanitizer, soap and disinfectants.
Food, paper products and other groceries for emergency restocking of distribution centers or stores.
Immediate precursor raw materials—such as paper, plastic or alcohol—that are required and to be used for the manufacture of essential items.
Fuel.
Equipment, supplies and persons necessary to establish and manage temporary housing, quarantine.
Persons designated by federal, state or local authorities for medical, isolation, or quarantine purposes.
Persons necessary to provide other medical or emergency services.
Rules specified in the initial announcement about this unprecedented nationwide HOS waiver still apply. For example, drivers using the waiver to drive more than the usually allowed hours must still receive a minimum of 10 hours off duty after making the delivers.
Also, the waiver does not apply to drivers hauling routine commercial goods not related directly to the relief effort.
"Direct assistance terminates when a driver or commercial motor vehicle is used in interstate commerce to transport cargo or provide services that are not in support of emergency relief efforts related to the COVID-19 outbreaks or when the motor carrier dispatches a driver or commercial motor vehicle to another location to begin operations in commerce," FMCSA explained in a news release.
Freight prices grow in areas of high COVID-19 activity
A fear of driving into high COVID-19 risk areas, in conjunction with extra long wait times at distribution centers, has driven up freight rates and has seen the numbers of drivers decrease for a given area.
Three regions affected the most by the COVID-19 panic are Seattle, New York City and San Francisco.
For example, dry van rates for loads between Los Angeles and Seattle increased 9.6 percent this week since February, with truckers rejecting 12 percent of loads bound for Seattle.
Drivers are demanding 27 percent more for making trips from Dallas to Los Angeles, and some carriers are flat-out embargoing parts of New York and New Jersey. Those that do make the trips are advised to social distance at the destinations, to not take signatures at delivery, and to not go inside the shippers or receivers offices.
Adding to the problems associated with the COVID-19 scare are increased wait times at busy distribution centers, where drivers are reluctant to accept loads that do not have verified appointment times and reasonable detention pay
"Brokers, this is why I turned down a $4.18 per mile load today," owner-operator Chad Boblett wrote in the Facebook group Rate Per Mile Masters, as quoted in a FreightWaves article. "Screw that crap about you will be worked in with no appointment at the shipper."
According to FreightWaves SONAR platform, weekly average wait times have soared across the country to an average of 159 minutes, with notable higher wait times at Atlanta of 277 minutes, Oklahoma City of 297 minutes, and in Philadelphia of 322 minutes.
Sources: CDL Life, American Trucker, CDL Life, FreightWaves
Tagged Under:
Adverse Conditions
FMCSA
Health Concerns
Hours Of Service
Safe Haven
Trucking Industry Concerns