Daimler's electric vehicles and autonomous trucks continue real-world testing
Last Updated: Wed, March 11, 2020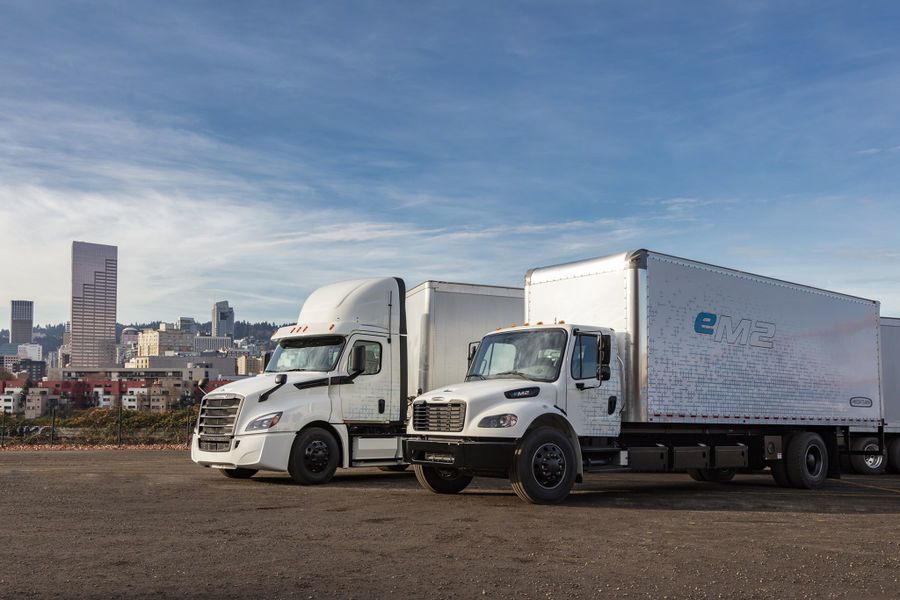 Daimler's electric vehicles eCascadia and eM2.
Daimler Trucks North America has announced a late 2021 market launch of its heavy duty Freightliner eCascadia and its lighter eM2 electric commercial trucks. Both electric trucks are currently undergoing real-world customer testing, mostly in the Los Angeles basin area.
According to a Daimler news release, "Over a period of 22 months 14 different customers from a range of sectors will operate the all-electric trucks within their daily transport business. These customers are some of the largest fleet owners in the USA representing more than 150,000 heavy and medium-duty trucks (Class 6-8) on US roads."
That is in addition to the 30 eCascadias that have put on more than 160,000 cumulative kilometers for select carriers in Southern California since 2018.
Based, of course, on the immensely popular Freightliner Cascadia Class 8 tractor, the eCascadia will reach 730 peak horsepower on batteries that can provide up to 550 Kwh of usable capacity.
This should give the eCascadia a theoretical range of up to 250 miles, with the ability to recover up to 80 percent of battery power in about 90 minutes of charging.
The Freightliner eM2, on the other hand, is Daimler's answer to last-mile delivery services, as it is designed to Class 6 specifications of 26,000 pounds gross vehicle weight. It will top out at about 480 peak horsepower, with about 325 Kwh of usable capacity, giving it a range of up to 230 miles. It is expected to be able to gain up to 80 percent of its battery power after about 60 minutes of charging.
Daimler says it wants to develop quiet, zero-emission delivery vehicles for urban areas, especially those that have strict emission and noise regulations, like what is found in California's large metropolitan areas.
NFI a New Jersey-based freight and logistics company, has been testing 10 Freightliner eCascadias in Southern California, running routes between the Long Beach and Los Angeles ports and DCs, a trip of about 50 to 75 miles.
For its innovation into electric vehicles NFI was named a 2019 Top Green Fleet by Heavy Duty Trucking Magazine recently, and the company plans to be running with a fleet of 40 electric vehicles, including electric yard tractors, by mid 2020.
Bill Bleim, NFI's senior vice president of fleet services, said that within the next three years the company expects the fleet to be as much as 40 percent electric.
Penske Truck Leasing also is testing Freightliner electric trucks. It is running electric Freightliners in daily delivery operations within California's Inland Empire. The electric vehicles make multiple, daily store deliveries on a dedicated route.
Daimler, NFI and Penske are using the trucks in a pilot program with the South Coast Air Quality Management District in Southern California. The goal is to improve air quality in the region. The agency is providing about $16 million to fund the program partially.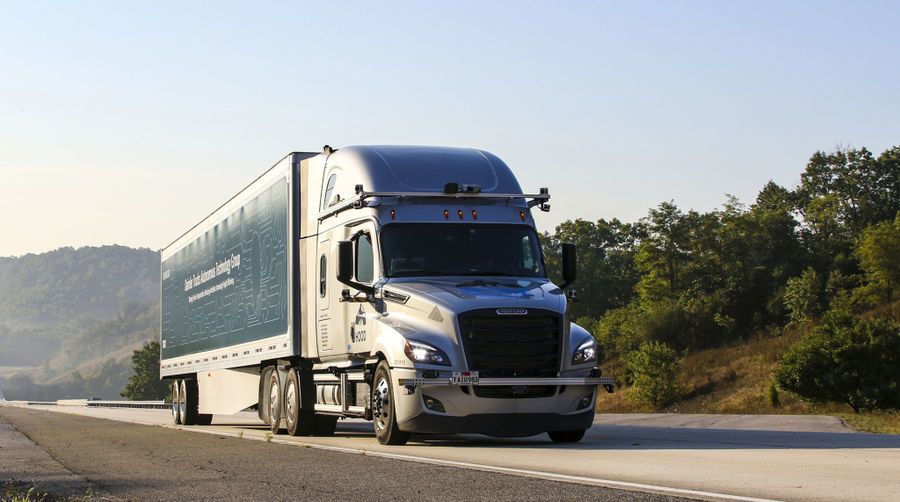 Daimler's Level 4 autonomous truck undergoing testing in Virginia.
Daimler also moving ahead with autonomous truck testing
Continuing with its foray into developing trucks that meet SAE Level 4 specifications, Daimler has partnered with Torc Robotics for further innovations and testing in and around Virginia, where Torc Robotics is headquartered.
The Autonomous Technology Group team mapped out some new routes along public roads in Virginia in January.
Daimler had been doing limited testing in southwest Virginia since last year, but the new routes will extend their testing efforts with new real-world scenarios beyond "what can be learned from computer simulations and closed road courses," according to a Daimler news release.
Daimler credited Virginia's supportive state and local governments, along with the state's well-developed infrastructure and highway systems, that has allowed the teams to successfully test, develop and deploy the company's automated delivery systems.
Dr Peter Vaughan Schmidt, Head of Autonomous Technology Group at Daimler Trucks noted in the news release that "Safety is our highest priority. By expanding our testing to new routes in the U.S. we are able to learn more, work with various partners and apply our advanced testing methods to new environments. These learnings help us to achieve our goal of safe and reliable highly automated driving, delivering value to our customers and society."
Right now, as with all of the other autonomous vehicle innovators, Daimler is required to have both an engineer and a safety driver in the vehicle during testing. Daimler's safety drivers all hold commercial drivers licenses and are specially trained in the specifics of the trucks automated systems.
Sources: Trucks, Daimler, Daimler, Daimler, NFI
Tagged Under:
Autonomous Trucks
Electric Semi
Self-Driving Vehicles
Truckers Technology