Women In Trucking announces 2020 photo contest
Last Updated: Tue, July 28, 2020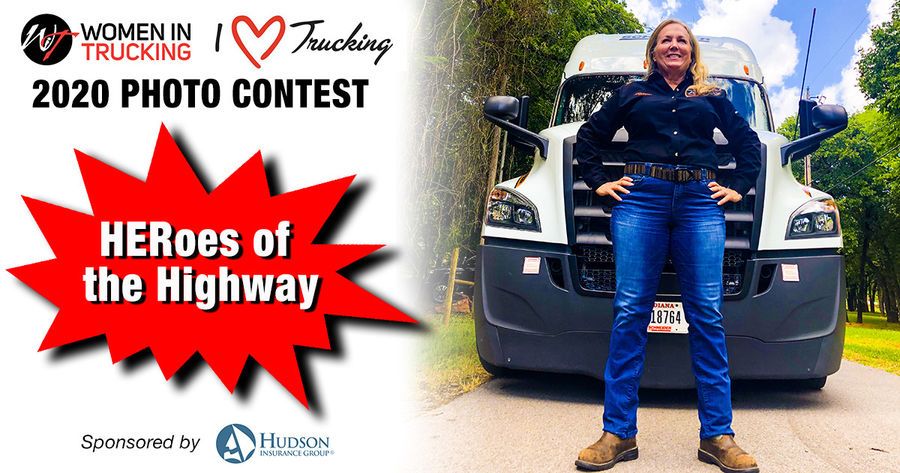 Women in Trucking announces 2020 "I Heart Trucking" photo contest
Today's news article is dedicated to everyone who is as weary as I am of serious, negative, virus-laden news. Here's something to have fun with, and to look forward to.
Women in Trucking Association, with the co-sponsorship of Hudson Insurance Group, is sponsoring their 2020 sixth-annual "I Heart Trucking" photo contest.
Theme for this year's contest is, appropriately, HERoes of the Highway.
WIT is wanting to recognize women who inspire by their hero-like strength. Besides meeting the deadline, the main requirement is that photos feature women in a superhero-like power stance and/or relating to a superhero theme, and that the pose is in front of a truck.
Photos must be submitted August 3 through August 14 at WomenInTrucking.org. Voting by WIT members and the trucking industry will take place between August 17 and August 28 to determine the People's Choice winner.
A panel of judges will also choose a winner to be named Judges' Choice.
Winners will be recognized at a special reception at the 2020 virtual Accelerate! Conference November 12 and 13. They will also be featured in a WIT news release, will be promoted in social media, and will be featured in WIT's Redefining the Road magazine.
Overall Contest Rules:
Contestant must be employed in the trucking industry (status of winners will be verified).
You do not have to be a WIT member to submit a photo.
Contestant may submit only one photo for judging (high resolution/300 dpi preferred, up to 2 MB).
Photo entries will be judged based on originality, composition, quality, and contest theme: HERoes of the Highway
Photo entries must feature a truck and superhero/power stance pose or related to superhero theme. Be creative!
Inappropriate photos will not be accepted; photos will be approved before appearing on the contest website.
Photos will be accepted August 3-14, followed by online voting.
People's Choice determined by online voters.
All photo submissions become the property of WIT and can be used for publicity purposes. Contestants must agree to the use of their photo submissions by WIT and its designees for marketing, advertising, and publicity purposes.
Last year's WIT "I Heart Trucking" photo contest
WIT's "I Heart Trucking" 2019 photo contest was built around the theme of one of WIT's social media hashtags, #SteeringTowardDiversity.
The WIT news release following the announcement of the contest winners said, "With the driver shortage at an all-time high, the industry is being called to diversify the talent pool and reach across gender, ethnic, and age demographics. Therefore, #SteeringTowardDiversity is a message that trucking is for everyone and encourages companies to advance and celebrate diversity efforts within their workforce."
More than 120 photos were submitted for last year's contest.
Susie DeRidder took home the People's Choice award, receiving 500 votes for her "SteeringTowardDiversity - The truck doesn't know who is holding the steering wheel!"
"It was very important for me to participate in this year's photo contest to inspire women to get behind the wheel," DeRidder said in the WIT article. "#SteeringTowardDiversity is such an important message for the industry and I'm proud to have won the People's Choice Award!"
A photo submitted by Tonyah Dillahunt of PACCAR Parts was the Judges' Choice winner.
David Danforth, PACCAR Parts general manager and PACCAR vice president. noted that, "PACCAR Parts' has worked dilligently to be a world-class example of diversity and inclusion. For us it means leveraging the experience, skills and perspectives of all of our global employees, to make PACCAR Parts successful and drive uptime for customers worldwide."
"Participating in the 2019 'I HEART Trucking' photo contest allowed us to demonstrate our mission to increase diversity and inclusivity at PACCAR Parts each and every day," said Blanka Kopacz, PACCAR Parts director of product marketing.
View last year's contest runner-up photos, and all contest entries, at WomenInTrucking.org.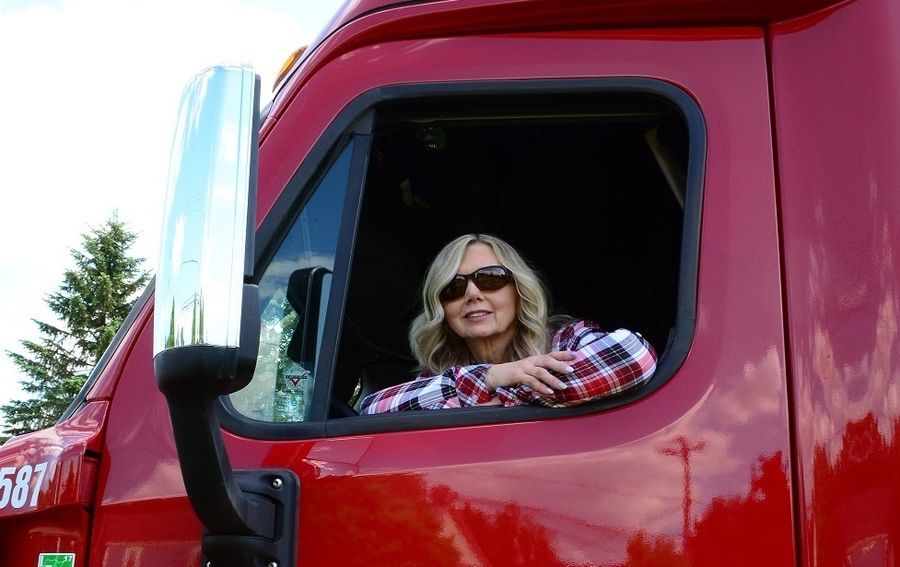 Women in Trucking's 2019 "I Heart Trucking" People's Choice winner Susie DeRidder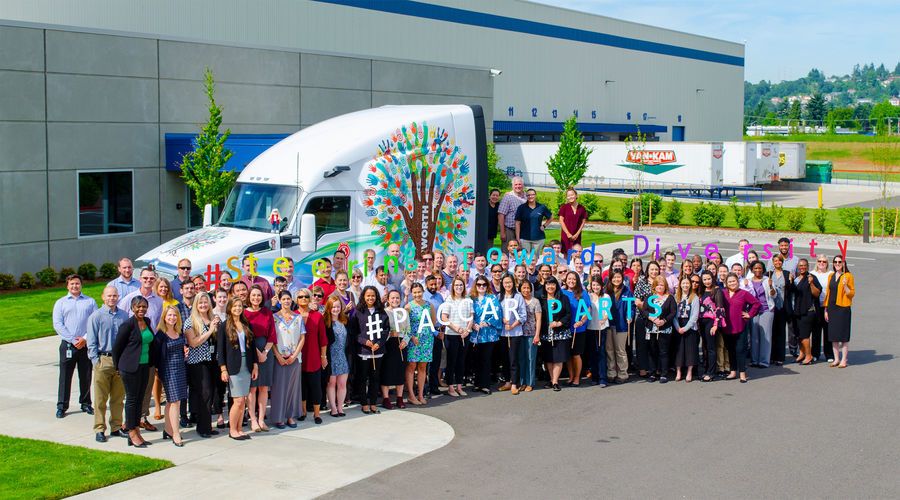 Women in Trucking's 2019 "I Heart Trucking" Judges' Choice winner PACCAR Parts
Debra LaBree is WIT's July Member of the Month
1.4 million-mile safe driver Debra LaBree has been named Women In Trucking's July Member of the Month. With her husband, Debra is owner-operator of Castle Transport, LLC, which leases with Landstar Inway, Inc.
It is Landstar which has granted Debra with six safety awards since she began driving team with her husband in 2006.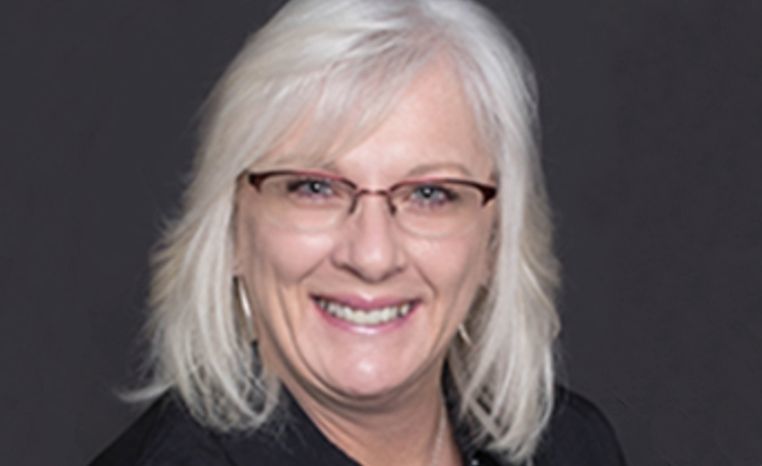 While not driving, Debra is an administrator on the WIT Facebook group overseeing more than 10,000 members. She also serves on the WIT board of directors and the WIT Image Team, which gives her the opportunity to mentor drivers and other owner-operators.
She has also appeared on The Today Show, been featured in the New York Times, on SiriusXM, as well as on other industry podcasts and industry publications.
"When women tell me they are thinking about trucking for a career, I tell them to DO IT, they won't regret it," said LaBree in a WIT news release. "It gives me great pleasure to mentor drivers so that they can reach their professional potential in their careers."
Sources: WIT Photo Contest, WIT Photo Contest Last Year's Winners, WIT July Member of the Month
Tagged Under:
Photos
Women In Trucking