Friday Short Haul - JKC Trucking announcement, truck stop break-in, WIT top women businesses
Last Updated: Thu, August 6, 2020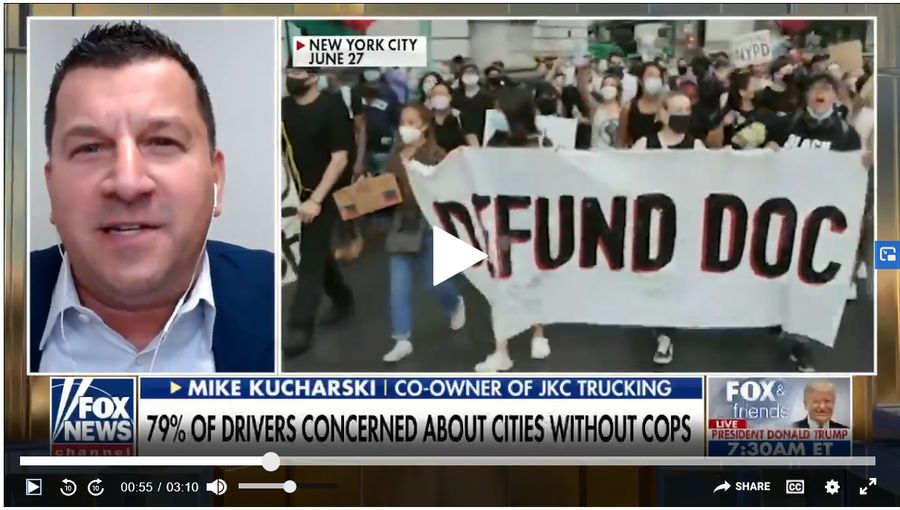 JKC Trucking announces no loads to cities that defund the police
While many truckers indicated anecdotally that they would refuse to enter areas where law enforcement has been defunded, the co-owner of an Illinois trucking firm has announced on national news that he will not be sending drivers with freight into those locations.
Fox News reported on August 5 that Mike Kucharski, of JKC Trucking, said that defunding the police is a bad idea because of the valuable cargo that carriers haul, and "Our first priority is to support our drivers and their safety when they are on the road."
JKC operates a fleet of 250 tractors and 330 trailers, specializing in climate controlled and dry freight loads centered around the Great Lakes states, with routes outbound to Florida and most of the Western states.
Besides the aspect of driver safety and freight security, Kucharski said carriers hauling freight to and through lawless areas could be subject to increased insurance premiums.
"Another issue that I am seeing in the future is I have cargo insurance, liability insurance, fiscal damage insurance, and I am very curious how when I renew my contracts at the end of the year, if there is going to be language -- if I am going to even have coverage going into these places," Kucharski told Fox News.
"Right now I have coverage going all over domestically. You have to get special coverage for Canada or Mexico or you might have to buy special riders for this on top of everything."
Kucharski's announcement comes amid increased incidences of anarchistic violence throughout the country, and a soon-to-be-released survey by the Police Executive Research Forum of 258 police departments across the nation that reports that nearly half expect to have their budgets cut.
One commenter on the Fox News website's article summed it up for many of the others:
"Thank you! This shows the results of letting the anarchists loose with no consequences. Now these cities will find out what their idiotic actions have caused."
Break-in at Texas truck stop terrified female driver
A female driver, identified as Stephanie M. on the CDLLife app where she originally posted about the incident, said her truck was broken into while she was asleep at a Brookshire, Texas, Pilot Flying J.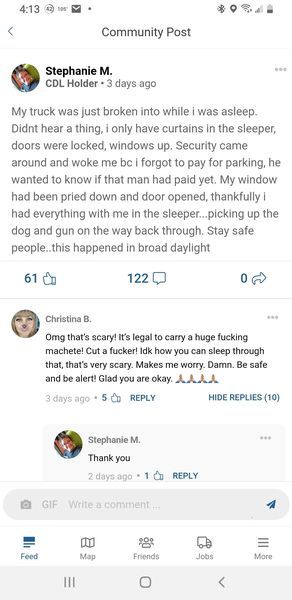 According to her post on the app, Stephanie said, "Didn't hear a thing, I only have curtains in the sleeper, doors were locked and windows were up. Security came around and woke me up cuz I forgot to pay for parking, he wanted to know if the man had paid yet. My window had been pried down and my door open, thankfully I had everything with me in the sleeper … Stay safe, people. This happened in broad daylight."
She described the incident as "terrifying, yet bizarre," adding that although nothing was stolen from her truck and she suffered no injuries she hasn't slept deeply since the incident occurred a little over a week ago.
The incident has prompted a short discussion at CDL Life suggesting changing laws to allow drivers to carry firearms in their trucks.
There are no federal laws preventing drivers from having firearms in their trucks, but virtually all carriers and most shippers and receivers take a negative view of doing that. Also, state laws vary so widely truckers can hardly keep up with whether their conceal carry permits are reciprocated as they cross state borders.
At least one trucking trade group has entered into dialogue with the U.S. Department of Transportation asking for relief from state and local gun laws during the lawless incidences experienced nationwide right now.
A couple of commenters on the CDLLife app suggested that Stephanie anchor her doors shut with seatbelts, or with a load strap.
Stephanie responded by saying on her next trip home she'll be picking up her dog to go back on the road with her.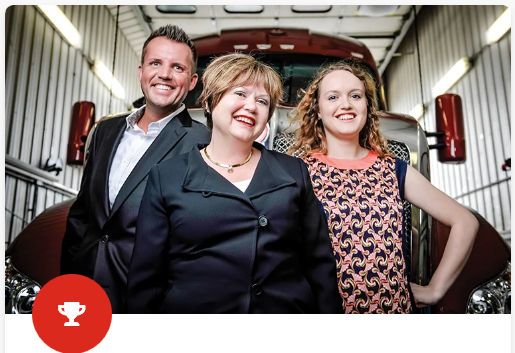 Women in Trucking announces 2020's 'Top Women-Owned Businesses'
Below is the list of companies and their primary women business owners who were named recipients of Women in Trucking's 2020 "Top Woman-Owned Businesses in Transportation."
To qualify for a chance to become an award recipient the applicant must be a female majority owner of a transportation-related business that exhibits financial stability and growth, shows innovation and an entrepreneurial spirit.
Companies on the list are from a range in the commercial freight transportation industry, including motor carriers, third-party logistic companies and original equipment manufacturers.
Companies named to the 2020 "Top Woman-Owned Businesses" list and the primary female business owners are:
AGT Global Logistics (Angela Eliacostas, President and Founder)
Aria Logistics (Arelis Gutierrez, President and CEO)
Brenny Transportation, Inc. (Joyce Brenny, CEO and Founder)
Kenco (Jane Kennedy Greene, Owner Chairwoman)
Knichel Logistics (Kristy Knichel, CEO and President)
Powersource Transportation (Barb Bakos, President and Owner)
RFX Inc. (Kimberly Welby, President and CEO)
Rihm Family Companies (Kari Rihm, President and CEO)
S-2international, LLC (Jennifer Mead, CEO)
Tru-Pak Moving Systems (Allyson Siegel, CEO and Owner)
United Federal Logistics Inc. (Jen Behnke, President and Owner)
Veriha Trucking, Inc. (Karen Smerchek, President)
Sources: Fox Business, CDL Life, WIT News Release
Tagged Under:
Adverse Conditions
Truck Driver Safety
Truck Driving Stories
Truck Stops
Weapons
Women In Trucking