'Bug' permits now required for four eastern states
Last Updated: Tue, April 30, 2019

Truck drivers normally give little notice to bugs in the areas they drive through except for having to deal with the occasional bug swarms dirtying up their windshields.
But beginning today truckers delivering or picking up loads in certain counties of Pennsylvania, New Jersey, Delaware and Virginia need to know they could face severe penalties for not carrying a Spotted Lanternfly Permit.
A quarantine against this invasive species has been in effect in the state of Pennsylvania for several years, but the state Department of Agriculture has set May 1 as the date for a hard enforcement.
The permit is not required for truckers who only pass through the affected states without stopping, or who stop only to refuel and then keep moving. But drivers who are caught picking up or dropping off freight without the permit are subject to a criminal citation of $300 and civil penalties of up to $20,000 per violation.
The specific counties and states involved in the quarantine requiring a permit are:
14 Pennsylvania counties, including Berks, Bucks, Carbon, Chester, Dauphin, Delaware, Lancaster, Lebanon, Lehigh, Monroe, Montgomery, Northampton, Philadelphia and Schuylkill.
3 New Jersey counties, including Warren, Hunterdon and Mercer
1 Virginia county, Fredericks
1 Delaware county, New Castle
The permit can be obtained by taking a required a two-hour online free course through Pennsylvania State University. Only one person from each trucking company needs to take the course provided that he or she trains every driver who would be stopping in a quarantine area, and makes a copy of the permit for that driver to carry.
The permit is good in all four quarantine states. The Spotted Lanternfly Permit can be obtained through the PDA.
Trucks stopping in quarantine zones will be subject to inspection by the PDA for the spotted lanternfly. Pennsylvania has declared war on this species that is native to Asia because of its devastating effect on the forest, and crops such as peaches, grapes, apples and more.
Devastating effects
According to a 2018 Bloomberg article, the spotted lanternfly is a moth-like insect about an inch long that first showed up in Pennsylvania in Berks County in 2014. The effects of its targeting of forests and crops has eclipsed the long-standing threat by the stink bug which has spread to 43 states.
Estimates are that the fly has the potential to do $18 billion in damage in Pennsylvania alone.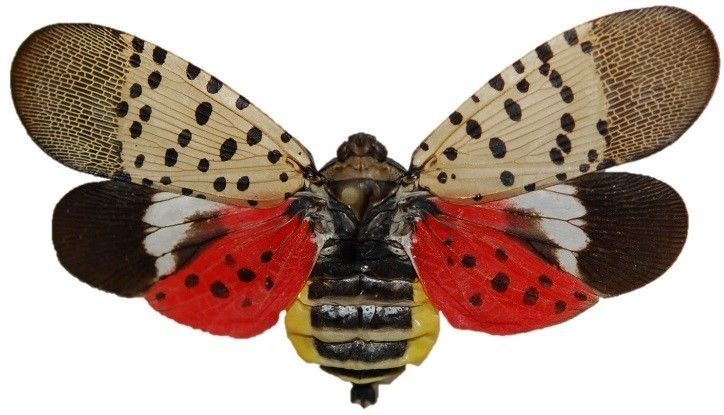 One Pennsylvania farmer said he's seen swarms of the spotted lanternfly and has counted more than 300 of them in the space of three feet.
Pennsylvania agricultural experts say they aren't sure how this pest originally got imported to the state, but believe that some came in with a shipment to a local dealer of stone building materials imported from China or India.
The spotted lanternfly does its damage by swooping onto a tree or crop in large numbers and sucking its sap. It leaves behind a sticky substance that coats the plant; which then leaves the plant susceptible to mold and attracts further pests.
It is a poor flier, but spreads by hitchhiking and laying masses of eggs that look like a smear of mud on any flat surface, for example, the roof of a tractor's trailer. Experts fear that if containment fails and the lanternfly makes its way to a Great Lakes port where it could lay eggs on shipping containers the whole country could become infected.
Chris Salisfury, transportation manager at Wenger Feeds, has 75 trucks that hauls mostly animal feeds and hardwoods. He told Transport Topics that he warns his drivers to be especially careful to watch for the insect.
"My drivers will go onto a farm in, say, Berks County, and they will see the spotted lanternfly and will make sure that they report the infestation to the state," Salisbury said. "And then they need to make sure none of those critters get onto the truck and leave with them. We've told our drivers to keep their windows rolled up and to look for any ride-alongs."
The Pennsylvania Department of Agriculture has some strongly worded warnings about the spotted lanternfly. They announced on their website that the quarantine may be expanded to other areas, and that intentional transportation of a spotted lanternfly is expressly prohibited and is a very serious offense.
Further, the quarantine restricts the movement of certain articles. Industries and regulated articles under the quarantine that are not to be removed/moved to a new area are:
Any living stage of the Spotted Lanternfly, Lycorma delicatula, including egg masses, nymphs, and adults
Brush, debris, bark, or yard waste
Landscaping, remodeling or construction waste
Logs, stumps, or any tree parts
Firewood of any species
Grapevines for decorative purposes or as nursery stock
Nursery stock
Crated materials
Outdoor household articles including recreational vehicles, lawn tractors and mowers, mower decks, grills, grill and furniture covers, tarps, mobile homes, tile, stone, deck boards, mobile fire pits, any associated equipment and trucks or vehicles not stored indoors
Sources: Bloomberg, Pennsylvania Dept of Agriculture, Transport Topics, Overdrive, Truck News
Tagged Under:
Trucking Industry Concerns
Trucking News
Understanding The Laws