Friday Short Haul - WIT photo contest, Teamsters challenge HOS, $1 billion for infrastructure
Last Updated: Thu, September 17, 2020
Susie DeRidder took first place in People's Choice during Women In Trucking's "HERoes of the Highway" photo contest
WIT photo contest winners show their HERo stuff
The results of Women In Trucking's 2020 Photo Contest, with the theme this year of "HERoes of the Highway," are in and published at the WIT website.
In this sixth year of WIT's "I Heart Trucking" photo contest they were looking for photos of women in the industry in super-hero poses in front of their trucks, and 90 participants gave it their best shot.
More than 8,000 votes were cast in the People's Choice winners, and a panel of judges selected their top three favorite photos for the Judges' Choice award.
In announcing the photo contest results WIT stated, "Not all heroes wear capes! Professional drivers have been on the front lines in the war against the COVID-19 pandemic, putting their health at risk and working long hours to deliver essential goods and supplies. We are inspired by their hero-like strength, not only during these challenging times, but always. So, this year's photo contest theme was HERoes of the Highway!"
People's Choice winners
Susie DeRidder's "Hero-like Strength" submission above received 1,310 votes to take the top People's Choice spot. She is a company driver for Armour Transportation, and was a finalist for WIT's 2020 Female Driver of the Year Award.
In second place with 681 votes was "Seven of our truck-building HERoes representing the hundreds of women at Volvo Trucks NRV Plant, Dublin, VA" by Marcus Thompson, communications manager for Volvo Trucks.
In third place garnering 479 votes was Ingrid Brown's "Women on a Mission 'Rona-19.'" Ingrid is an independent Owner Operator for Rollin' B, and is part of WIT's Image Team. She is also part of FMCSA's Voices of Safety campaign.
Judges' Choice winners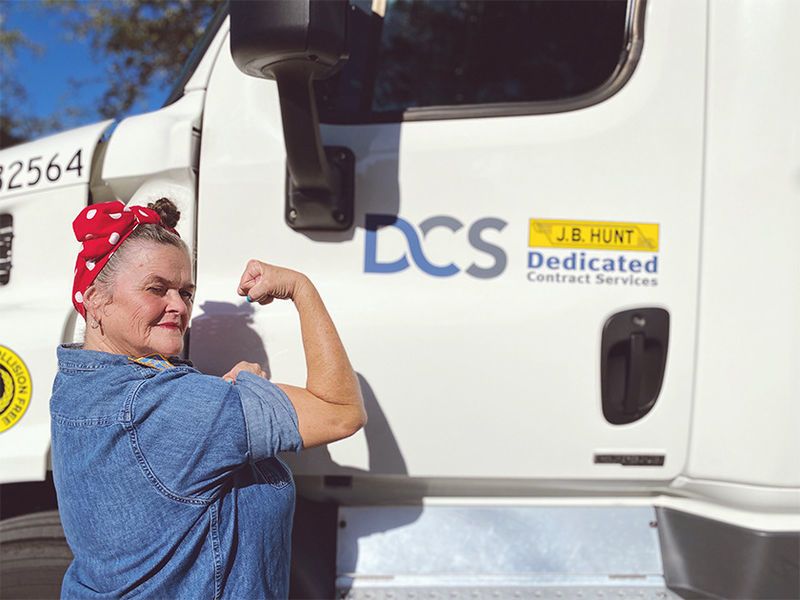 A panel of judges chose a submission by Nancy Davis titled, "Rosie the Riveter" as their top choice in the Judges' Choice category. She works for J.B. Hunt.
"Rain or shine or pandemic, people rely on truck drivers to keep our economy moving, and women play an important role in that," Davis told WIT. "Like the iconic and inspirational symbol Rosie the Riveter, we have the strength and tenacity to keep on truckin'!"
Coming in second with the judges was a photo of J.B. Hunt company driver Shunta Price titled, "Crushing villains, delivering smiles!"
Eileen Dabrowski of ReedTMS Logistics locked in third place with her creative entry, "Not all HERoes wear capes...or do they?" featuring company driver Dawn Anstead.
The photo contest was sponsored for WIT by the Hudson Insurance Group.
All of the photo contest entries can be viewed at WIT's photo contest page.
Teamsters push for review of FMCSA's new HOS rules
The International Brotherhood of Teamsters has joined with several safety groups to push the issue of the Federal Motor Carrier Safety Administration's new hours of service regulations into the court system, to keep the new rules from going into effect on September 29.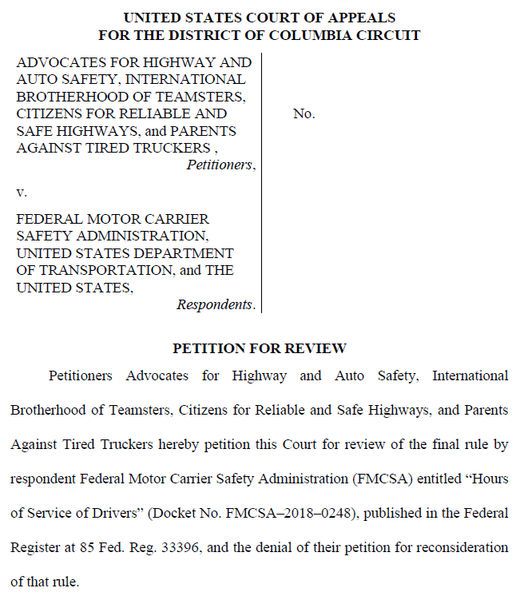 In a petition to the United States Court of Appeals for the District of Columbia dated September 16, Teamsters, along with Advocates For Highway and Auto Safety, Citizens for Reliable and Safe Highways, and Parents Against Tired Truckers are asking the court to review the final rule and take a second look at the groups' earlier request to reconsider the final rule that was denied by FMCSA.
Teamsters have made it known they believe that the relaxing of current HOS rules will only worsen the threat of fatigue encountered by commercial motor vehicle drivers.
FMCSA published the final rule on June 1 of this year, and the group very quickly put together a joint petition for reconsideration and filed it with the FMCSA on July 1. The FMCSA denied that petition for reconsideration in late August. And it's that denial that Teamsters et al are asking the Court of Appeals to review along with the new rules in general.
Sticking points for the Teamsters' coalition among the HOS changes are an increase in the on-duty day for short-haul drivers to 14 hours from 12 hours, a redefinition of adverse driving conditions giving two hours and more flexibility for use of that rule, adding a split sleeper option of 7 and 3 hours that doesn't count toward the 14-hour day, and that the 30-minute break provision is required after eight hours of driving time instead of on-duty time.

$1 billion in infrastructure improvements coming to a state near you
Some 70 infrastructure projects in 44 states have been awarded through the acronymically named Better Utilizing Investments to Leverage Development program using Transportation Discretionary Grants funded with $1 billion pushed by the Trump Administration.
"This Administration is making significant investments in infrastructure, and this $1 billion in BUILD grants will repair, rebuild, and revitalize transportation systems across America," said U.S. Secretary of Transportation Elaine L. Chao, in a DOT news release.
This latest round of infrastructure funding follows the nearly $4 billion that has been awarded for BUILD projects since 2017. Funds are awarded on a competitive bases to states needing infrastructure improvements to roads, bridges, transit, rail, ports or intermodal transportation facilities.
DOT notes that the "program selection criteria encompassed safety, economic competitiveness, quality of life, state of good repair, environmental sustainability, innovation, and partnerships with a broad range of stakeholders."
This latest funding is geared toward addressing the needs of rural America, which DOT says has historically been neglected, with half of BUILD Transportation grant funding going to projects located in rural areas.
The maximum grant award is $25 million, and no one state can receive more than $100 million in grant money.
Truckers wishing to review the projects slated to receive infrastructure improvements in this go-around can view a list broken down by states.
Sources: Women in Trucking, LandLine, DOT news release
Tagged Under:
DOT
FMCSA
Hours Of Service
JB Hunt
Women In Trucking