Now they're talking about "smart" trailers
Last Updated: Sun, September 8, 2019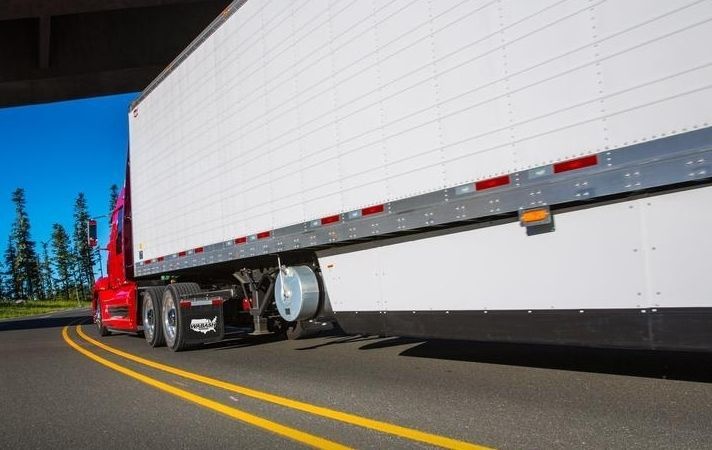 Photo courtesy of Wabash National
While Class 8 tractors are getting smarter, and even learning to drive themselves -- and getting all of the media attention – there's one other element in the trucking supply chain that is getting a boost in smarts as well, but still riding relatively under the radar.
The lowly trailer – that assemblage of tires, body, axles, and doors, with glad hands and a fifth wheel to connect the trailer to the tractor – has not changed much over the decades, other than incremental improvements like ABS braking and self-inflating tires.
But something began happening a few years ago. Trailer manufacturers began implementing into their trailers some of the technology appearing in the tractors that pull them – and suddenly key buzzwords like telematics, data points and tracking began to be heard around engineers' offices.
In addition to ABS and tire-pressure monitoring, the new evolution in telematics can provide an almost endless variety of information from a trailer, such as interior and exterior temperature, door-open status, wheel hub vibration and hub temperature, tire temperature, cargo monitoring, and lights-out monitoring,
But the big buzzword being heard these days as developers try to make use of all of the data provided by these new technological advancements with trailers is "integration."
Trailer-Body Builders reported on the importance of integration and standardization in the industry from a panel discussion in Atlanta recently at the Technology & Maintenance Council's annual meeting and exhibition dubbed "Smart Trailers: Creating Trucking's Next Information Superhighway."
For a few years now carriers have employed mechanical technology on their trailers to perform such tasks as safer braking and inflating tires. Then, at the turn of the century trailer tracking became common, along with load sensing. Telematics began showing up to give fleet owners data about their reefer units.
But even with the most-recent deployment of smart systems in trailers like door sensors, solar panels, wireless temperature sensors, and even video uplinks from the cargo hold there was still something lacking – some way to tie all that data together.
"There were a lot of different individual things, but they were not part of an integrated whole," panelist Wally Stegal, technical fellow and director of business development for Morey, stated. Morey develops and manufactures technologies for smart connectivity.
As reported in the Trailer-Body Builder's article, Stegal stated during the panel discussion, "I'm hoping that we can form a more unified vision, from a topology standpoint with physical layer and protocol."
"Everybody who's got a bar of metal is trying to put a sensor on that bar of metal to provide data. All these various systems need to be interoperable and work together, so that the fleets can spec what they need for their operations."
Another panelist, Noregon Chief Technology Officer Dave Covington, reinforced that concept as it applies to diagnostics, currently a major use for telematics for truck maintenance that is increasingly being carried over into trailer maintenance.
He pointed out that diagnostics, the ability for a technician to apply the data provided by the smart systems, is not keeping up with the technology that produces the data.
"There are lots of reasons diagnostics have been slow to evolve, but primarily we probably haven't had the data that we needed in the past all in one place," Covington states as reported in Trailer-Body Builder's article.
"Lots of things are driving the technology on the vehicles, from regulated emissions changes to our push for autonomy. So the vehicles are getting super complicated."
He said that in a very short time the average number of electrical control units on a truck has grown from two to 15, while the data points provided by these ECUs has risen astronomically from around 60 to more than 700.
"We need to do something to utilize all the data that we have to make the technicians more efficient," he said.
Covington points out that one of the main problems in non-integrated telematics is proprietary data systems requiring a shop to keep up with dozens of different diagnostic apps.
"As an industry, I think we need to work together to build a common portal to support all makes, all models for reprogramming. Otherwise, you guys get to get more logins and passwords to more portals—sorry about that," Covington is quoted in the Trailer-Body Builders article as he was speaking to the crowd of fleet maintenance managers.
He cites a lack of a common, standard data bus on the trailer for getting the data from the trailer to a technician, and the absence of an independent, built-in power source.
Panelist Aaron Wood, fleet trailer manager for US Xpress, told attendees about how trailer-tracking technology has benefited the large carrier.
What may come as a surprise to every truck driver who has ever spent countless hours in search of empties, Wood said that after introducing trailer tracking US Xpress was able to reduce the number of trailers in their fleet by 20 percent in the first 17 months of implementing the relatively rudimentary technology.
He said that knowing the exact location of every single trailer at any given time allows the carrier to do the same amount of work with less equipment.
The added benefit is that trailer-tracking efficiency has also helped with the trailer maintenance bottom line, allowing US Xpress to pull trailers into their own shops for maintenance more often rather than paying for more-expensive road service repairs.
Wood noted that outside service dropped from 68 percent in mid 2016 to 54 percent by the end of 2018. And in-house scheduled service increased from 32 percent to 46 percent.
Wabash National, one of the industry's largest manufacturers of semi-trailers, had a representative panelist at the event.
Wabash Van GM Mark Ehrlich encourages trailer manufacturers to expand beyond mechanical innovations and delve deeper into integrating technological solutions.
"When we look at tomorrow's specs, or smart specs, they start to sound different; they look different—different considerations, and different expertise," Ehrlich is quoted in the Trailer-Body Builders article.
"We're talking about devices, gateways, networks, analytics, security platforms. And we start to get away from the adage, traditionally, as 'assembly,' and we start using the term 'integrated.' Like Dell integrates a computer—taking many components, putting them together into a package to aid and serve the customer—in our case, the fleet.
"We are going to have to come up with that bridge between all the many systems. We've got many different systems already, and we're having to figure out how to make those work: Where yesterday it was fit-up and tolerance, it now might be protocols and bandwidth."
Sources: Trailer-Body Builders, Trucks, Transport Topics
Tagged Under:
Dry van
Refrigerated
Trailers
Truckers Technology
US Xpress Transport