Friday Short Haul - Tyson's mirrorless trucks, Brake Safety Week results, 14-hour pilot program comments
Last Updated: Fri, October 30, 2020
Tyson Foods is testing a mirrorless rear and side view system
Tyson Foods is installing a mirrorless rear and side view system on 55 test trucks in its vast fleet of refrigerated tractor trailers. The system, called MirrorEye Camera Monitor System from Stoneridge Inc., does away with physical outside mirrors and replaces them with external mounted cameras paired with interior monitors.
Stoneridge has put its MirrorEye mirrorless system through a 9-million-mile evaluation, and claims the system gives drivers a more-complete view of the road, eliminating blind spots.
Tyson's testing of the mirrorless system is part of its three-year $500 million investment in technology for its fleet. Currently, Tyson operates 2,438 trucks, with 3,271 trailers and 2,517 drivers.
Because the mirrorless system employs cameras for providing a driver's outside view it can tweak exposures to widen the field of view and enhance vision during nights and inclement weather.
"Installing MirrorEye is about helping drivers make better, more informed driving decisions," said Kyle Neely, Senior Vice President, Distribution, Tyson Foods. "When drivers have a more complete and real-time view of their surroundings, they're able to do their job even better. As a carrier of choice and industry leader, we have a responsibility to improve the safety of our drivers, as well as everyone on the road."
According to Stoneridge, MirrorEye was the first camera monitor system to receive a federal exemption from the Federal Motor Carrier Safety Administration, allowing MirrorEye-equipped trucks to operate on the road with an integrated system of cameras and digital displays as an alternative to conventional mirrors.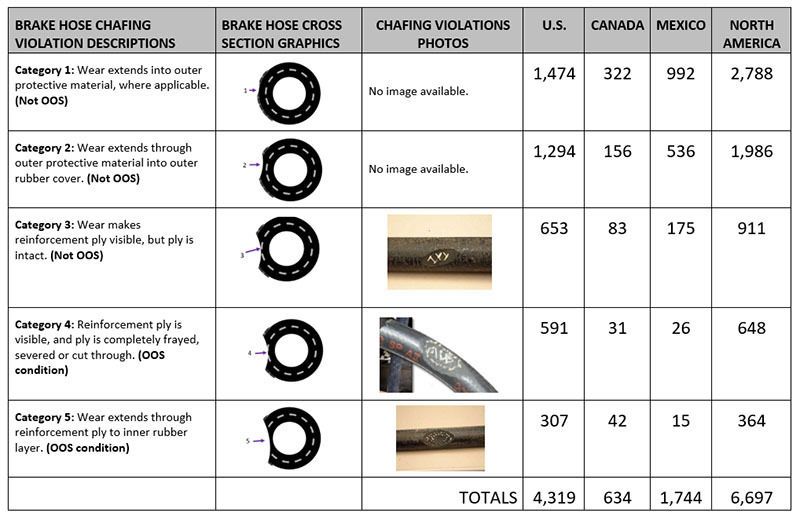 Brake Safety Week inspections put one truck in eight out of service
Inspections were performed on 43,565 commercial motor vehicles during this year's International Brake Safety Week, which ran from August 23 through August 29, and roughly one in eight of the vehicles inspected were pulled from American, Canadian and Mexican roads because of brake violations.
Altogether 53 jurisdictions participated in this year's Brake Safety week, including:
45 U.S. jurisdictions, which made 35,778 inspections, with 4,565 (13%) placed out of service
Seven Canadian jurisdictions, which made 1,829 inspections, with 256 (14%) placed out of service
Two Mexican jurisdictions, which made 5958 inspections, with 355 (6%) placed out of service
The brake inspection program runs under the auspices of the Commercial Vehicle Safety Alliance, which uses North American Standard Out-of-Service Criteria to identify brake violations that are critical enough to warrant taking a vehicle off the road until those items are repaired.
Besides brake systems themselves, inspectors looked at brake hoses, particularly in regard to chafing. They graded chafing into five categories of severity; two of which would earn the vehicle an out-of-service violation.
"Although many commercial motor vehicle enforcement agencies were forced to reduce services in the spring due to the pandemic, it was important that we resumed inspection and enforcement duties as soon as it was safe to do so," said CVSA President Sgt. John Samis with the Delaware State Police.
"With truck drivers designated 'essential personnel' by the government, we needed to ensure that the vehicles traversing our roadways were safe to support commercial drivers as they selflessly continued to work during such a difficult and challenging time."
Next year's Brake Safety Week is scheduled for August 22 through August 28, 2021.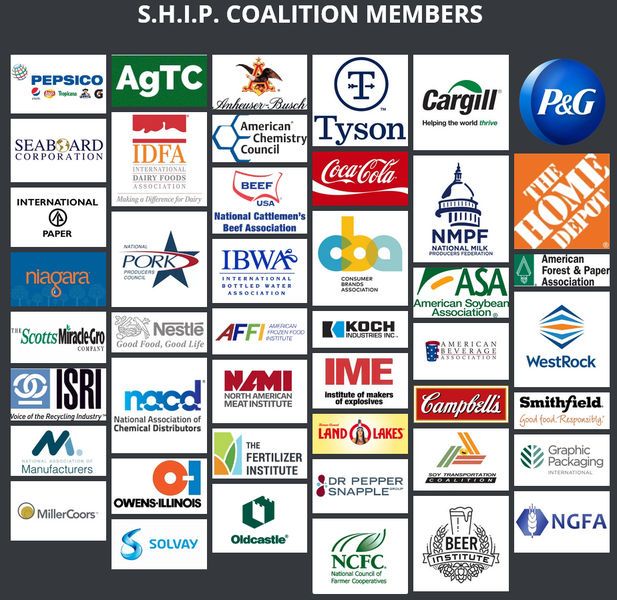 Producers and distributors lobby FMCSA in favor of split 14-hour pilot program
Some of the biggest names in manufacturing, producing and distribution who are members of the Safer Hauling and Infrastructure Protection Coalition (SHIP), have joined together in lobbying the Federal Motor Carrier Safety Administration to continue with all speed the proposed split 14-hour duty time pilot program.
In announcing the pilot program in August, the FMCSA acknowledged that carriers, shippers and receivers could use the pause for purposes other than the productivity and safety of drivers; which would undermine the purpose of the proposed rule change.
"Under such a scenario, the Agency believes that the off-duty period may not provide a meaningful opportunity for drivers to rest," FMCSA stated in its proposal.
SHIP's request was among the 198 comments FMCSA received on the proposal during the comment period opened at regulations.gov. The comment period, which typically runs for 60 days, closes on November 2.
"The SHIP Coalition recommends that the Federal Motor Carrier Safety Administration proceed to implement such a pilot program promptly, so that the collection of useful safety data can commence," SHIP stated.
In its comment SHIP agreed with the FMCSA that "an opportunity for a single off-duty pause in the 14-hour driving window could provide flexibility for drivers without compromising safety," and acknowledged others' concerns that extending the 14-hour duty day could interfere with a driver's circadian rhythm and could extend the time that drivers spend in detention, "time that might not be restful."
Toward that end, SHIP noted that it is important to gather data by proceeding with the pilot program even though negative comments against the proposal have been made.
"The case for the split duty period is a good one and FMCSA should not be swayed by comments to deny it a chance to operate. Only proceeding with implementation would develop real world data – data that could point to an opportunity to improve safety," SHIP stated.
SHIP reminded FMCSA that the coalition represents more than 80 of the most prominent companies and trade associations in manufacturing, agribusiness and other business; which provide millions of American jobs
The FMCSA proposed pilot program would amend the 14-hour duty day to allow drivers to pause the 14-clock with one off-duty period of no less than 30 minutes and no more than three hours, but still must take the conventional 10-our off-duty break at the end of the extended period.
Sources: Tyson Foods, CVSA, Federal Register Comments
Tagged Under:
Cameras
FMCSA
Hours Of Service
Refrigerated
Split Sleeper Berth Rule
Time Management
Truckers Technology
Tyson Foods