OOIDA makes final push for better HOS rules
Last Updated: Tue, October 15, 2019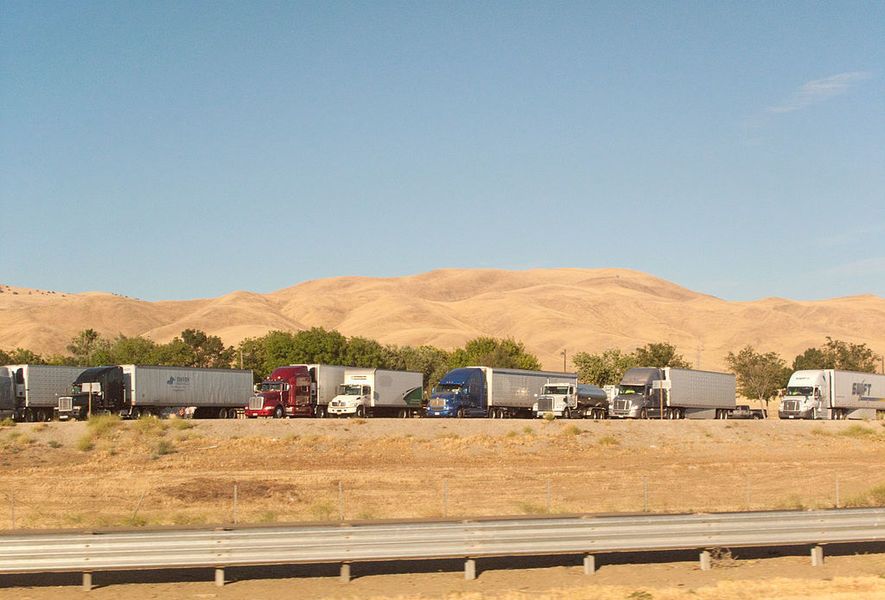 Trucks parked at a rest area on I-5 in Central California
The October 21 deadline nears for ending comments on the Federal Motor Carrier Safety Association's proposed hours of service rule changes, and that agency has received more than 7,000 comments so far from drivers, non-drivers and stakeholders in the industry.
Now, the Owner-Operator Independent Drivers Association has given the FMCSA a 15-page letter to digest that is compiled from a survey conducted among some of the 160,000 members who collectively own and operate more than 240,000 individual heavy-duty trucks.
The letter, addressed to FMCSA Administrator Raymond Martinez, outlines six major areas of concern as answers to questions asked by FMCSA as it formulated the new proposed HOS rules.
"For many years, OOIDA members have repeatedly told lawmakers that the existing hours of service rules are not sensible for today's trucking industry," the letter begins.
Recognizing the proposed HOS changes as a "welcomed shift toward developing regulations that better reflect the realities of trucking and improve safety for all highway users," the letter goes on to say, "OOIDA strongly supports the Agency's approach, which will provide drivers more opportunities to rest when they are tired, to stay off the road during adverse driving conditions, and to maintain greater control over their own schedules."
The letter noted that regulations, specifically those enacted during the 2013 rules changes, were overly complex and provided no flexibility, and that they "effectively force drivers to be on the road when they are tired, during busy travel times, during hazardous weather and road conditions, or when they simply are not feeling well."
The proof is that since the 2013 HOS changes the number of fatal crashes involving large trucks has increased by 8.7 percent, and the number of crashes overall has risen by 45.4 percent.
To solve that alarming problem OOIDA says, "drivers should have sole discretion about how and when to use these provisions. Drivers have the best understanding of when they should take a break, when road conditions are too dangerous, and when they should rest."
There are six major areas addressed by the OOIDA in its letter to FMCSA
Short-haul Operations - Extends the driving window from 12 hours to 14 hours and the distance from 100 air miles to 150 air miles.
Short-haul drivers are exempt from the electronic logging devices mandate, and the question came up that extending hours and miles to those drivers would encourage drivers to drive beyond what is allowed for ELD users.
The OOIDA survey of its members indicated that short-haul drivers wouldn't drive any further or longer than those complying with ELD requirements.
---
Adverse Driving Conditions - The proposal would allow a driver up to a 16-hour driving window (for property carriers) within which to complete up to 13 hours of driving, or a 17-hour duty period (for passenger carriers) within which to complete up to 12 hours of driving, if the driver encounters adverse driving conditions.
OOIDA commented that drivers are often reluctant to use the "adverse driving conditions" exception because law enforcement might impose a different opinion as to the actual condition, and recommended FMCSA update and clarify the appropriate conditions to include such things as traffic congestion, accidents, construction, detours, or road closures among others.
Questions were posed by FMCSA rulemakers regarding drivers taking advantage of adverse conditions to extend their driving day and put on more miles.
OOIDA said that drivers would drive safer, as they would be able to pull over and wait out an adverse condition rather than feeling forced to continue on in order to not come up against hard and fast HOS limits.
Also, "extending the 14-hour duty period by two hours would improve safety as it allows drivers to find a safe place to park rather than stopping at the first available shoulder. A driver who is able to park and restfully wait out adverse conditions would be much safer on the road."
---
30-minute Break Requirement - The Agency proposes to make the 30-minute break requirement applicable only in situations where a driver has driven for a period of 8 hours without at least a 30-minute non-driving interruption. If required, a 30-minute break could be satisfied with a period, either off duty, in the sleeper-berth, or on-duty not-driving.
Citing this new rule change as an improvement, OOIDA nevertheless suggests that it "would be more practical if drivers were allowed to split the break into multiple segments totaling 30 minutes."
But the letter remarked that ideally FMCSA should completely eliminate the 30-minute-break rule altogether.
"The rule was implemented without any evidence that the break would reduce crashes and we have not seen any statistics since then proving a reduction in crashes. Furthermore, there are many operational situations where the 30-minute rest break requires drivers to stop when they simply do not need to, making the mandate either impractical or unsafe. Eliminating the requirement is a simple fix that would immediately remove drivers from several unsafe scenarios," the letter went on to say.
The letter had answers to nine questions posed by FMCSA regarding the 30-minute break that can be viewed by accessing the link to the OOIDA letter in PDF format.
---
Split Sleeper-Berth Requirements - FMCSA also proposes to modify the sleeper-berth requirements to allow drivers to take their required 10 hours off duty in two periods, provided one off-duty period (whether in or out of the sleeper-berth) is at least 2 hours long and the other involves at least 7 consecutive hours spent in the sleeper-berth. Neither time period would count against the maximum 14-hour driving window in § 395.3(a)(2).
OOIDA supports the revised split-sleeper berth option, saying it gives drivers additional flexibility. But the group recommends FMCSA should also include 6/4 and 5/5 splits in any final rulemaking, as drivers are not uniform in their need for sleep, with some struggling to sleep more than six hours a night anyway.
A more flexible change in the splits would not only enhance driver safety, according to OOIDA, but would also help alleviate the growing truck parking problem.
---
Split- Duty Period - FMCSA proposes to add a new option under § 395.3(a)(3)(iii) that would allow one off-duty break of at least 30 minutes, but not more than 3 hours, during the course of a driver's 14-hour driving window to extend that period for the length of the break, provided drivers take at least 10 consecutive hours off duty at the end of the work shift.
OOIDA supports the ability to pause the 14-hour clock that "would give truckers greater flexibility to rest when tired, as well as avoid congestion, adverse weather conditions, or other factors that make driving unsafe."
The full letter has detailed answers to 12 questions posed by FMCSA on the proposal to split the duty period.
---
Compliance Date for Rulemaking - The Agency seeks comment on whether a 6- month or 12-month timeframe would provide sufficient time for ELD manufacturers and the motor carrier industry to conform to the proposed changes.
OOIDA believes a 6-month timeframe would provide sufficient time for the industry as well as ELD manufacturers to conform to the proposed changes.
---
In conclusion, the letter to FMCSA Administrator about the proposed new hours of service regulations stated:
"The proposed changes will provide drivers more opportunities to rest when they are tired, to stay off the road during adverse driving conditions, and to maintain greater control over their own schedules. "Considering that crash rates have steadily increased since some of the current HOS regulations have been in place, the need to give drivers more flexibility and control over their schedules is clearer than ever.

"OOIDA believes that the NPRM is a practical step in reforming the current HOS regulations, but that any final rulemaking should entirely eliminate the currently required 30-minute break and should expand the split sleeper-berth options beyond just 7/3."
Commenting on the proposed hours of service rules changes closes on October 21. Last minute comments can be made at the Regulations.gov website.
Sources: OOIDA letter to FMCSA
Tagged Under:
Adverse Conditions
Dealing With The Weather
Electronic Logbooks
FMCSA
Hours Of Service
Split Sleeper Berth Rule
Trucking News
Understanding The Laws