Friday Short Haul - JB Hunt's Wreaths Across America, Plus.ai butter run, states look for zero emissions
Last Updated: Thu, December 12, 2019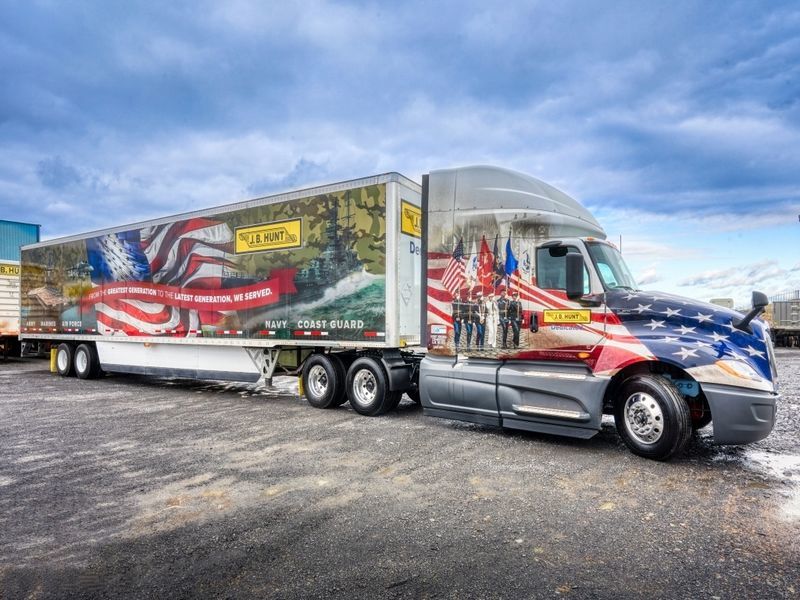 J.B. Hunt helps lay Wreaths Across America
J.B. Hunt Transport Services, Inc., participates for the sixth consecutive year in the Wreaths Across America program honoring veterans by helping deliver wreaths to cemeteries throughout the country.
Some 86 J.B. Hunt drivers will help transport wreaths from Harrington, Maine, to various veterans cemeteries.
Employees of the carrier will join hundreds of volunteers for Wreaths Across America Day On December 14 at Fayetteville National Cemetery to place wreaths on the headstones of veterans. And more than 1,500 other employees will participate in similar events at 13 additional locations around the country.
"This is one of our favorite events of the year at J.B. Hunt," said John Roberts, president and CEO of J.B. Hunt, in a press release. "We consider veterans to be an extended part of our family, and we proudly participate in this event each year to show the highways of North America that we will never forget your service."
Customized tractors and trailers with a military-themed wrap will be appearing at cemeteries nationwide, including:
Arlington National Cemetery, Fayetteville National Cemetery, Fort Logan National Cemetery, Fort Rosecrans National Cemetery, Ohio Western Reserve National Cemetery, Poplar Grove National Cemetery, Prospect Hill Cemetery, Richmond National Cemetery, San Antonio National Cemetery, San Joaquin Valley National Cemetery, and Willamette National Cemetery, among others.
Participating J.B. Hunt drivers are veterans, or they have a direct association with a veteran.
The theme for this year's campaign is "Everyone Plays a Part." In 2018, more than 1.8 million wreaths were placed on headstones at more than 1,640 participating cemeteries during Wreaths Across America.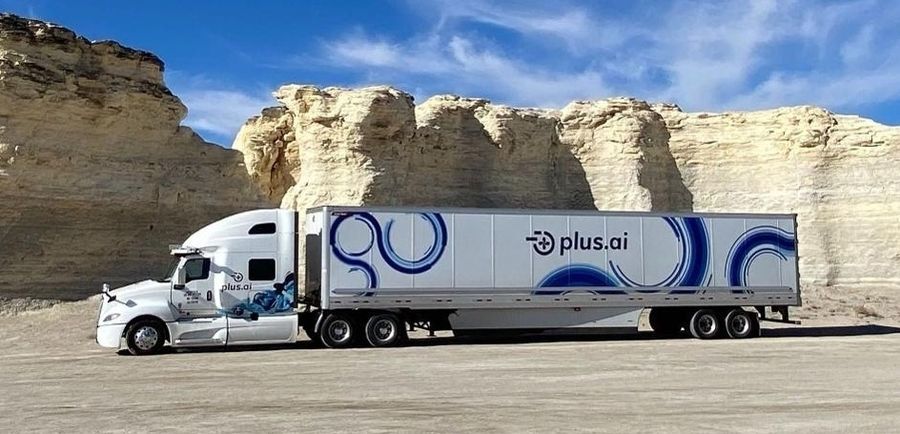 Self-driving cross-country trip went off as smooth as butter
Navigating mountains, tunnels and day and night traffic in recent extreme winter weather conditions a Level 4 autonomous big rig successfully delivered a real-world load of Land O Lakes butter from a distribution center at Tulare, California, to its destination at Quakertown, Pennsylvania.
California startup Plus.ai ran the perishable refrigerated load of 40,000 pounds of butter 2,800 miles over three days along Interstates 15 and 75.
A safety driver was in the vehicle, as required by current regulations, but the trip was done primarily in autonomous mode.
According to Plus.ai, this is the first commercial cross country trip to be attempted by a Level-4 self-driving semi tractor.
Self-driving technology employed on this run included Plus.ai's advanced autonomous driving system comprising multimodal sensors, deep learning visual algorithms and SLAM technologies. SLAM stands for simultaneous location and mapping. There was also a safety engineer on board to monitor these various systems.
"Continued advances in our autonomous trucks will make it possible for these quick cross-country runs to be the norm in the future," said Plus.ai's COO and co-founder, Shawn Kerrigan, in a statement. "We are excited to demonstrate what our technology can already achieve today."
Plus.ai, which began in 2016, has offices in the United States in Silicon Valley as well as in two locations in China. Company spokespersons say the two nations hold the bulk of the market for what they say will be a "trillion-dollar opportunity" for self-driving commercial transportation.
The company expects to make its autonomous technology commercially available by 2023, but in the meantime will be staging more hauls like the recent butter run.
States get together for zero-emission talks
Concern for what is claimed to be an increase in emissions from trucks and buses throughout the nation, a group of states led by the Northeast States for Coordinated Air Use Management have signed letters of intent that they will create action plans to accelerate the deployment of zero-emission trucks and buses.
On board as of now are the states of California, Connecticut, Oregon, Maine, Massachusetts, New Jersey, Rhode Island, Vermont, and the District of Columbia. Their goal is to reduce smog-forming pollution, air toxics and greenhouse gas emissions.
The governors of each of these states is expected to agree to a memorandum of understanding to begin drafting legislation toward a zero-emission truck market. Not surprisingly, California has jumped out ahead of the pack with its recently proposed Advanced Clean Truck Rule; which will be looked on as the template for the other states to begin proposing their rules.
According to the Northeast States group, increasing freight activity and consequently having more trucks on the road contributes to high levels of ultrafine particles and 40 known carcinogens, resulting in an increase risk of death especially for those who work alongside and among trucks like railroad employees, truck drivers and dock workers.
Sources: Business Wire, Wreaths Across America, Forbes, NRDC
Tagged Under:
Autonomous Trucks
JB Hunt
Self-Driving Vehicles
Truckers Technology
Trucking News