Friday Short Haul - Tennessee carrier quits, signs a carrier is going down, retaining drivers
Last Updated: Thu, February 13, 2020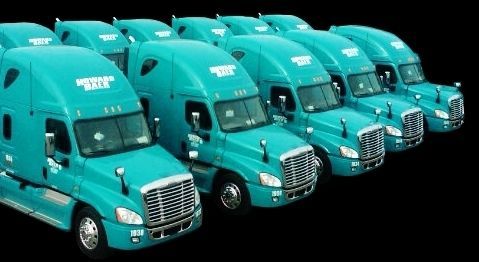 Tennessee's Howard Baer Inc. ceases operations
Government regulations, lack of qualified drivers and rising insurance costs combined to take down another small carrier.
Howard Baer Inc, of Nashville, Tennessee, is a family-owned operation that has been hauling freight since 1951. The carrier's owner Greg Baer is retiring, and his son has decided he didn't want to keep the business going.
Baer told FreightWaves that rapid attrition has depleted his driver force from a high of 200 drivers in April 2018 down to around 35 drivers by the time Baer announce at the end of January that he was closing down.
"Trucking just isn't worth it anymore," Baer said in a FreightWaves interview. "The government has piled on so many regulations on these drivers that most young people don't want to become truck drivers."
The electronic logging device mandate was the reason Baer lost his best drivers, he said. But he added that lawsuits and the rising insurance costs also was a factor in his decision.
A Missouri-based company, Hogan Transport, is leasing Baer's building in Nashville, and most of Baer's remaining drivers have hired on with that carrier.
Baer emphasized that he is not shutting down because of being broke. It's just that lack of government regulations, lack of drivers, and insurance costs make it "just not worth running anymore," he told Freightwaves.
Signs your carrier might be on the verge of closing
There have been many closings of some big-name carriers lately, but there are also hundreds of smaller carriers that have quietly gone out of business in the past few years.
Notable closings include Celadon, Falcon Transport, HVH Transportation, and NEMF. Reasons for the closings range from losing major contracts, to increasing government regulations, to rising insurance costs, and to lawsuits often reaching into the hundreds of millions of dollars.
As a result of these closings thousands of drivers find themselves without a steering wheel to sit behind. Many might have been caught unaware by a sudden closure, but the astute ones will have been discerning the signs of a struggling company and will have been taking measures to make the move to another carrier.
CDL Life has compiled a list of some of the telltale signs that a carrier is struggling, but trying to keep that news secret for as long as possible before the axe falls. – Credit CDL Life
Your fuel card doesn't work. One of the biggest red flags for many drivers that there's a major problem within their company is difficulty in fueling. Sometimes fuel card failures can be traced to computer issues, but getting stuck at the pump could also be a warning sign that your company is going under.
Your paychecks don't cash. This often signals a cash flow issue that points to deeper problems within the company.
The company makes major C-Suite changes. If your company makes unexpected changes at the CEO, CFO, or other executive positions, it could be a sign that there's trouble. Celadon, for example, made numerous changes at the executive level to try to right the ship in the years before they went under.
The company cuts or freezes pay or other employee perks. Many drivers at failing companies report that their pay or other benefits were cut in the lead up to the company closure.
Good drivers leave. Turnover is always high in the trucking industry, but if you notice that skilled, safe drivers within your company are leaving for other opportunities, this might be a sign that things are going downhill.
You can't get a load. If you find yourself spending a lot of time sitting and waiting for a load, this could mean that there's something seriously wrong at your company.
The company files for bankruptcy. Many trucking companies will tell workers that filing for bankruptcy protection is just a way for them to restructure and keep going with business as usual. However, it is often the case that they are unable to bounce back after filing bankruptcy — Cold Carriers Logistics, for example, filed Chapter 11 in September 2019 only to shutter permanently in February 2020.
How carriers can attract and retain truck drivers
According to Fleet Owner there were almost 8 million people employed in the trucking field in 2018, but they maintain that there will still be a need to fill 160,000 driver slots over the next decade.
Bill Thomas, vice president and employee benefits specialist at insurer Woodruff Sawyer, told Fleet Owner that there are five modern and creative ways for carriers to attract and retain driving talent.
Women on top of the list of recruit targets
Currently only about 8 percent of long-haul drivers are female and, as such, offer a large pool to attract recruiting activity.
Women in Trucking Association, for example, notes that there's been a 19 percent improvement in the numbers of companies that are tracking female drivers and managers.
Besides recruiting from the female sector carriers are trying to entice drivers from the younger generation and from military veterans. FMCSA is actively investigating lowering the legal age to drive commercial vehicles interstate in order to open up that available recruiting pool.
Carriers are modernizing the recruiting process
Many carriers have discovered and are making use of social media to attract a new generation of driver prospects. Plus, programs are being implemented to collaborate with trucking schools to sponsor CDL training for potential new recruits.
It's all about money
Sawyer says that many freight companies are now offering such enticing pay benefits as yearly pay increases, weekend driving pay increases, performance bonuses and much more.
Guaranteed pay is slowly catching on, and signing bonuses continue to be a popular recruitment tool.
Truck driving aint what it used to be
Ergonomic cabs, automatic transmissions, electronic safety features and other telematics are becoming widely implemented in the new rigs, and are thought to be enticing benefits to recruit the new generation of prospective drivers.
Companies are also placing greater emphasis on job satisfaction that come with mentorships, customized driving programs, being more family friendly, and following up with new hires for up to six months.
What benefits drivers benefits the carriers
Driver retention is always a concern for trucking companies. Figures for 2019 put the average turnover rate for medium to large carriers at about 83 percent. That's a huge concern that companies outside of the truck freight universe don't have to deal with.
So companies are stepping up to structure retirement and health plans tailored to retain their best and most-experienced drivers.
According to Sawyer, one factor that tends to drive older, experienced drivers away from a carrier is if that company employs an "age banded" structure for determining health plan premiums – older drivers pay more, sometimes three times as much, for their health plan than do the younger drivers. This happens particularly among the smaller carriers.
As drivers get up in years they might begin looking around at a larger carrier that can offer a better rate for them.
Sawyer concludes by saying, "If the trucking industry is going to meet the market demands placed upon it now and in the future, it will have to address the driver shortage issue. Business as usual will not be enough."
Sources: FreightWaves, Fleet Owner, CDL Life
Tagged Under:
Celadon Trucking
Military Veterans In Trucking
Older truck drivers
Trucking Industry Concerns
Trucking News
Women In Trucking