Freight industry considering post-COVID-19 strategies
Last Updated: Tue, May 26, 2020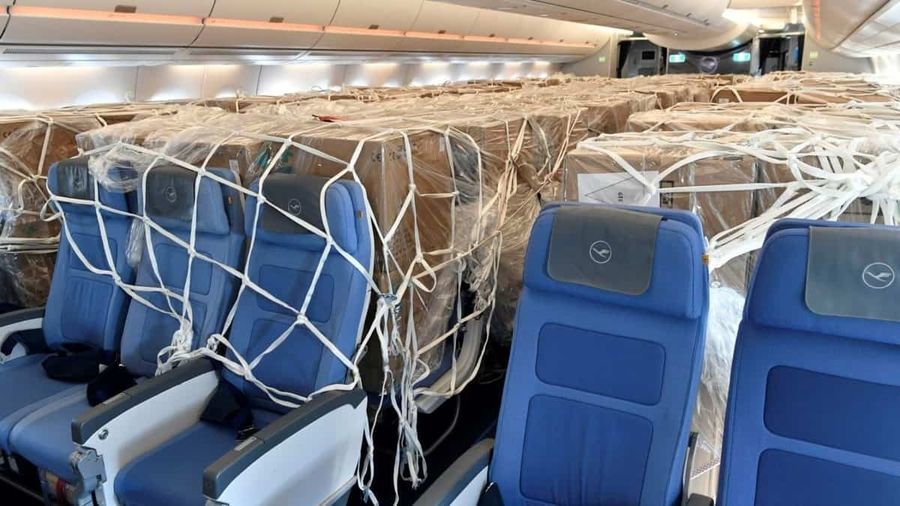 Something virtually unheard of pre-COVID-19 is that airlines are now taking freight as cargo in passenger seats in place of live customers. Photo: Virgin Atlantic
As the nation rebounds from the near-catastrophic, economy-killing, over-reaction to the COVID-19 virus, trucking industry leaders are beginning to look toward the future of the industry the rest of this year, and into the years to come.
What everybody seems to agree on is that in some regards changes brought about by the virus panic will have long-lasting effects, and could alter the trucking landscape probably forever.
As reported by Fleet Owner, three trucking industry leaders discussed the COVID-19-related changes in the industry and the future of trucking during a Northwestern University Transportation Center roundtable discussion recently at the Evanston, Illinois, campus.
Bill Matheson, president of intermodal services at Schneider National, said Schneider's concern about freight out of Western ports took a turn from interruptions caused by tariffs and the trade war, and changed to worrying in February about disruptions caused by the fear of the COVID-19 virus coming in with shipping from China.
Matheson said he believes the nation is still in the middle of the virus crisis because having 30 million people – consumers – out of work will continue to have an economic impact on the demand for goods.
One of the problems faced by carriers as parts of the nation open up the economy, according to Matheson, is that some states are re-opening at different rates than the others, thus creating major logistical challenges.
He does believe, however, that the economy is in a comeback – how much depends on the attitudes and economic health of consumers, and what long-lasting effect that social isolation and social distancing mandates has had on the public psyche in general.
Ben McLean, CEO of Ruan Transportation Management Systems, told attendees that one thing learned during the crisis is that trucking companies rely too much on paperwork throughout the supply chain.
Going forward, much of the day-to-day transactions between drivers and shipper can be digitized in order to become touch-less. He also emphasized that tracking technology could be better implemented to connect drivers with freight.
Ruan, according to McLean, has an integrated approach to operations that reduces "touchpoints" and keeps all personnel within the supply chain communicating with each other.
Andrew T. Boyle, co-president of Boyle Transportation, told the roundtable attendees that the carrier employed contactless delivery protocols where drivers relied on mobile apps for proof of delivery.
Some COVID-19 changes are here to stay
While many of the early mandates to help prevent spread of the virus like cleanliness and social distancing were adopted by companies, now that the curve has flattened and the economy is re-opening carriers and associated trucking industries are finding themselves committed to maintaining some COVID-19-related standards.
For example, as reported at Trucks Parts and Service online, garages might continue to employ communication technologies post-virus that they instituted during the crisis.
They are discovering that virtual communication tools are actually more efficient than the old face-to-face procedures. Instead of customers bringing equipment for repair to shops and communicating with service writers and technicians, diagnostics and followup repair discussions are now being conducted by phone or via online service management portals.
It is reported that some truck industry dealers and garages forced to upgrade to virtual communications because of virus mandates now wish that they had adopted the technology earlier, with one saying, "It's a shame it took a pandemic for the rest of us to get on board."
Another, in explaining that their change to virtual communication with claims adjusters has sped up the repair process, said, "I can remember having to wait a week or more for an independent appraisers to just show up here," says Rodney Rowland, manager, collision and paint center, Lakeside International Trucks. "Now my goal is to turn an estimate in 24 hours or less."
An article at Inbound Logistics echoed the above sentiments about technology driving post-virus communications from here on out.
Port Everglades, in Broward County, Florida, for example notes that 42 percent of shipping and freight companies say they will change their supply chain strategies because of the virus crisis, with 62 percent saying those changes will be in the area of technology.
Creative companies will be looking at innovative delivery options like drones, but will also emphasize enacting tighter delivery schedules with more efficient routing, and more streamline and safer operations at docks.
Freight spot rates may be on the increase
According to FreightWaves, while freight volume remains relatively low and capacity remains high, meaning freight rates are still continuing their recovery, some lanes watched by the industry are beginning to experience some stronger movement.
Freight making the trek from Los Angeles to Seattle, for example, began showing some encouraging improvement beginning in mid-April. And watchers are keeping an eye on other popular lanes like Los Angeles to Dallas and Chicago to Atlanta for gaining momentum.
Spot freight rates on the run from Los Angeles to Dallas are already at the level of the peak for some prior years. But FreightWave's analysis is that because the largest carriers operate with contract rates, sometimes at the level of 95 percent or more over spot rate loads, the spot rate improvement as the economy climbs out of the virus-crises dudgeon might not be enough to keep the smaller and independent carriers from starving on their spot-rate diet.
Could a virus-related change in the airline industry impact trucking?
The airline industry, strapped for customers because of the virus panic, struggles for existence while sidelining hundreds of airplanes in its fleets.
One innovation that is keeping some airlines flying is replacing live customers in their seats with cargo.
The FAA has approved a temporary measure, good through the end of this year, that allows airlines to fly in cargo-only mode with freight stored not only in their baggage holds, but up in the cabin strapped into seats normally occupied by live passengers.
Airlines can get up to 30 percent more cargo capacity, about six to seven tons, using seats to hold cargo, in addition to the lower baggage holds. The new FAA directive also allows airlines to cram small freight units into overhead bins and under seats.
But the exemption does require airlines to restrict weights to no more than 50 pounds per seat, and 20 pounds under each seat. In addition, extra fire extinguishers are required, and at least two crew members must be in attendance as fire lookouts.
Currently, the FAA restricts U.S. airlines to hauling cargo only on seats, but airlines are now requesting to be able to remove seats in order to haul more freight. A few airlines outside of U.S. jurisdiction such as Icelandair, Lufthansa, Air Canada and Virgin Atlantic are already hauling freight with their passenger seats removed.
Airlines are also requesting that the FAA extend the exemption for another two years. They await the FAA's decision on that request, and the request for removing passenger seats.
It remains to be seen if increased capacity from this new airline exemption, with its speedier delivery times across country, will impact the truck freight industry; which is still struggling to recover from the COVID-19-related downturn.
Sources: Fleet Owner, Truck Parts and Service, Inbound Logistics, FreightWaves, American Shipper
Tagged Under:
Adverse Conditions
Schneider National
The Economy And Politics
Trucking Industry Concerns