FMCSA takes a look at assault, harassment of female and minority drivers
Last Updated: Wed, July 24, 2019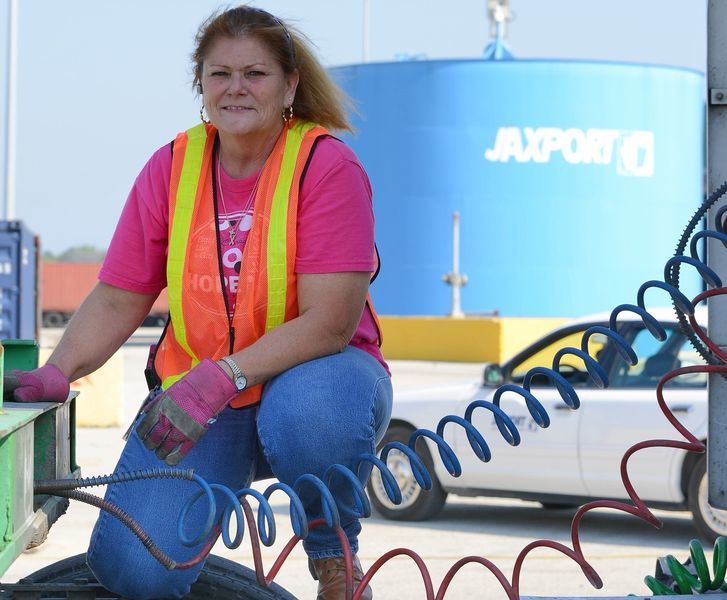 As she was hauling a load from California into Arizona a female truck driver trainee (not pictured above) couldn't keep her eyes off of a knife her trainer was menacingly displaying. The way he was holding it, sometimes resting it on his leg, sometimes on the dash, sent her a message. She thought she was in danger, she told Mary Review in a 2016 interview.
Previously, this trainer had shown her pornographic images on his phone, and said he wanted to tie her up and "do things to her."
She recounted sexual remarks from other male drivers about her anatomy, and outright suggestions from them that they would like to perform sexual acts with her.
This female driver's complaint is apparently not uncommon.
Desiree Wood, founder of Real Women in Trucking, a grassroots organization of women in the industry, says, "A woman entering trucking doesn't have anyone looking out for them. Some people may say that they want to help, but the guys stick together."
Such anecdotes, and worse, abound in the Mary Review article telling of many instances of women suffering abusive tactics by the male drivers they are thrown in with during training and team driving and at terminals and truck stops.
Many trucking companies have been sued, but often these victims are pressured by their companies into not reporting such instances.
FMCSA steps in
Being aware of this kind of anecdotal evidence, the Federal Motor Carrier Safety Administration released a notice into the Federal Register yesterday announcing the agency will be undergoing an investigation to "understand the prevalence, seriousness, and nature of the problem of harassment and assaults against truckers," according to the document.

The agency cited a 2006 Security Journal article that reported 42 percent of female long-haul truckers have experienced one or more of these kinds of assault.
But the agency says it lacks definitive statistical data with which to make recommendations and provide materials for training to truckers, including female truckers and minorities.
"Currently, there is insufficient data. The frequency and number of harassment and assault-related crimes occurring, the portion that are unreported, and reasons for underreporting are unknown," the FMCSA stated in its notice to the Federal Register.
The agency is looking for information in order to understand how serious the problem is with the idea in mind of taking a course of action. The findings will result in the agency formulating and promoting programs that would be useful to law enforcement, motor carriers, operators of truck stops and to truck drivers themselves.
If it turns out that the problem is significant, the agency says it may develop training and outreach materials to help truckers protect themselves from crime and harassment. But the agency stated that the purpose of the survey is not to arrive at more rulemaking.
Going in, the agency believes there is a perception among female and minority drivers that they are more vulnerable than others. It also believes that, given the driver shortage, understanding and addressing the problems that women and minority truck drivers face could stem turnover and draw in more new drivers.
The survey
The agency has hired research firm Battelle to create a survey of truck drivers.
Only female and minority male drivers will be invited to participate in the survey. A total of 880 will be surveyed, either by filling out an online form, or by an in-person interview. Around 160 will be in the in-person interview group, evenly split between women and minorities. A $25 incentive will be given to eligible participants in the in-person interview and in the online survey.
To be eligible for the survey the female and male minority driver must have driven a truck professionally in the past two years. They will be asked if they have had any experience of harassment or assault. The survey will weigh the numbers of respondents heavily toward those having had such an experience, hoping to hear from at least 400 in each group.
The survey will be anonymous, with no questions being asked that could personally identify the person being interviewed, or the perpetrators involved in their incidents.
Individuals who don't qualify to be in the survey group because they have not driven in the past two years, or who don't meet the female or minority male condition, will still be included in the tabulation of the number of contacts for data information purposes.
Once the survey is completed and analyzed, the findings will be published in a report on the FMCSA website for the public to view.
The FMCSA will invite comments on any aspect of this project including whether this proposed survey is even necessary, or whether it will accurately illustrate the problem. They also invite suggestions on ways to make the survey better, and ways to reduce the "burden" of the project without reducing the quality of the collected information.
Sources: FMCSA, FMCSA pdf, Mary Review
Tagged Under:
Company Trainers
FMCSA
Life On The Road
Team Driving
Truck Driver Safety
Truck Driver Training
Truck Driving Stories
Trucking Industry Concerns