Truckers report in on their treatment during these COVID-19 times
Last Updated: Tue, April 14, 2020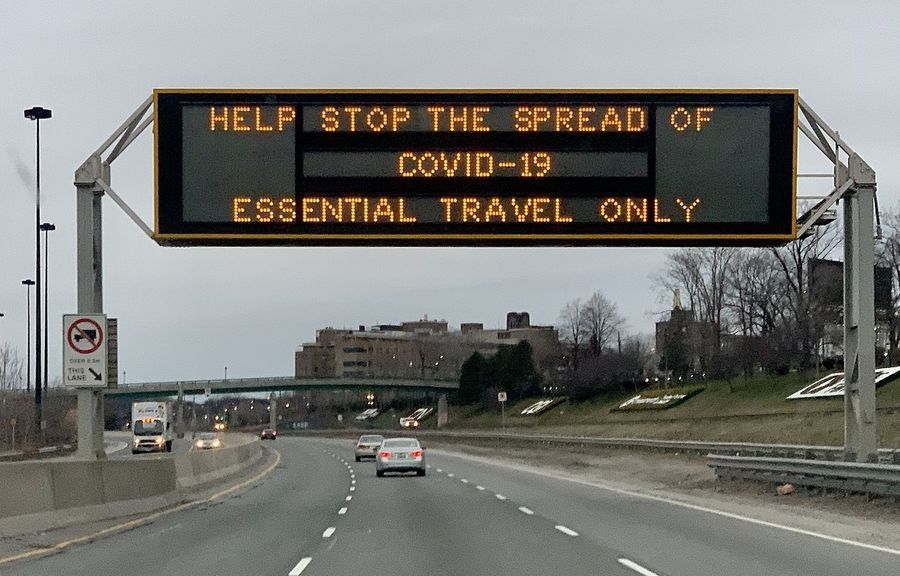 At a time when the public's awareness of the importance of the trucking industry in general, and truck drivers in particular, is at an all-time high because of the COVID-19 virus crisis, at least one industry leader has found an irony in the situation.
According to Owner-Operator Independent Drivers Association Executive Vice President Lewie Pugh, truck drivers who find themselves on the front lines in the fight against the virus also find themselves shut out from being able to buy supplies at the very facilities that they are delivering essential freight to.
"We are currently receiving several hundred calls daily from drivers who are unable to buy essential supplies to protect themselves from COVID-19," Pugh wrote in a letter to the grocery industry.
"Basic items like paper towels, hand sanitizer and disinfectant wipes are nearly impossible to find right now. The irony is that truckers are hauling these supplies, but they are unable to actually buy them."
Besides representatives of the grocery industry the letter, dated April 14, went out to such businesses as Walmart, Target, CVS and Walgreens.
"While we realize virtually every industry is struggling to deal with COVID-19, we are seeking your help to make things a little easier and safer for our nation's truck drivers," Pugh wrote.
OOIDA is asking stores to allow truck drivers to use the restrooms and to be able to buy items they need to keep them safe and healthy while on the road; which they say should be a priority concern for everyone.
"Truckers are on the front lines of the supply chain," Pugh wrote. "If they get sick, the supply chain will be disrupted more than it already is, which is precisely why it is important to support them as much as reasonably possible."
"We are asking your respective companies to make these essential items available to truck drivers for purchase or through donations," Pugh wrote. "These supplies are the only protections truckers have to defend themselves from COVID-19. It would also be nice if truckers were able to use your restroom facilities when they are delivering freight to your warehouses or retail business locations."
FreightWaves survey highlights truck driver treatment
Along the lines of the above subject, FreightWaves has conducted a survey to find out just how shippers and receivers are treating truck drivers during these trying times.
Anecdotal evidence from some drivers indicates that for the most part drivers are being treated well. But, for others it's a mixed bag depending on the location.
For example, FreightWaves interviewed veteran driver Ingrid Brown of Zionsville, North Carolina, who said shippers and receivers she's encountered have been "more than kind toward drivers" in the past few weeks.
Wait times, often noted by drivers to be overly long during the early part of the crises, wasn't a problem for Brown during a recent delivery to a Florida Target Distribution Center. She told FreightWaves that her truck was already being unloaded as she left the receiving office with her paperwork.
Other respondents to the FreightWaves survey answered that their experience has improved from what it started out with just a couple of weeks ago.
One driver, Wayne Cragg, known as "Trucker Wayne" in social media, told FreightWaves he got stuck waiting more than 14 hours to pick up a load without being allowed to use the restroom. He said he gave up and drove away, refusing the load.
According to the FreightWaves article, Cragg said, "I decided to cancel the load and take the weekend off, but as an owner-operator, I can do that because I am the only one losing out on the money. I don't know how some company drivers are handling it out here because they don't have the option to leave without risking getting fired."
Continuing with anecdotal reports, FreightWaves said drivers are reporting wait times as long as 24 hours, while drivers are instructed not to touch things, like office windows, and are being asked personal health questions – sometimes not even related to the virus.
Truckers summarized their feelings by noting that the good shippers and receivers have stepped up and shined during the crisis, while the poor ones fall even from the poor levels they were at before the virus.
"The poor shippers and receivers that you hear these horror stories about were bad before the [coronavirus] pandemic, but they have gotten even worse now," Cragg said in the FreightWaves article. "These poor facilities can't just flip a switch and all of a sudden become good ones. I think it's the exact opposite with the good shippers and receivers because they had a good plan in place before this happened and now they are shining."
The FreightWaves survey
130 motor carriers of all sizes responded to the survey, among the respondents were executives of their companies (about 50%), operations personnel (20%), dispatchers (10%) and drivers represented fewer than 10 percent.
Here are the numbers tabulated from the motor carrier responses:
69% say none of its drivers have tested positive for COVID-19
31% reported that one or more drivers have been taken off the road after showing symptoms of the virus.
Around 31% reported fleet sizes of between 51 and 500 trucks, while 23% have 6-20 trucks and 21% have between 21 to 50 trucks. Of the carriers surveyed, 14% reported 500-plus trucks in their fleets, while 6% have 2-5 trucks and 5% are one-truck operators.
Around 35% stated that the average length of haul for loads was between 501 to 1,000 miles, while 28% reported running 251 to 500 miles, on average per load. Approximately 18% reported running more than 1,000 miles on average per load, while 19% run 250 miles or less per load.
48% report all of their company drivers showed up for work in the last two weeks. 44% reported that between 1% and 25% of their drivers did not show up and 3% say between 26% to 50% did not show up for work.
Around 35% say they somewhat agree with the $2 trillion fiscal stimulus legislation passed by Congress recently, while nearly 25% reported that they strongly agree with the legislation.
Nearly 50% reported that drivers have been asked if they have shown any symptoms of the coronavirus in the past few weeks.
30% have been asked about drivers' prior travel history. Some drivers told trucking industry groups they were being asked personal questions not related to COVID-19.
Sources: Land Line, OOIDA Letter, FreightWaves
Tagged Under:
Adverse Conditions
Health Concerns
Life On The Road
Owner Operator
Trucking Industry Concerns