Senators propose legislation to promote women in the trucking industry
Last Updated: Wed, March 3, 2021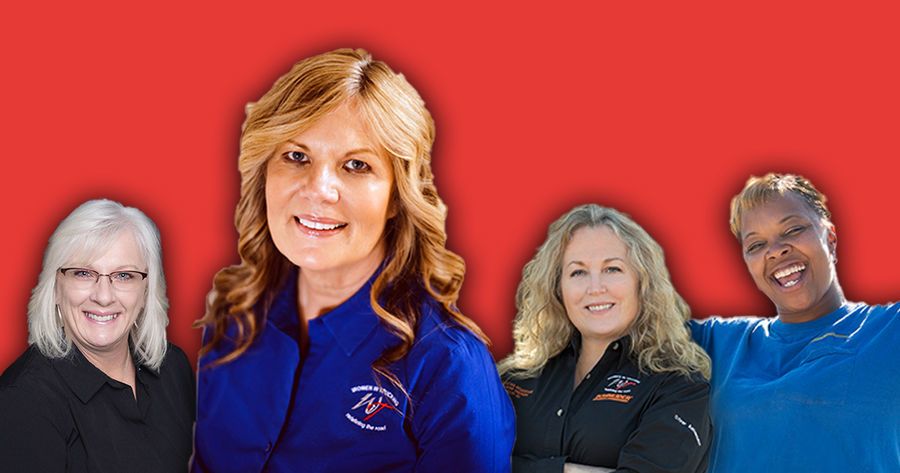 The Women In Trucking Association will be sending four representatives to serve on the recently announced FMCSA safety groups. WIT President and CEO Ellen Voie will be joined by three of WIT's Image Team members, Deb LaBree, Kellylynn McLaughlin and Angelique Temple. Voie also hopes to be able to appoint WIT members to the FMCSA Women in Trucking advisory board if the proposed Promoting Women Act legislation passes.
A bi-partisan team of United States Senators has come together to reintroduce the Promoting Women in Trucking Workforce Act.
They are proposing legislation to support women in the trucking industry, and for the Federal Motor Carrier Safety Administration to establish a Women in Trucking Advisory Board.
Sponsors and co-sponsors of the proposed legislation are members of the Senate Committee on Commerce, Science and Transportation U.S. Senators Tammy Baldwin (D-WI), Jerry Moran (R-KS), Deb Fischer (R-NE) and Jon Tester (D-MT).
The legislation has also garnered wide support from shipping and trucking organizations like Owner-Operator Independent Drivers Association, the American Trucking Associations and, of course, Women in Trucking.
The idea for the legislation stems from the fact that although women make up 47 percent of America's labor force, they represent only 24 percent of trucking industry workers, but fewer than 7 percent of drivers are women.
"In Wisconsin, we make things, and we need to ensure we have a strong workforce to transport our goods to market," Senator Baldwin said.
"Women currently make up less than 10 percent of the truck driving workforce, and removing the barriers that get in the way of women pursuing and retaining careers in trucking is key. I'm proud to lead this bipartisan effort with Senator Moran because more job opportunities for Wisconsin women will lead to more economic security for working families."
Senator Moran, representing Kansas, puts a COVID spin on the need to recruit more women into the industry, particularly as drivers.
"Over the past year, we have relied on the essential service the trucking industry provides to transport critical resources to Kansas and across the country during the COVID-19 pandemic," Senator Moran said.
"As the trucking industry continues to face a driver shortage, we must find new ways to recruit and retain drivers, including supporting women pursuing careers in trucking. This sensible and bipartisan legislation will lead to new job opportunities for women and promote equality for those who are currently working in the trucking industry."
Another sponsor, Senator Deb Fischer from Nebraska, said that encouraging women to enter the industry is good policy.
"Truckers are essential to keeping Nebraska's economy running, but the industry is experiencing a shortage of drivers," Senator Fischer said. "Women currently make up only 6.6 percent of truck drivers and 12.5 percent of all truck transportation workers. Examining ways to encourage more women to enter the trucking industry is good policy and could connect more women with good jobs."
Montana Senator Jon Tester addresses the hardships that women face in trying to get trucking jobs. "Montana women represent a growing force in the transportation sector, but still face obstacles when it comes to careers in the trucking industry," Senator Tester said. "This bill is a hat-trick, ensuring we're breaking down barriers for Montana women, bringing more good-paying jobs to the Treasure State, and strengthening our workforce so we can deliver more of our world-class products to market."
Widespread support from trucking organizations
Shipping and trucking organizations across the gamut of the industry have registered their approval and support of the Promoting Women in Trucking Workforce Act, including major delivery services like FedEx and United Parcel Service.
The American Trucking Associations is an 86-year-old federation comprising 50 affiliated state trucking associations; which all together represents around 35,000 member companies in watching state and federal legislative, regulatory and judicial actions affecting trucking.
"Although women currently make up 47% of the United States' labor force, they represent less than seven percent of truck drivers and only a quarter of all transportation and warehousing jobs in trucking," American Trucking Associations Senior Vice President Edwin Gilroy said.
"While the trucking industry has taken great strides over the last decade, growing the number of women truck drivers by 68% since 2010, the fact is that women remain underrepresented in the industry. We agree that more work needs to be done. The Promoting Women in Trucking Workforce Act represents a tangible step toward a stronger and more diverse trucking workforce."
Adding her voice to kudos supporting the Act is Women in Trucking Association President and CEO Ellie Voie.
"By creating an advisory board to utilize the expertise and resources of the Federal Motor Carrier Administration and the members of the board, we can increase the opportunities for women as drivers, technicians, owners, trainers and in other relevant career roles," Voie said.
"Although women have strengthened their presence in supply chain in the past few years, we know there are still issues that cause women to reject a transportation career. Our goal is to better identify these concerns and address them to create a more diverse industry. I look forward to working with you and your office in advancing this bill."
WIT traditionally does not act in a lobbying capacity stating that because, "the practice is to influence legislation, we rarely involve ourselves in trucking issues because we represent both drivers and carriers, and their interests are not always in alignment."
WIT's support for the Promoting Women Act, however, is because of the provision that the FMCSA is to create a Women in Trucking Advisory Board.
"We anticipate being an active member of this committee, which will support the WIT Association's mission to encourage the employment of women in the trucking industry. Our goal is not to influence legislation but could result in changes at the federal level, so we will be diligent in identifying any lobbying efforts," Voie said.
Todd Spencer, President of the OOIDA said working with Congress to make anyone successful in the trucking industry is a priority.
"We support the Promoting Women in Trucking Workforce Act because it will not only help more women begin careers in trucking, but will improve conditions for drivers currently behind the wheel, Spencer said.
"Some of the safest and most successful truckers on the road today are female members of OOIDA. We commend the sponsors of this legislation for ensuring their unique perspective and experience as small business owners will play an integral role in efforts to promote women in trucking."
What the Promoting Women Act would accomplish
Once the FMCSA has established a Women in Trucking Advisory Board, under the proposed legislation the board would be required to identify:
Industry trends that directly or indirectly discourage women from pursuing careers in trucking
Ways trucking companies, nonprofit organizations, and trucking associations may coordinate to facilitate or support women pursuing careers in trucking
Ways to expand existing opportunities for women in the trucking agency
Opportunities to enhance trucking training, mentorship, education, and outreach programs that are exclusive to women
FMCSA's administrator would then be required to submit a report on the advisory board's findings and make recommendations to the Senate Committee on Commerce, Science and Transportation, as well as to the equivalent committee in the U.S. House of Representatives.
---
Dave Wickenhauser went on the road driving big rigs after retiring from 33 years in newspaper journalism. His trucking novel, "Crimson Highway" the first in the Hugh Mann series, is available as an Amazon paperback, and as an Amazon Kindle ebook.
Sources: U.S. Senator Tammy Baldwin News Release, U.S. Senator Jerry Moran News Release, Women in Trucking
Tagged Under:
FMCSA
Women In Trucking