Some are asking the feds to take another look at twin-33 trailers
Last Updated: Tue, May 25, 2021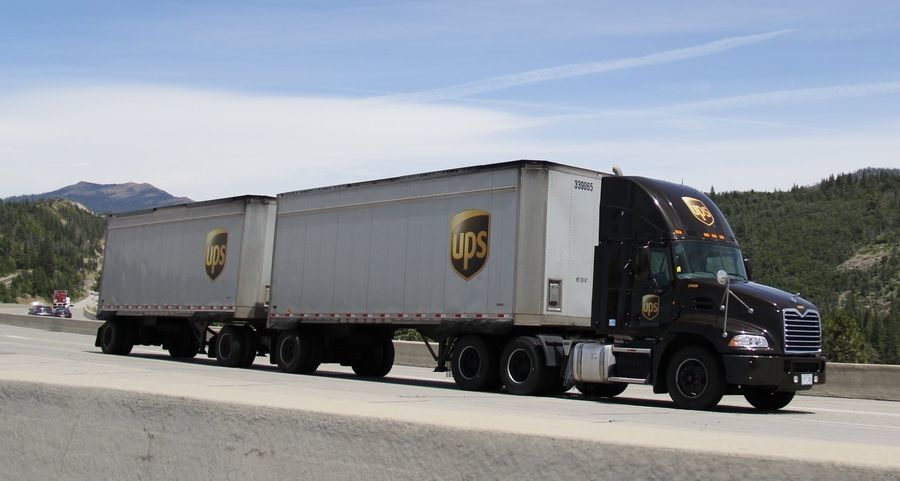 The capacity crunch and driver shortage have got some proponents calling again for the United States Congress to revive efforts to raise the federal limit on trailer size – specifically to allow twin 33-foot trailers across the breadth of the country.
Twin-33s get looked at during virtually every new session of Congress, but ultimately get shot down.
Maurice Langston, chair of the Florida Council for Safe Communities in Tallahassee, says in an article at Florida Politics online that, "Twin-33s are a safe, sustainable and tax-free solution that will boost the economy and help small businesses grow. Our lawmakers in Congress, including Sen. Rick Scott, should update decades-old transportation regulations and allow twin-33s to operate so that Florida truck drivers can cross state lines."
He points out that 20 states, including Florida, allow twin 33s, which combined are only five feet longer than the double 28-foot trailers currently allowed by federal law.
The problem is that because no adjoining states are among those that allow twin-33s Florida truckers pulling that combination are landlocked within the state.
"The economic benefits of Twin 33s are vital as Florida continues to recover from the downturn last year, and they could be a tremendous benefit for the Port of Jacksonville," Langston wrote in the article.
The economics of twin-33s make sense, according to Langston. He notes studies by the Americans for Modern Transportation which find that twin-33 trailers can move the same amount of freight making 18 percent fewer truck trips, saving $2.8 billion annually in shipping costs.
In addition, trucks pulling twin-33s will use relatively less fuel by about 274 million gallons for the comparable freight tonnage split between more, shorter trailers. This would also result in a reduction in CO2 emissions by about 3.2 million tons.
The 80,000-pound weight limit will still apply for twin-33s, as those trailers could be fully loaded out with today's kinds of e-commerce freight that is lighter and will fill a twin-33 without exceeding that total weight limit.
Langston also pointed out that twin-33s are actually safer for the truck drivers. A university study has found that those longer trailer combinations are more stable because of the extended wheelbases.
Another proponent speaking from Florida is Jim Maxwell, vice-chairman of Floridians for Government Accountability. His article appeared in Florida Daily online.
"To keep pace with increasing demand, Congress needs to reform regulations from the 1980s that prevent cargo carriers from modernizing their vehicles. The simple, no-cost place to start is by extending the federal limit on trailer length from 28 feet to 33 feet," he wrote.
He said that twin-33s have been operating in Florida since the state legislature allowed them in 2010, and he points out that since then they have seen how safe, efficient and eco-friendly they have been for the transportation industry.
"In over a decade of operation, there have been zero accidents in the state because of twin-33s. That is even more impressive given that twin-33s have driven over a million miles on the Florida Turnpike between Orlando and Miami, one of our state's busiest highways," he wrote.
He said that the twin-33s have been driven more than 1.4 million miles, with a fuel saving of 2,400 gallons of fuel each week.
He refutes the argument that the longer trailers will have a negative impact on roads, highways and bridges. "The opposite is true," he wrote at Florida Daily. "Adding five feet to a trailer will not change the current 80,000-pound weight limit."
States currently allowing twin-33 trailers are clumped in the Mid-West and West, with a few in the southern Great Lakes and New York areas. This configuration leaves Florida the sole user of twin-33s in the entire South and most of the Eastern seaboard.
Twin-33 opponents reach out to Congress
During the latest Congressional look at twin-33s in 2019 the Owner-Operator Independent Drivers Association joined a coalition in sending a letter urging legislators to oppose a federal rule allowing the longer combinations.
"Any change overturning current federal weight laws allowing heavier or longer tractor-trailers would have detrimental impacts on our national, county and local infrastructure, costing billions of dollars in additional bridge and pavement costs," the coalition wrote in the letter, as reported in a February 25, 2019, Land Line article.
In the letter, the coalition also called for Congress to oppose any legislation allowing larger trucks in individual states.
The coalition letter was in response to one earlier in the same month of that year from the Americans for Modern Transportation that joined with companies such as Amazon, FedEx, UPS and XPO Logistics urging Congress to allow the longer trailer combinations.
The letter pointed out that every time similar proposals have come up they have been "resoundingly rejected on bipartisan floor votes." They cited a United States Department of Transportation report from 2016 stating that the heavier and longer trucks would increase infrastructure costs by billions of dollars.
The coalition noted that local roads and bridges would face significant damage as they are older and are built to lower standards, many already in poor condition.
The coalition opposing the twin-33s was made up of the following groups, nearly half of which represent railroads:
American Public Works Association
National Association of County Engineers
National Association of Towns and Townships
National League of Cities
Owner-Operator Independent Drivers Association
Road Safe America
Association of American Railroads
American Short Line and Regional Railroad Association
GoRail
National Railroad Construction and Maintenance Association
Railway Supply Institute
Railway Engineering-Maintenance Suppliers Association
Coalition Against Bigger Trucks.
Railroads oppose the larger trailers
The rail industry is adamantly opposed to trucks pulling larger trailers. The usual reasoning is what they claim is increased damage to roads, highways and bridges.
"The fuel taxes and other highway-related fees that commercial trucks pay fall far short of covering the costs of the highway damage they cause. In contrast to trucks, freight railroads offer a sustainable and efficient way to move cargo across the country while operating on privately owned infrastructure they have invested billions into maintaining and upgrading," according to an article at the Association of American Railroads website.
They noted that allowing the larger trailers would lead to more truck freight, further stressing the nation's infrastructure.
They also cite a "diversion" factor where increasing total gross truck weights to 91,000 pounds with current federal trailer length limits would result in the diversion of 2.6 million annual railroad carloads, and 1.8 million intermodal units. Those numbers would more than triple if twin 33-foot trailers were allowed into the equation.
The Association of American Railroads website article concluded with, "Congress should not increase truck size or weight limits. Any increase in truck size or weight limits, including 91,000 pound trucks or twin 33-foot double-trailers, would force more costs onto taxpayers because larger trucks would result in greater damage to infrastructure."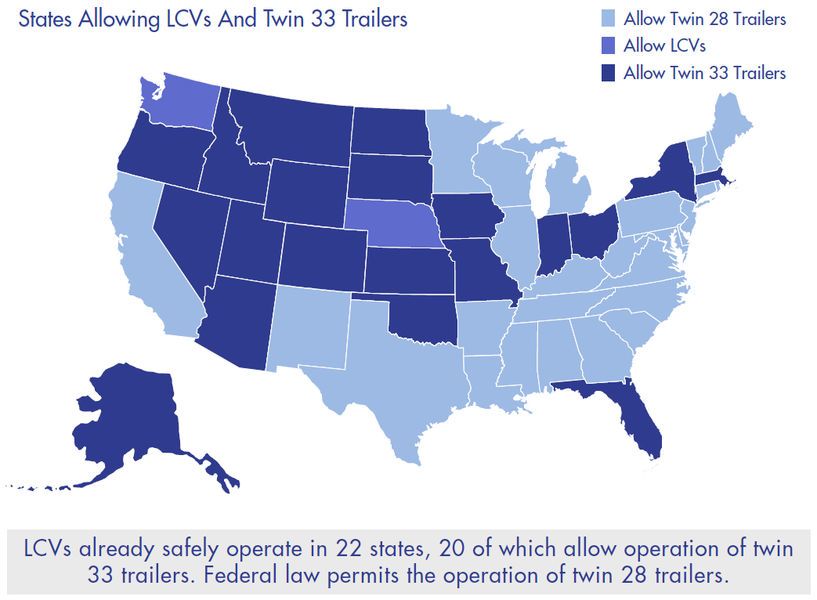 ---
Dave Wickenhauser went on the road driving big rigs after retiring from 33 years in newspaper journalism. His trucking novels, Crimson Highway, the first in the Hugh Mann series, and the sequel, Road Test, are available at Amazon as paperbacks, and as Kindle ebooks.
Sources: Florida Politics, Florida Daily, Fact Sheet, Land Line, Association of American Railroads
Tagged Under:
Doubles and Triples
FedEx Freight
Trailers
XPO