Friday Short Haul - AI taking driving jobs, CRV scam, Truckers protest AB-5, ELDs quit working
Last Updated: Thu, November 7, 2019
Will self-driving trucks kill driving jobs?
Yes and no. That's the conclusion of a Public Broadcasting System Frontline documentary "Could the Rise of AI Put Truckers' Jobs In Peril?" that aired on November 5 as an episode in its "The Age of AI" series.
The rapidness of the autonomous truck industry in rolling out commercially viable systems has caught some by surprise, and it is seen as a good thing by some in the industry, with slashing the need for drivers as one possible benefit. Others say it would be impossible to replace drivers.
In the documentary, Embark CEO Alex Rodrigues touts the safety and accident-reducing qualities of its self-driving big rigs, but also says that trucking companies could be looking forward to the time when expenses are reduced significantly by not having humans sitting behind the steering wheels.
"Right now, human drivers are limited to 11 hours by federal law, and a driverless truck obviously wouldn't have that limitation," he says in the documentary.
By current law autonomous trucks must have safety drivers and engineers on board monitoring an the vehicle's performance and progress on America's roads, but Rodrigues says that within a few years we'll "see the first vehicles operating with no one inside them moving freight" — a trend that he says will grow to encompass "more freight, and more geographies and more weather over time."
The documentary portrays drivers, on the other hand, who believe their jobs are irreplaceable by automation.
Independent trucker Shawn Cumbee of Beaverton, Michigan, says despite the new technological achievements they are still made by man, and, "Man does make mistakes."
In the film Cumbee explains, "You've still got to have a driver in it, because I don't see it doing cities. I don't see it doing, you know, main things. I don't see it backing into a dock … I ain't really worried about the automation of trucks."
Steve Viscelli, author of The Big Rig, says in an interview for the documentary, "The trucking industry is $740 billion a year … in many of these operations, labor's a third of that cost. By my estimate, I think we're in the range of 300,000 or so jobs in the foreseeable future that could be automated to some significant extent."
Another who is interviewed says he believes that up to half of all jobs will be threatened by artificial intelligence within the next 15 years.
10 arrested in CRV smuggling scam
A handful of truck drivers who have made a sizeable profit hauling recyclable beverage containers into California from Las Vegas, Nevada, for the redemption value fell afoul of the law … ending their multi-million dollar scam against the State of California.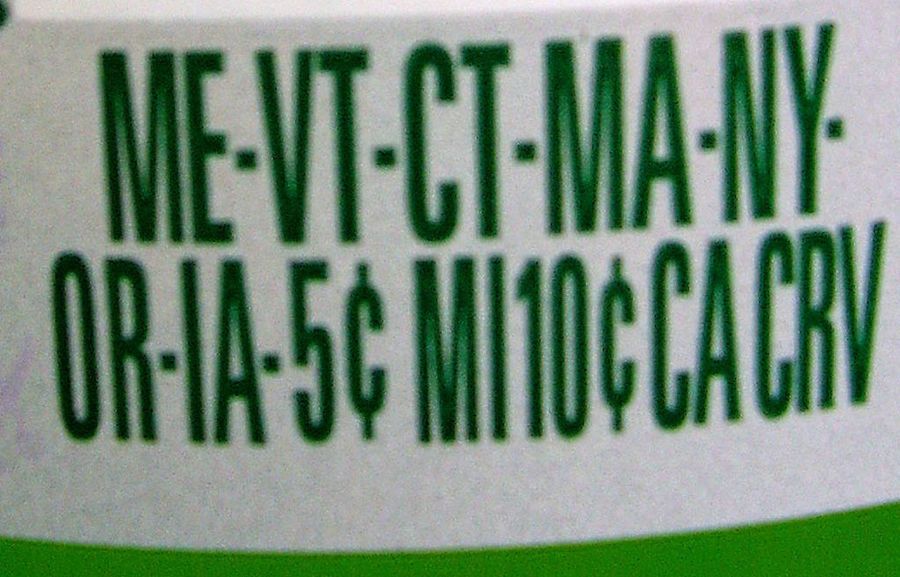 In September, authorities served warrants on 12 Los Angeles area recycling centers that were receiving tons of CRV cans and bottles from out of state, and illegally claiming the redemption value.
In just one instance agents found suspects unloading a 53-foot trailer containing 10,978 pounds of aluminum containers and 14,940 pounds of plastic containers having a CRV value of $36,718. Eight truckers were arrested in that sweep. Authorities estimate they have been responsible for $5 million worth of theft.
Later in September in a three-day operation authorities set up a temporary border checkpoint in Needles to try to nab illegal CRV transporters. Two truckers were arrested after agents found them hauling 10,456 pounds of aluminum and 9,224 pounds of plastic beverage containers having a CRV value of $28,665.
The suspects face charges of felony recycling fraud, attempted grand theft, and conspiracy. In addition to up to three years jail time, fines, and court-ordered restitution the big rig drivers face possible loss of their drivers licenses and confiscation of their vehicles.
The transporting of beverage containers across state lines into California is considered theft because other states do not impose a per-container fee upon purchase of the beverage, so claiming redemption on those non-California containers illegally takes money out of the redemption fund.
Truckers hitting the pavement to protest AB-5
Truckers across the state rolled along on roads outside government buildings in Oakland, San Francisco, San Jose, Fremont, Salinas and other cities this week in protest of the provisions of the recently passed California Assembly Bill AB-5; which effectively ends independent contractor status for drivers in the state.
But despite the blaring of truck horns that got attention locally, their numbers overall were small, and representatives of the ports of Long Beach, Los Angeles and Oakland report no interruption in operations during the protest.
The problem is that, "There doesn't seem to be any centralized leadership," Joe Rajkovacz, the director of Governmental Affairs and Communications for the Western States Trucking Association, told Supply Chain Dive in an interview.
Apparently as a grassroots effort, around 50 people showed up to protest outside State Senator Bill Monning's office on Monday.
It was back to paper logs for thousands of ELD users recently
Thousands of drivers, some driving for trucking giants like Knight-Swift and Schneider, were told to revert to paper logs on November 2 when several models of the Omnitracs ELD units shut down suddenly.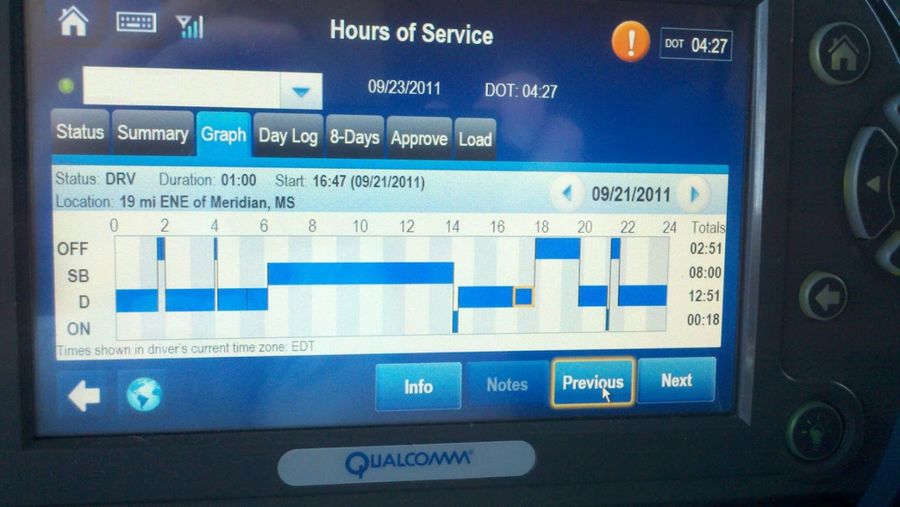 Reportedly affected were the MCP 200, the MCP 110 (shown here) and the MCP 50 devices, while the newer models such as the IVG, XRS and Roadnet did not shut down.
The Federal Motor Carrier Safety Administration requires drivers to carry paper logs just in the event of such an ELD mishap, and they were aware of the Omnitracs' outage.
"Our team continues to work around the clock to resolve this urgent matter as quickly and efficiently as possible. While we have not yet achieved a full resolution, please know that this remains our top priority. We will continue to share updates with you on our progress until this urgent matter is fully resolved. We apologize for the continued inconvenience this matter has caused and truly appreciate your patience as we work to address," Omnitracs announced on its website.
The outage comes at a time when the December 16 final deadline for ELD compliance is right around the corner.
By that date every commercial vehicle, with very few exceptions, must be deploying the more-sophisticated ELD, even those vehicles with the older recording devices known as the AORBD (on-board recording devices), that have been driving with exemptions since the ELD law was first enacted in 2017.
The FMCSA has announced repeated warnings that the "soft" compliance period ends on December 16ths hard deadline, and the law will be enforced. Any grandfathering or grace period for making the transition from no ELDs or from AORBDs to the required ELDs will end then, and FMCSA expects that all commercial drivers will be in full compliance.
Sources: PBS, NBC Bay Area, SF Chronicle, Supply Chain Dive, SDC Executive
Tagged Under:
Autonomous Trucks
Electronic Logbooks
FMCSA
Knight Transport
Owner Operator
Schneider National
Self-Driving Vehicles
Swift Transport
Truckers Technology
Trucking Industry Concerns