Analysis: One third of bridges across the nation are structurally deficient
Last Updated: Tue, July 6, 2021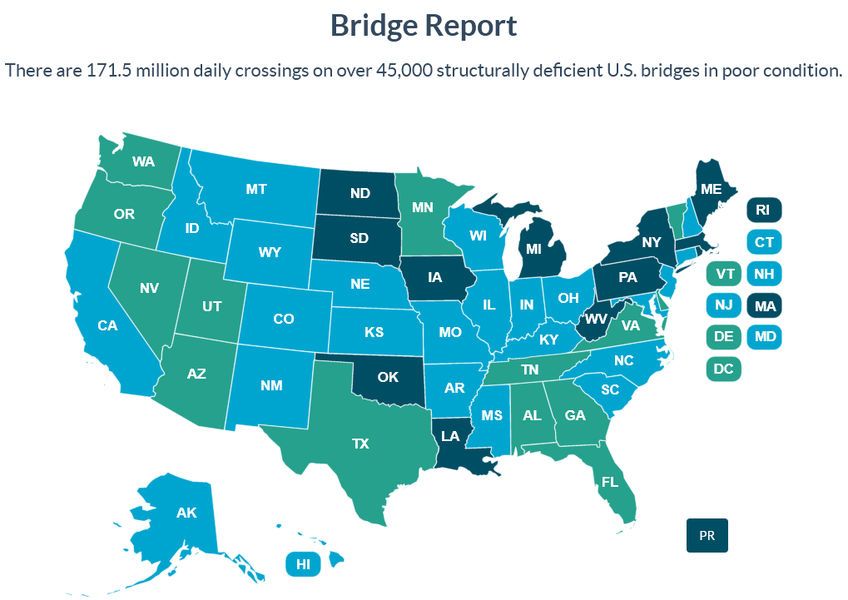 State map compiled by ARTBA showing worst states with structurally deficient bridges, from green being the least worst to dark blue being the most worst.
With the closure of the Hernando de Soto bridge on Interstate 40 between Arkansas and Tennessee regularly hitting the news cycle, and keeping bridge conditions in drivers' minds, a recent report by the American Road and Transportation Builders Association about the number of "structurally deficient" bridges across the nation has some relevancy.
According to one source, just the one bridge being closed for repairs on a busy highway is costing the trucking industry about $2.4 million every day.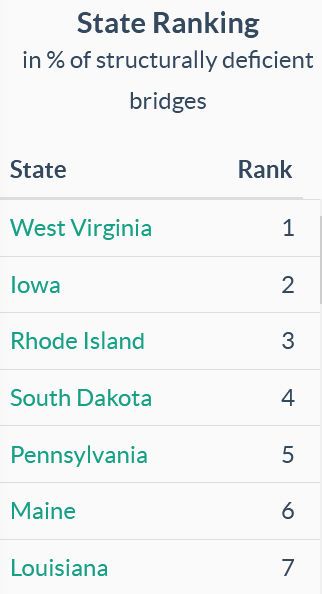 Now consider that statistics compiled by the ARTBA's 2021 Bridge Conditions Report shows that more than one-third, or 220,000, of the nation's 618,000 bridges need structural repair, rehabilitation work or replacement.
Most bridges in the United States must be regularly inspected, a requirement of Federal law. In its seventh annual bridge report, ARTBA analyzed the 2020 inspection data supplied to the Federal Highway Administration, and compiled a list of the states having the most number of structurally deficient bridges.
The state rankings are pro-rated depending on the size of the state and the number of bridges that are in that state.
For example, West Virginia, has 1,545 bridges in poor condition ranking it in eighth place among all states, but it ranks in first place among states for having the highest percentage of its bridges in poor condition.
Similarly, Iowa has the most number of bridges in poor condition among all of the states, ranking it in the number one position, and it also is in second place overall for the percentage of its bridges that are in need of repair.
According to government standards, bridges are determined to be structurally deficient based on a poor grade in the areas of:
Deck condition
Superstructure condition
Substructure condition
Culvert condition
ARTBA pointed out in its report that if all of the nation's structurally deficient bridges were placed end to end they would stretch for more than 6,000 miles.
Some highlights from the 2021 Bridge Conditions Report include:
220,000 U.S. bridges—36 percent—need repair work. 79,500 need replacement.
The number of bridges being structurally deficient decreased by 1,140 structures compared to 2019. At the same time the number of bridges rated in good condition declined by 1,155, from 279,582 structures in 2019 to 278,427 in 2020.
At the current pace, it would take nearly 40 years to repair the current backlog of SD bridges.
The estimated cost to repair or replace the 45,000 SD bridges, based on average price data from the U.S. Department of Transportation (DOT), would be $41.8 billion.
A structurally deficient bridge, on average, is nearly 68 years old, compared to 32 years for a bridge in good condition and 54 years for a bridge in fair condition.
Of the 220,000 bridges across the nation that are rated as structurally deficient, nearly 11,200 are in serious or worse condition, with 1,668 found to be in critical condition, and 440 that are thought to be in imminent danger of failure.
Nearly 1,000 bridges reported during 2020 were put out of service for having "failed."
States with the most serious or worse bridges are Iowa, 1,762 bridges; Oklahoma, 922 bridges; Illinois, 764 bridges; Pennsylvania, 728 bridges; Missouri, 700 bridges; and Louisiana, 638 bridges.
Individual bridges that stood out for having made the structurally deficient list for the first time include:
U.S. Highway 101 over the Los Angeles River, California
Newburgh-Beacon Bridge over the Hudson River in Orange County, New York
Corpus Christi Harbor Bridge in Nueces County, Texas
idney Sherman Bridge on Interstate 610 over the Houston Ship Channel in Harris County, Texas
US 377 over Lake Texoma on the border between Texas and Oklahoma
J. Stanley Tunney Bridge over the Toms River in Ocean County, New Jersey
US 90 East Bound over San Jacinto River in Harris County, Texas
McClugage Bridge (Westbound) and the Cedar Street Bridge over the Illinois River in Peoria, Illinois
Both spans of the I-494 Minnesota River Crossing in Hennepin County, Minnesota
Sacramento River Bridge in Glenn County, California
Jefferson Barracks Bridge connecting St. Louis County, Missouri and Monroe County, Illinois
Central Avenue Bridge over the Kansas River in Wyandott, Kansas
Duwamish River Bridge (Westbound) in King, Washington
It's interesting that despite the notoriety of the Hernando de Soto bridge failure neither Tennessee nor Arkansas made it into the top 10 lists among states with the worst bridges, nor was that bridge featured in the above list of worst bridges.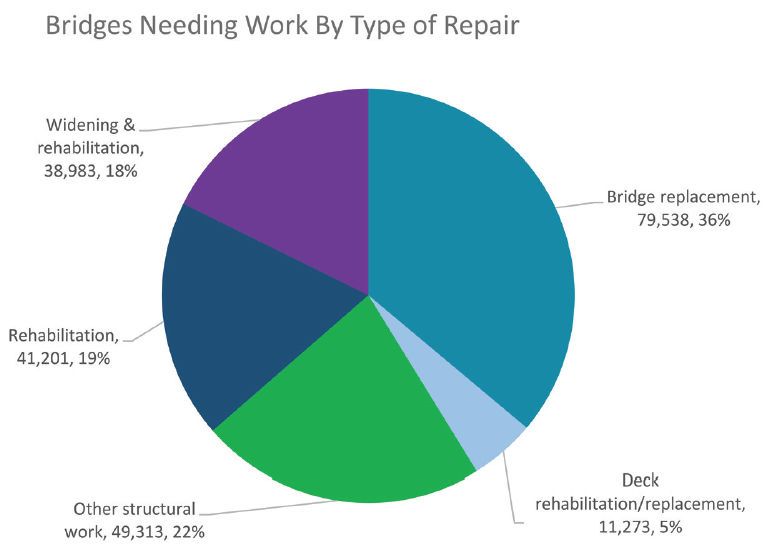 ---
Dave Wickenhauser went on the road driving big rigs after retiring from 33 years in newspaper journalism. His trucking novels, Crimson Highway, the first in the Hugh Mann series, and the sequel, Road Test, are available at Amazon as paperbacks, and as Kindle ebooks.
Sources: ARTBA Bridge Report, About ARTBA report
Tagged Under:
Truck Driver Safety
Trucking Industry Concerns